What's So Bad About Impulse Purchases?
We all know how dangerous impulse buys can be. But are we certain we can identify which of our purchases are impulse purchases? Right after back-to-school spending season ended, stores began gearing up for the only season that's more important: holiday season. The season for family, New Year's resolutions and impulse shopping.
We've all been there. One minute you're "just looking," next thing you know you're scratching your head wondering why you bought another pair of way overpriced shoes, or how you managed to spend $300 on groceries when you just went out for some milk and eggs.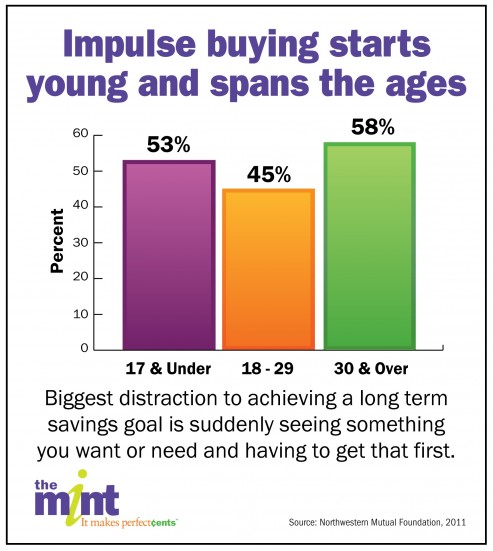 Well, according to a study released this week by Themint.org, your impulse shopping may have started when you were just a kid. With more than half of all kids (53 percent) admitting to being distracted by impulse buys on their way to their savings goals, it is no wonder Americans don't have the best emergency savings accounts.
The study stressed the important role parents have in teaching their children to avoid impulse shopping because, like most habits, financial habits will be picked up, perhaps even more so than others because kids usually only observe their parents' finances; financial responsibility is not really a popular theme on TV shows.
When I really thought about it, though, I realized the category of impulse shopping is a bit ambiguous. When it's getting late and I'm not in the mood to take the subway, can't a cab be considered an impulse purchase?
Quantifying Impulse Shopping
Impulse shopping has been difficult for me to quantify because so many purchases can fall under that umbrella. I recently read an article about how much more expensive a drugstore is than a grocery store for almost any item. Buying beer, chips and ice cream at CVS without any discounts is enough to make a coupon clipper recoil in fear.
Armed with this knowledge, next time I'm there or at Walgreens and I want some Fritos, is that considered an impulse purchase?
The article investigates why groceries are so much more expensive at drugstores than at grocery stores, claiming that the former takes advantage of people coming in to fill prescriptions and can't be bothered to go to the supermarket as well.
When is Impulse Shopping Worth It?
What about the cost of gas to visit a second store, time waiting on line, and potential to buy so many more groceries if you go? We all know that grocery shops have a knack to get us shelling out for a huge trip whenever we set foot in the door.
We may not know exactly what is not an impulse purchase, but we definitely know what is an impulse purchase. J.C. Penney reported they will be carrying and displaying certain parts of the store specifically with "impulsive gifts," like at their "WRAPT" shops, which proudly display $3 chocolates and $40 mini iPod speakers.
They will sell holiday gifts throughout the store, but the impulsive ones will be right up front, in an expanded grab-and-go area.
The study by Themint.org underlined the importance of curbing impulse shopping because of its adverse effects on saving, and too much unplanned spending can obstruct long-term financial goals.
Impulse buying, as shown in the infographic above, starts young and doesn't really stop. Therefore, you must teach your kids to curb impulse buying and plan for these types of expenses. Don't neglect purchases just because they are unplanned, but definitely be smart before you snatch up a hot ticket simply because it's begging to be bought.