Cutting College Costs in 4 Steps
What used to be connected with prestige, opportunity and success is now being associated with high expense, dead-ends and debt. We are talking about a college education.
It is expected that the cost of public universities will sharply increase in the next year leaving even more families in a bind as to how to cover college costs. Many are forced to take out loans to pay for college, but this often leaves newly graduated students in mounds of debt. Paying for college can be a tense and stressful subject for many families. Here are somethings that your child can do to help offset some of the costs and minimize the amount of debt he or she will graduate in.
1. Textbooks on a Budget
When buying textbooks avoid the college bookstore at all costs. More often than not these books are way overpriced, even the used ones. There are multiple online resources that can offer you the best pricing on many texts books such as: Amazon.com, Textbooks.com and Half.com. Check out this guide to buying cheap textbooks for a detailed list of ways to save. Some other cost-cutting options include buying books directly from classmates - this entails some social networking (online and off), utilizing the library or even borrowing from professors.
2. Consider Residency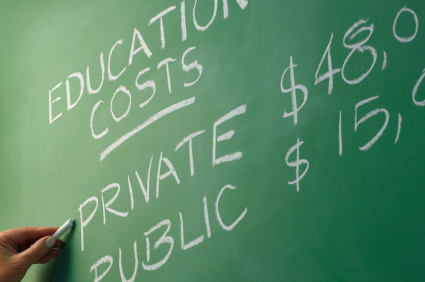 Deciding on the perfect college in terms of education, location and cost can be difficult enough add on out-of-state fees and the situation gets even more  complicated. Out-of-state fees can end up deterring many individuals that may actually be a good fit for the university. A great way to off-set these costs is to look into residency requirements. These may differ by institution but the often require that the student live in the state for a certain period of time and make a minimum income of whatever dollar amount is outlined. To see the requirements by state check out the Guide to State Residency on the CollegeBoard website. Your child can end up saving $10,000 or more on yearly tuition costs after their freshman year of college. Many universities are extremely accommodating when it comes to earning residency and have different work and housing programs to support the students.
3. Rush Reslife
Residential Life programs differ from school to school, but a majority of programs offer free room and board in exchange for being a Resident Assistant. Thiscan help tremendously when it comes to college costs. Residential life will not only provide your child with some great resume points, but lots of opportunities to make connections with faculty and staff as well as friendships with other ambitious students. This is a big commitment and a large responsibility to take on during college that will require many sacrifices, but the position also helps equips your child with the tools for a successful future.
If your child cannot make the kind of commitment required for a Resident Assistant they can look into a desk job which can provide extra spending money, and will not take too much time away from school work. Many universities allow Desk Attendants to bring homework with them to work, which basically means payment for studying. If your child can handle a job on top of school work, it is completely acceptable to have them help with paying for college.
4. Take advantage of Student Discounts
Your college ID can be a lot more beneficial to you than you may know. Local restaurants, theaters and concert venues often offer student discounts to college kids. $2 bucks off here and there may not seem like enough but it can add up over four years. At time when budgeting is useful, smart spending can help your child in the long run. It is important to be aware of every transaction made. Your university bookstore is overpriced in terms of textbooks, merchandise and most other products they offer, but some bookstores offer incredible savings on electronics and programs for students. Even certain bank deals are offered at a special rate for college students. All these programs just take a little bit of strategic searching.
College is a period of time where individuals are leaving their youth but not quite prepared for adulthood. Finding a balance between academics and socializing is difficult enough without adding financial stresses. Although working while attending school may be an added stress to an already busy life, asking your child to assume some of the costs of college will teach them budgeting and responsibility. Anything that you and your family can do to off set future debt while your child is attending school will ultimately help in the future.