Pawn Your Valuables Online for Some Quick Cash
Those looking for a short-term, low-interest loan now have an ally in PawnGo.com: a new digital venture formed by the financial backers of popular group purchasing website Groupon.
The online services, which has issued about $1.4 million in loans as of Wednesday, offers its members the ability to receive short-term loans of as little as $250 and as much as $100,000 within 24 hours in exchange for shipping off their beloved valuables.
The way to service works is fairly simple. After first signing up for the service an individual gives PawnGo details about their item and company makes its own assessment and makes a loan offer within an hour. If all parties agree, then the item is shipped for free to PawnGo and the loan is issued in less than 24 hours. After that, the loan recipient must then repay the loan in order to receive their item back.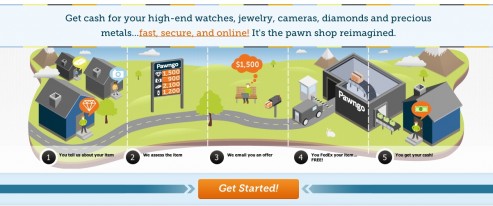 None of the loans provided require any sort of credit check, while any interest owed is debited directly from a borrower's bank account. Items received as collateral for these loans are bar-coded and stored in a secured vault under 24 hour surveillance.
One of its featured deals was a $2,100 loan issued in temporary exchange for 14k white gold earrings with two round diamonds. Another individual received $4,500 loan in exchange for five Australian 10 oz fine gold nugget coins.
PawnGo Loans: The New Emergency Fund?
What could make PawnGo an attractive option for many is the fact that it doesn't require a credit check, and could prevent many from accumulating additional debt the same way traditional loans and credit cards do. The company's loans are determined based on the market value of a pawned item for up to six months and charge no more than between 3% to 6% in interest.
"When you pawn items through Pawngo, you'll never be harassed by a bill collector, and there's no risk of a credit blemish that might follow you for years" said PawnGo co-founder and CEO Todd Hills in a statement. "And, instead of selling your items on eBay or Craigslist where they're gone forever, with Pawngo you can always get your treasured items back as soon as you pay off the loan."'
While the company calls its loans "no-risk" that could very well be in the eye of the beholder. Sure, the market value of your wedding ring may be $1,500, but the prospect of losing that piece of jewelry may not too high a risk for many to take.
If you're not interested in receiving a loan then you can also use PawnGo's services to offload some of your valuables for cash. While the store isn't currently open the those interested in receiving updates on its progress can sign up to receive email notifications.
PawnGo, which was launched earlier this month, was funded by $1.5 million in Series B funding by online pawnbroker Internet Pawn and Lightbank—the venture capital firm that funded Groupon. Its partners include Wells Fargo, FedEx, LLoyd's of London and ADT.
Read: What Are Payday Loans, and Are They Risky?