Smart Banking Practices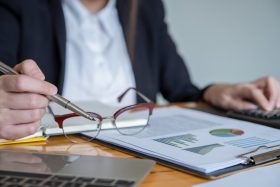 There are a few ways to keep tabs on your checking account's activities and transactions. Depending on your financial personality and preferences, you may monitor your account diligently, or opt to keep an eye on it without constantly keeping tabs on your balance and history.
How to balance
However, if accountability is important to you, you may be interested in balancing your checking transactions. If you're interested in doing it this way, simply record the dates and amounts of your withdrawals, deposits, and your debit card purchases -- and you'll  know how much money is available in your account at all times.
When it comes to what transactions to keep an eye on, you'll want to know when money is entering and leaving your account, as well as how much money is moving. This includes direct deposits from your employer as well as ACH transfers (automated transfers many employers use).
If you record these activities at each day's end, you'll be able to match up your bank account statement against your records and make sure everything is as it should be, with no errors. The completion of this leaves your account "balanced," an old-fashioned term, but still relevant in its uses.
Online and mobile banking
Another smart practice is to get familiar with your checking account's features, and embrace your bank's online capabilities. Through this, you can use online banking to do many things, such as check your balances to see how much money is available, move money between different accounts, pay bills electronically, and sometimes even transfer funds to other people, such as with Chase's Quick Pay option.
With online banking, you can log into your checking account at any time, from anywhere that has Internet. Most banks also have mobile banking, which can make your life much easier with the click of a button. You can make deposits, transfer money, check balances and more.
Compare Best Accounts Now