P2P Payments: Not As Difficult As You Think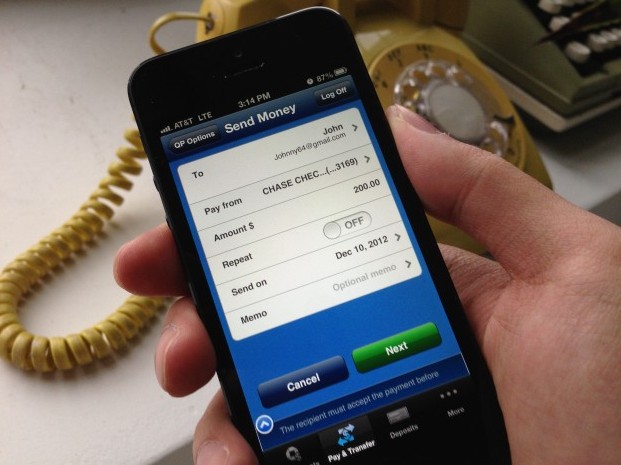 This past weekend, I asked my friend to help me acquire discount movie passes -- paying $14.50 for a ticket in NYC is no fun, folks -- but I wasn't sure when I would next see her to pay her for the tickets, so she suggested I use Chase QuickPay.
For those who don't know, Chase QuickPay is a person-to-person (P2P) payment method launched a couple of years ago by Chase to facilitate payment between individuals easily. It's available for both Chase customers and customers of other banks, all you need -- as touted through its marketing -- is an email or a cellphone number. Easy enough.
I'm currently not a Chase banking customer, so my friend sent me a request for money using my email address. I was linked to a page to sign up for an account, but the website wasn't cooperating with me, as it never loaded and there was no other way to reach the sign-up page outside of clicking that link.
Unlike many of Simon's friends who weren't interested in QuickPay because they weren't with Chase, I wanted to try it out anyway. Thankfully I was patient and stuck it through, but for other users who are interested in trying the service, persistent website downtime like that is discouraging.
I was finally able to sign up after a couple of days of trying, and the process after was relatively simple. One thing that did seem a little weird to me was its verification process. Like other services that confirm accounts, Chase deposited two small amounts into my Citi checking account before withdrawing it, and I was to report how much those two amounts were. But before I ever confirmed those two amounts, Chase had already withdrawn money from my account to pay for the tickets my friend got me. That seems counterintuitive to the idea of account confirmation, and not all that reassuring in terms of account security.
But still, the overall experience went without a huge amount of trouble, and it did set me up to be able to use QuickPay with more ease in the future.
As of this post's release, I still haven't gotten those tickets from my friend, but it's already been paid for. I hate worrying about cash when I owe someone money, and the kind of stress that only cash IOUs seem to induce, and I never remember my checkbook, so QuickPay works out.
I have yet to try the bigger PopMoney P2P system that includes more banks on its platform, and thus makes paying back friends even easier. But Chase, Bank of America and Wells Fargo are now part of the clearXchange platform that simplifies such payments by eliminating the need for payer and payee to provide their bank account and routing numbers -- an email address and/or phone number will do. It could be another step in the ever-evolving P2P payment phenomenon.
Compare Best Accounts Now