Motif Investing 2023 Review: Is Thematic Investing Right for You?
Learn about the robo-advisory services of Motif Investing as we review the thematic investment portfolios that are offered to investors -- including the fees.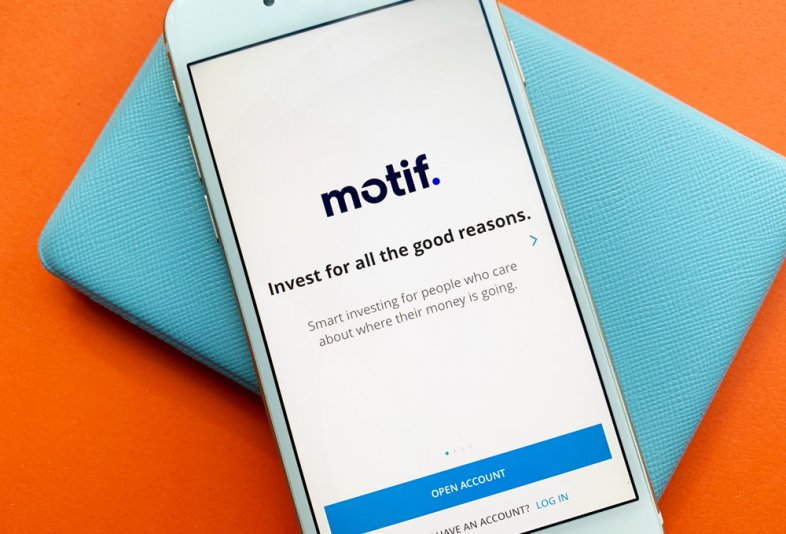 Investing has become more accessible than ever thanks to online investment platforms. 
These companies help you build a diversified portfolio with minimal costs. Motif offers a unique spin on investing with thematic portfolios or motifs. 
When you invest in a motif, you're buying a basket of stocks and ETFs to reflect a specific theme. You can invest in Motif's professionally built portfolios, motifs built by the community or create your own. 
Motif also offers Impact portfolios that are designed for investors who want to do good with their money. It's a way to bring your financial goals and personal values together. 
Those are definitely marks in Motif's favor but this investment platform might not be right for everyone. Knowing what's good (or bad) about it can help you decide if it's right for you. 
Keep reading for a deeper dive into what you can expect when you invest with Motif. 
Motif Is Good For:
Investors who are comfortable building their own portfolios. 
Socially responsible investors. 
People who like automatic investing. 
Investors who prefer low trading costs. 
Someone looking for taxable and tax-advantaged accounts. 
Types of Accounts Offered
Motif offers both taxable and tax-advantaged accounts. Taxable accounts can be individual, joint or trust accounts. 
Your tax-advantaged account options include:
There's no 401(k) option at Motif, either through an employer or if you're self-employed. You can, however, roll your 401(k) over into a Motif rollover IRA. 
You can't invest in one of these accounts for college savings either. For that, you'll need to stick with a 529 college savings account. 
Different Motif Accounts
There are two basic account types offered by Motif: trading accounts and Impact accounts. Here's a look at how they compare:
Trading accounts
These accounts are designed for DIY investors who want to trade actively.
Here are the main features of Motif trading accounts:
$0 minimum to open.
Trading fees range from $0 to $19.95 per trade. 
Buy and sell individual stocks and exchange-traded funds. 
Invest in Motif professional or community-build portfolios.
Build your own 30-stock portfolio with a $300 minimum. 
Participate in IPOs. 
Note: If you want to trade on margin you'll have to ask Motif to upgrade your account. The minimum balance to trade on margin is $2,000.
Impact accounts
Impact accounts are fully automated portfolios.
Motif uses your risk tolerance and time horizon to create a custom portfolio that supports your values. 
For example, you might want to invest in green companies that minimize climate impacts. Or you might be interested in social causes. 
Here are the highlights of Impact accounts:
$1,000 minimum to invest. 
Designed for passive, not active, trading. 
Fees are charged annually instead of per trade. 
Rebalancing is automatic. 
Funds are invested across seven asset classes. 
The key thing to note is that trading accounts are for active traders; Impact accounts aren't. 
The good news is you can open both types of accounts. You'll just have to meet the account minimum to invest for each one. 
Motif Blue
Motif offers a monthly subscription service for trading account investors.
The service costs $19.95 a month and in exchange, you get:
Three commission-free real-time trades each month.
Five commission-free next market open trades for your custom motifs or motifs built by another Motif community member. 
Early notifications about new IPOs.
Real-time market quotes. 
If you plan to do a lot of trading, Motif Blue could be worth it. 
Investment Options
The ways you can invest with Motif are varied but all go back to their data-driven approach. 
Investment options include:
Trading individual stocks and ETFs.
Motif thematic portfolios.
Motif impact portfolios.
IPOs.
Note: Motif is set to introduce crypto portfolios into the mix soon.
Thematic portfolios
Thematic portfolios are designed to give you exposure to economic trends. 
Motif uses data analysis to identify trends. The platform then identifies which publicly traded companies are impacted by or shaping those trends.
From there, a thematic portfolio of investments is constructed. Examples of thematic portfolios include ones that track:
Online gaming stocks
Rental housing market
Fast food companies
Clean energy
Precious metals
Social media companies
The idea is that instead of having to pick and choose stocks yourself, you can pick a theme and invest in several different companies at once. 
Impact portfolios
Impact portfolios are fully automated. There's nothing you need to do to invest, other than pick the type of impact you want to focus on. 
When you invest in an Impact portfolio, you own stocks representing five asset classes. Those asset classes can span three broad impact areas:
Sustainability
Fair labor
Good corporate governance 
Motif will build your portfolio for you, based on your goals and values. But you always have the option to add or remove stocks as you see fit.
Either way, you'll always know exactly what you own. Remember, you'll need at least $1,000 to invest in an Impact portfolio. 
IPOs
Motif does allow you to participate in IPOs or initial public offerings. To do that, you just need to open a Motif account and sign up for IPO alerts. 
When an offering becomes available, you can place an order to invest. The minimum investment for IPOs is $250. 
Once the IPO prices, you'll get your shares. It's that simple. 
Other ways to invest with Motif
If you're looking for something other than a trading account, Impact account or IPOs, you're in luck.
Motif offers market-linked CDs as well.
A market-linked CD (certificate of deposit) earns returns based on how its underlying index performs. 
That's a little different from traditional CDs, which typically earn a guaranteed APY over a maturity term. If the index performs well, a market-linked CD could offer better returns. 
Motif offers a handful of market-linked CDs from Goldman Sachs, with terms ranging from 5.75 to 7 years. 
What Are the Fees When You Invest With Motif?
The fees you pay to invest with Motif depend on what you're investing in. 
Impact portfolios charge one flat management fee. This fee is 0.25% of your assets annually.
The fee for thematic portfolios is 0.50%. 
That's similar to what you'll find at other online investing platforms, though there are ones that charge less while others charge more. 
The fees for trading depend on whether you're trading in real time or waiting until the next market open. Next market open means your trade isn't executed until market hours open on the next trading day. 
Here's how the fees compare:
Motif Trading Fees
| Type of trade | Next market open | Real-time |
| --- | --- | --- |
| Professional Motif portfolios | $0 | $9.95 |
| Community or your built portfolios | $9.95 per trade | $19.95 |
| Single stocks/ETFs | $0 | $4.95 |
| IPOs or secondary offerings | $0 | $0 |
Price-wise, you're better off trading single stocks and ETFs or one of Motif's portfolios on a next market open basis.
But the $9.95 fee for real-time trading that applies to Motif portfolios isn't bad, considering you're buying a collection of stocks all at once. 
You pay $0 to set up automatic investments for Motif professional portfolios. The fee to auto-invest in portfolios you or another community builds is $4.95 per trade. 
Remember:
You get three commission-free real-time trades and five commission-free near market open trades per month with Motif Blue. A Blue subscription can also help you avoid the $10 quarterly fee that applies to dormant Motif IRAs with balances under $10,000.
Motif's Advantage: Customized Investing Simplified
Arguably, Motif's strong point is that it's easy to choose or build a portfolio that's tailored to your needs and investment objectives. 
Between thematic portfolios and Impact portfolios, Motif addresses a wide range of investor needs. Automatic rebalancing for Motif professional portfolios helps ensure that your asset allocation stays on track. 
You can also opt for automatic dividend reinvestment. When you accumulate dividends, they're held in a cash account inside your Motif account. You can then use them to buy additional stock or ETF shares. 
Those benefits help offset one of the platform's main shortcomings, which is no automatic tax-loss harvesting. 
Tax-loss harvesting is important because it can help minimize the amount of taxes you owe on investment gains. Motif doesn't offer this service--you'll have to handle it on your own.
Online and Mobile Experience
Motif allows you to manage investments online or through your mobile device. You can see any and all Motif accounts you own with a single login. 
That doesn't include bank or investment accounts at other brokerages or financial institutions.
Motif isn't a traditional robo-advisor in that sense.
Companies like Betterment or Wealthfront, for example, allow you to aggregate all your accounts together. 
That said:
Motif does a good job of illustrating and explaining its investment products through visuals and simplified language. 
There's even a detailed FAQ section if an answer to your questions isn't readily available through the app or online. 
Research Tools
Other than the IPO alerts and real-time quotes you can get as Motif Blue subscriber, there aren't a lot of research tools available. 
You can analyze individual portfolios to see which stocks they include and how they've performed. But that's really about it. 
Should You Invest With Motif? 
Motif could be a good choice if you're an active trader who wants to pay zero fees for after-hours trades.
Passive investors who want to invest responsibly may also appreciate the features Impact accounts can offer. 
On the other hand, a Motif account may not be as good if you're looking for automated tax-loss harvesting or you want to invest with a traditional robo-advisor. 
Looking at the pros and cons can help you decide what best fits your investment style.