Tradier Brokerage 2023 Review: Designed for Active & Experiences Traders
Our review of Tradier looks at the brokerage accounts, services and features that make it stand out against other brokerage platforms.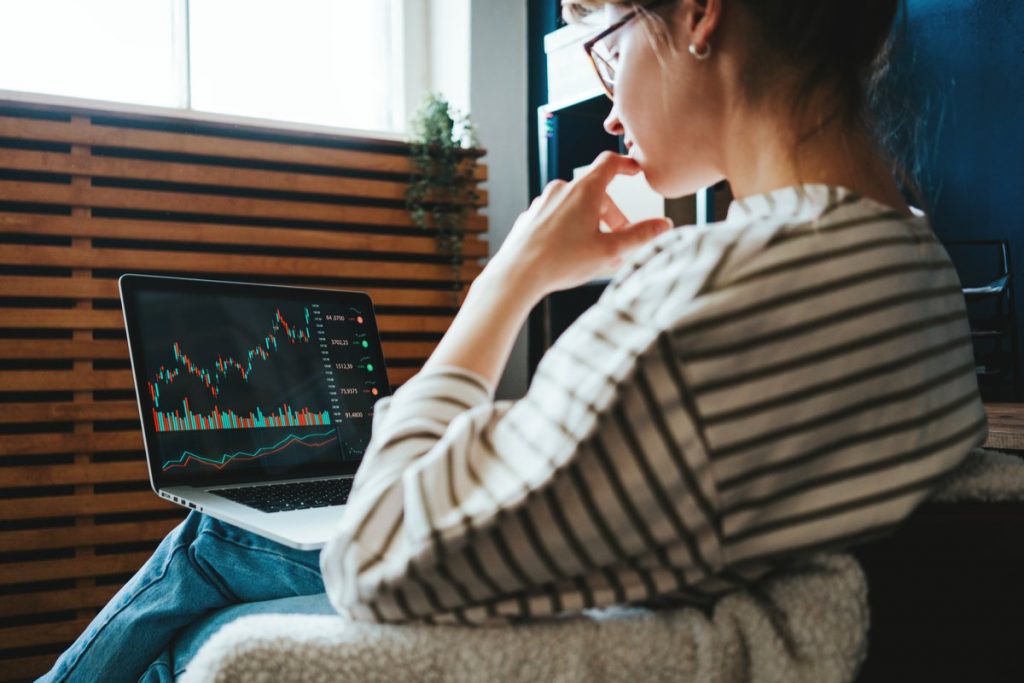 Self-directed trading is designed for investors who want to be in control of their portfolios.
If you're interested in building a DIY portfolio, you might consider trading with Tradier.
Tradier offers online brokerage accounts with simple and competitive pricing. This brokerage platform offers a new take on trading that's different from other online brokerages like Fidelity, Schwab or Vanguard.
Specifically, it features and end-to-end structure that includes:
A trading platform
Brokerage account management
Market data
So what does this mean for you as an investor?
If you're ready to open a brokerage account it helps to know more about how it works and what makes Tradier unique.
Dive into this Tradier review for a closer look at this innovative online trading platform. .
Tradier Brokerage is good for…
Active traders who are interested in building a portfolio around equity and options
Investors who prefer a self-directed approach to trading
Experienced investors seeking a low account minimum
API developers who are interested in building their own trading platform
Tradier Brokerage Pros & Cons
Types of Accounts Offered
Tradier offers a handful of account types to choose from. If you're interested in investing here, you can open:
Individual brokerage account
Joint brokerage account
Traditional IRAs
Roth IRAs
You can use Tradier to invest and save for retirement on a tax-advantaged basis. Or you can open a taxable brokerage account.
There's no minimum deposit required to open a Tradier brokerage account.
You can open an account online and the process is quick and simple. Again, you'll need to be at least 18 and a U.S. citizen to get started.
If you want to open a Tradier account you'll also need to provide:
Your name and contact information
Date of birth
A copy of your driver's license or another government-issued ID
Social security number
Employment status
Source of income
Tradier is a member of FINRA and the SIPC.
The platform offers SIPC protections for customers, up to $500,000 of which $250,000 covers claims for cash.
So if you're wondering, is Tradier legit? The answer is yes.
Tradier Investment Options
Tradier is designed for the self-directed investor who knows what they want in a portfolio.
When you create a brokerage account here, you can invest in:
Exchange and NMS listed stocks
Exchange-traded funds (ETFs)
Options
Mutual funds
Bonds (excluding municipal securities)
The first three can be traded online with Tradier.
But:
If you want to trade mutual funds or bonds those trades have to be placed by phone.
When you trade stocks or options at Tradier, you can choose from these order types:
Market order: This is an order to buy or sell securities at current market price.
Limit order: A limit order is an order to buy or sell securities at a specified price. The order is only filled if the limit price is reached before the order's expiration.
Stop order: Stop orders are orders to buy a stock when the price rises to a certain level or sell it when the price falls to a certain level.
Stop-limit order: With this type of order, a limit order is triggered when the stop price is reached.
Tradier is designed for active traders who buy and sell regularly. So if you prefer a buy and hold approach, this platform may not be right for you.
There are also some limitations to be aware of when trading with Tradier.
For example, this platform doesn't allow you to trade futures, cryptocurrency or invest with fractional shares.
Whether this matters to you really depends on your investment strategy and goals.
For instance, if you're a day trader focused on stocks, ETFs and options then Tradier's offerings could be just what you're looking for.
On the other hand, if you want to diversify with a wider range of securities or you'd rather buy and hold investments, this brokerage may not be the best choice.
Are Managed Portfolios an Option?
Managed portfolios can make investing less stressful for investors who prefer a hands-off approach.
With managed portfolios, your brokerage builds a portfolio for you. You may have to share some information about your risk tolerance, timeline for investing and goals. But the brokerage does most of the work.
Tradier doesn't offer managed portfolios of any kind. It's geared toward the DIY investor who's comfortable taking the reins themselves.
If you're interested in managed portfolios, you might want to compare other online brokerages or robo-advisors instead.
Tradier Fees: What's the Cost?
Keeping an eye on investment fees matters. The more fees you pay, the more they eat into your returns.
Tradier brokerage fees
| Fee | Cost |
| --- | --- |
| Equity and options | $0 per order, $0.35 per contract |
| Margin interest | 5.25% |
| Broker-assisted orders | $10, plus commissions |
| Automated Customer Account Transfer (ACAT) fees | $75 |
| Depository Transfer Check (DTC) | $25 |
| Wire transfers | $30 |
| IRAs | $30 annual fee, $60 termination fee |
Overall, Tradier is fee-friendly compared to some online brokerages like Betterment, Wealthfront and Fidelity Go.
In addition to per order and per contract pricing, Tradier also offers a monthly subscription option.
Here are the basics of the monthly subscription:
$30 per month
Commission-free equity trading
Commission-free option trading
Whether it makes sense to choose the subscription depends on how often you trade.
More active traders may prefer paying a flat fee each month. Less active traders may be better off with the basic fee schedule.
Are Tax-Loss Harvesting and Automatic Rebalancing Included?
Tradier does not offer services such as tax-loss harvesting and rebalancing.
Tax-loss harvesting and rebalancing can help with making the most of your investments.
Harvesting losses involves selling off investments at a loss to offset capital gains.
Rebalancing means realigning your portfolio with your investment goals periodically.
Tax-loss harvesting and rebalancing can help make your portfolio more tax-efficient while managing risk. And some online brokerages offer one or both of these features to investors.
Online and Mobile Experience
It's fairly simple to open an account online or through the Tradier mobile app. You'll just need to provide the information mentioned earlier.
In terms of user experience, both the website and app are fairly straightforward. Again, you can execute most trades online, except for mutual funds and bonds.
What's worth noting is that you have access to multiple trading platforms.
Tradehawk is Tradier's proprietary trading platform. But you can also take advantage of partner platforms, including:
Track 'n Trade
Rho
Livermore
Investfly
Tiblio
Orion Multi-Trader
If options trading is a big part of your portfolio then you might appreciate having access to other platforms. But the range of choices could be a little overwhelming for a beginning investor.
Research and Investing Tools
Tradier doesn't skimp when it comes to research and investing tools.
When you open an account here, you have access to numerous trading software programs and analysis tools.
These are offered through Tradier partners, including:
Hoadley Trading and Investment Tools
Screener.co
MotiveWave
Option Samurai
BetterTrader
Option Strategies Insider
Most of the research tools Tradier makes available to investors are geared toward options or stocks.
So how useful they end up being to you can depend on what you typically invest in.
Should You Invest With Tradier?
Tradier could work better for some investors than others, namely, those who lean toward self-directed trading.
If you're an active trader who's focused on stocks, ETFs and options then this platform could work well for you. And you might save money on fees by opting for the monthly subscription model.
On the other hand, you might want to look elsewhere if you're just getting started with investing or you're interested in managed portfolios.
And if you're hoping to trade crypto or fractional shares, you won't find those options here either.
Overall, Tradier has a lot to like for experienced investors who know what they want from a portfolio and want access to a variety of trade platforms.
But it's important to look at how well it matches up with your investment goals before making a commitment.