Best Cheap and Healthy Alternatives to a Monthly Gym Membership
There are many other alternatives to gym memberships that are not just affordable but fun – plus eliminating other disadvantages of going to the gym.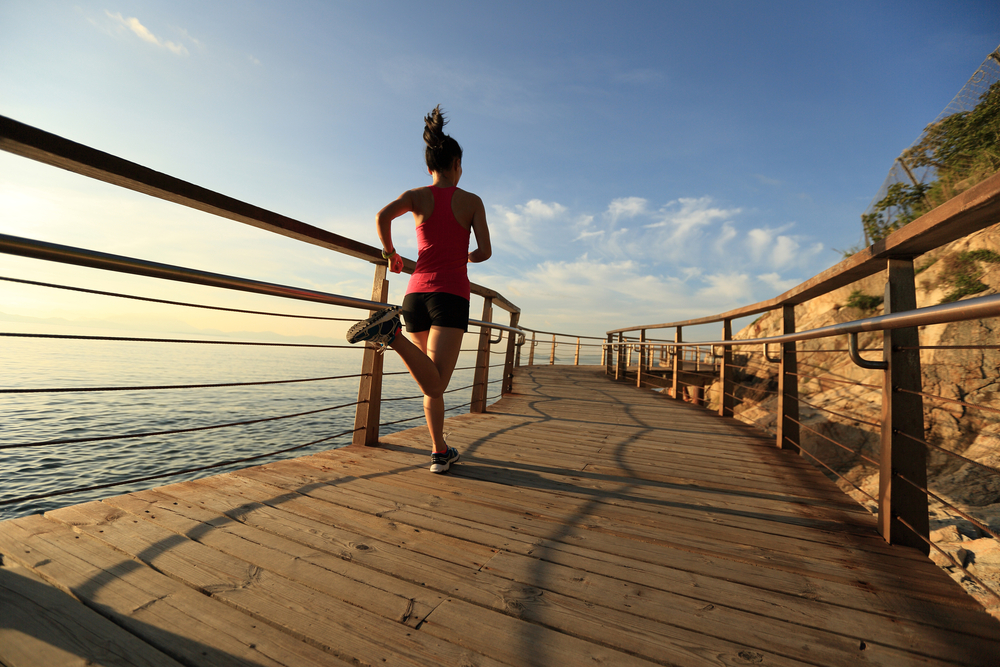 At this point in the New Year, your enthusiasm for the new gym membership may have either started to dwindle, or you're sitting back glad that one of your resolutions didn't involve getting tied down to an expensive monthly membership. With annual gym and health industry revenue well into the billions of dollars, you would think the entire rest of the world is living fit and fancy-free.
However, this isn't exactly the case. In fact, of the millions of people with gym memberships, 67 percent don't even use them, even the good deals. This leaves the average monthly expense of $58 (without even including costs of transportation and other expenses) nothing more than an enormous waste of money for a lot of people with good intentions.
If you've decided against signing up for a gym membership but still need to find budget-friendly ways to stay in shape, you'll find no shortage of tips for walking and running. In the digital age, however, there are many other alternatives to gym memberships that are not just affordable but  fun – also eliminating other disadvantages of going to the gym like waiting around for sweaty dude bros to let you use the equipment.
1. Organize a Facebook Walking Club
Walking is always included on lists of the best alternatives to gym memberships.
The problem, however, is that it isn't exactly easy to get motivated to walk. And, if you live in areas of the country which experience snow, rain, or ice seasons, you have an even bigger excuse to veer from your daily exercise plan.
Creating a network of people with similar goals that you are accountable to can be one of the best ways to ensure you stick to any exercise regime.
In fact, this is one of the main reasons people sign up for gym memberships in the first place.
Social media platforms such as Facebook allow you to connect easily and safely with friends and family and form walking groups to keep you on track.
As a bonus, both walking and Facebook are entirely free.
2. Gaming Systems
According to recent data, four out of five households have a gaming system.
Whether your family chooses Xbox One, WiiU, or PlayStation, there are a number of games available that are not just fun but can help you stay fit. Although this isn't the most inexpensive alternative, if you already have a gaming system in your home, you can get your money's worth by including it in your exercise routine.
Further, if you prefer working out with friends and family, consider forming group and take turns hosting Just Dance or Dance Central Spotlight days.
3. Streaming Exercise Routines
Streaming television shows through Netflix, Hulu, or Amazon Prime have become preferred methods for entertainment. Although there aren't many exercise videos on Netflix, there are various exercise routines you can participate in while you binge watch How to Make a Murderer.
Otherwise, Amazon Prime's instant prime feature includes a number of workout videos for kickboxing, Samba, and many others.
4. Groupons and Deals for Special Classes
One of the best ways to incorporate something new and fun into your exercise routine is by taking advantage of special deals and discounts offered by sites such as Groupon.
You may not be sure if you enjoy something like ballroom dancing or pole dancing, but Groupon allows you to try out special classes at a discounted price, often for less than a month's gym membership fee.
Plus, certain offers will discount future sessions if you end up enjoying the class.
Take a second to browse the local offers on Groupon, especially if you prefer interesting alternatives that also get you out of the house for a minute.
5. YouTube Videos and Channels
Whether you prefer yoga, Pilates, or Zumba, you can find a wide variety of workout videos on YouTube for free which allows you to pick and choose when you workout and the type of the workout you feel like doing at that particular time.
Like many of the other digital alternatives to gym memberships, you can also exercise or watch the video from any device, which is handy if you aren't near a television.
There are numerous yoga and Pilates channels as well as those such as the BeFit channel which includes workouts from fitness experts such as Jillian Michaels and Denise Austin.
6. Daily Burn
If you have a Hulu membership, you've likely seen the ads for Daily Burn, which includes a variety of daily workout routines such as yoga, kettle bells, and Bollywood dancing, as well as nutrition tips for $12.95 per month.
You can access Daily Burn any time of day on any day of the week, from any device or location with an Internet connection. It also includes personal training from trainers such as television star Bob Harper, which in real life would be worth considerably more even with an un-famous personal trainer.
Even better, Daily Burn offers a free 30-day trial so you can take it for a spin and determine whether it suits your needs without it costing anything.
7. On-Demand Streaming
There are also on-demand streaming options for workouts that provide 24/7 access to workouts whenever they fit into your schedule, or you feel like doing them.
Plus, many services are designed to meet specific needs.
For instance, if you prefer women's only workouts, Flirty Girl Fitness provides workouts to match the comfortable atmosphere that its facilities are based on. This streaming service includes unlimited access to high-intensity workouts for $15 a month, but if you want to try it out, a 24-hour pass is only $5.
You can even stream popular workouts whenever it suits you. Beachbody On Demand, for example, provides unlimited access to workouts such as P90X, TurboFire, and Hip Hop Abs for only $2.99 a week with a 30-day free trial. Further, if you want to try something different, Barre3 provides barre, Pilates, and yoga in programs lasting 10 minutes to an hour, based on ballet-type exercises for just $15 per month.
8. Digital Personal Trainers with Apps
Personal trainers are great for not just keeping you motivated but also for teaching and guiding you throughout your exercise routine. The problem is that most personal trainers cost hundreds of dollars on top of the gym membership fees you are already paying.
Digital personal trainers are now available online and through apps such as FitBit.
While FitBit device itself can cost as much as $200, this is nothing in comparison to the expense of a monthly gym membership plus the services of a personal trainer. Further, there are a number of fitness apps such as Cyclemeter and Digifit available that can help you manage your exercise routine, give tips, monitor your activity, heart rate, and calories, and help with nutrition, which are free.
Whether cycling, running, walking, or engaging in any other type of activity, if you prefer to create your own exercise plan but can use a little guidance, you can likely find an app that can help.
9. DVDs and Free Videos from the Library
If you prefer workouts on DVDs, it can be difficult choosing from the thousands that are available.
Plus, you risk spending money on a DVD you don't particularly like.
However, libraries usually include a full collection of DVDs and videos that are available to rent for nothing more than a free library membership. This includes workout videos of every type by any of your favorite fitness trainers.
Many times you can even check out the DVD online and then plan to pick it up while you are running errands.
The only downside to renting DVDs and videos from libraries is that you do eventually have to return them. Still, this option allows you to pick and choose and then try out different workouts without spending a lot of money.
10. Gym Workout Online
Many popular gyms also offer their workout programs online, sometimes for free or less than the cost of a monthly gym membership.
For instance, Pound is an online class provided by Crunch gyms that provides 45 minutes of Pilates, cardio, and plyometrics to a drumming beat. The monthly membership is $14.95 and includes a pair of Ripstix. After your first month, Pound is only $9.95 per month, which is considerably less than the cost of a full gym membership. Further, online classes allow you to workout in the privacy of your home or with friends or family members you actually don't mind being around.
Although you might be avoiding a gym membership, your local gym may provide certain online classes for less than a full membership, even strongly discounted or on a month-to-month basis.
The key to successful workouts whether in a gym or through any of the many digital fitness plans available, is finding the one that you enjoy and fits your schedule, without wasting a bunch of money in the process.
Thanks in part to the many technological advances that we have access to, we have many more options for getting into shape than paying for and dragging ourselves to expensive gyms and a much better chance of being successful.