How to Use Buyer Incentives to Sell Homes
Seller incentives, both big as a polar bear and small, attract buyers and help with real estate negotiation.
Greeting guests to Alan and Nancy Smiley's 6,000-square-foot, Downton Abbey-ish, Tudor-style mansion in River Forest, Il., is a fully loaded, teeth-grinning polar bear, rearing up nearly as high as the foyer's 17-foot beam-covered ceilings.
His towering, taxidermied presence is just part of the Smileys' 70-plus menagerie of lions, tigers and bears peeking at you from every corner of the room that would make even big-game hunting president Teddy Roosevelt blush.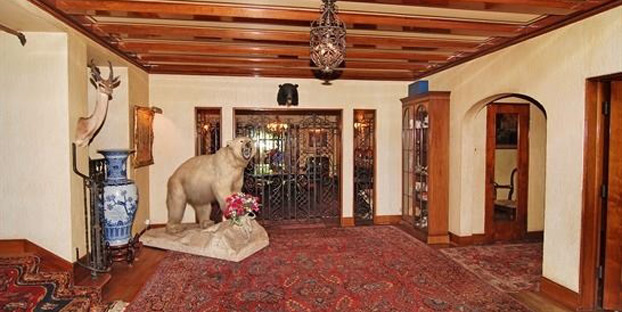 For the past few decades, 846 Ashland in River Forest has been the animals' home, but many -- each having been individually and affectionately named by the couple and treated like family -- could be moving on because the Smileys' home is now up for sale for $5.2 million.
Their agent Steve Malone of Coldwell Banker Residential Mortgage admitted that the majority of the animals will be crated and carted to the owners new digs in North Carolina and Cabo San Lucas, but should one of the creatures strike the fancy of a buyer, well, there could be room for negotiations.
"Everything in real estate is negotiable," said Malone. "You never know what's going to catch a buyer's eye or clinch the deal."
Call them what you will -- throw-ins, buyer incentives, perks -- sellers, especially with higher-priced homes, know that it never hurts to add a little sizzle to the sale to attract buyers. Conversely, buyers, especially in a buyer's market, aren't bashful about asking for those little extras that will make them feel as if they got a steal.
Perks range from cookies to cocktails
"Who doesn't remember the story about actor George Hamilton, the actor with the gleaming white teeth, raven-black hair and perpetual tan, insisting that this condo owner, who also owned a famous bakery, toss in a dozen cookies every month for a year after escrow closed," said Jim Griffin, a Sunset Beach, Calif., real estate broker and owner of the J.B. Griffin Marketing Group.
Similarly, stories abound about sellers throwing in a Lamborghini or a Ferrari to sell an eight-figure-priced home in a tony zip code like South Beach or Malibu as a deal sweetener. Then there was the Chicago seller who publicized that he'd pick up the bar tab, capped at $1,000, of whoever bought his place located across the street from his favorite bar. The promotion brought new life to a lagging listing while also promoting the local's area's nightlife.
Seller incentives in real estate have torn a page from auto dealers' playbooks, where throwing in extras are about as old as the Model T. "Today, if you buy a new car from the dealer, you expect to walk away with some extras," Griffin said. "Upgraded rims or maybe free Sirius radio for the first year. It's all part of the negotiation."
Home developers and builders have long practiced this marketing art form. To entice buyers, it's not unusual for them to offer upgrades to marble countertops, hardwood floors, luxury cabinets, and stainless steel appliances inside the home, or enhancements to fences, patios and landscaping (a koi pond, perhaps), outside the home. Nor is it unheard of for builders to lure would-be buyers with free vacations, country club memberships, or free parking (which can save urban denizens thousands of dollars in automobile-unfriendly cities like Chicago or New York City).
Money still rules
For many buyers, the best seller incentive remains money, however. In Greenwich, Conn., an affluent haven of investment bankers and hedge fund operators living on the doorstep of New York City, cash is still very much king.
"Oh, you might get the occasional request from a buyer to leave behind a chandelier or the pool equipment, but here it's really about how much you can knock off the bottom line," said a Greenwich real estate agent who asked that she remain anonymous because she said she didn't feel comfortable divulging for publication the negotiating secrets of her wealthy clients. "These people are tough negotiators and deal-makers. That's what they do for a living." To illustrate her point, she added that a Greenwich home recently sold for $120 million, down from its original asking price of $150 million.
Most everyday seller concessions, however, are designed to grab buyers attention, not headlines.
Therefore, top seller concessions might include paying for a buyer's closing costs, agreeing to make a large or costly repair, purchasing a home warranty protection plan for the buyer, moving up the closing date, or paying the buyer's origination fees.
"These are all creative ways to help minimize buyers out-of-pocket costs, which can often be overwhelming, especially for first-time homebuyers," said Marty Rodriguez, who has sold more than $3 billion in real estate in her more than three decades as an agent serving Southern California. "In essence, these concessions make it easier for buyers to purchase, yet sellers can still say they got full price.
"Neither side has to feel as if they're the one who capitulated. Both parties in the end get what they want."
In the meantime, the Smileys are counting the days to when they can move to their new homes in North Carolina and Cabo San Lucas. What exactly moves with them, however, still hangs in the balance.
Besides their life-sized stuffed animal collection are two train sets, one that runs inside the house and another, a six-car people-mover that totes passengers of all ages around the one-acre Bavarian-like landscape that is dotted with waterfalls, an in-ground pool, a solarium, sauna and steam room. "As a little boy, he couldn't have a train set, so he made up for it," Malone said.
Likely, the trains -- so much of the home's and neighborhood's history -- will stay behind, a great plus for buyers with a passion for railroading, Malone added
Is it possible that the owner might consider throwing in a one-year free maintenance package for the trains to close the deal, Malone was asked.
"Everything is negotiable, of course," Malone said.