The Best Savings Accounts in Indiana for 2023
Find out which savings accounts are the best from local Indiana banks while you also compare them to the top online savings accounts available nationwide.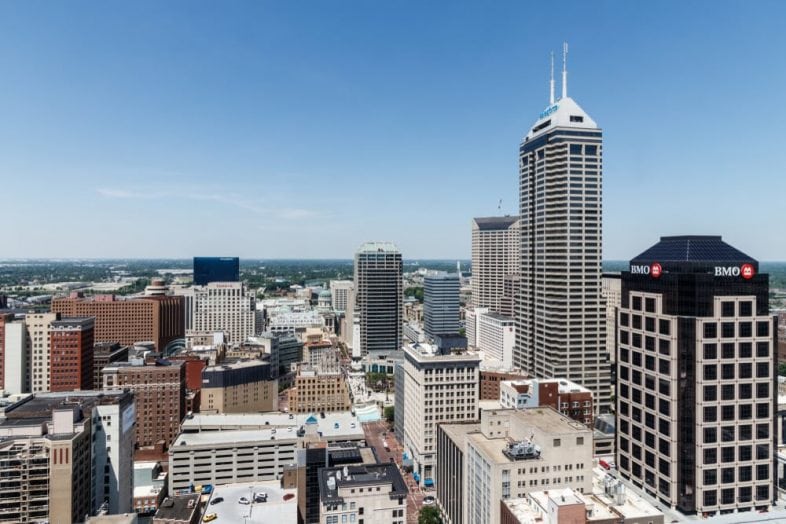 Indiana is home to more than 6.5 million Americans, and the majority of the state's citizens have a bank account.
Though checking accounts are the most popular bank account in the U.S., savings accounts are a close second. Their popularity means that nearly every bank offers a savings account. It also means that banks have to compete to draw new customers to their savings accounts.
Savings accounts give consumers a safe place to store their extra cash. They also let savers earn some interest on the balance of their savings account.
These features make savings accounts well-suited to storing money you need quick access to in an emergency, while still allowing it to earn interest.
If you live in Indiana and want to open a savings account, find out which options are available to you.
The Best Savings Accounts in Indiana
Freedom Bank Regular Savings Account
The Freedom Bank Regular Savings Account is just a regular savings account. There are no extra features to the account, just the basic savings functions you need.
There's no minimum deposit required to open the account, which makes it a good choice for people who are getting started with saving. Also, there are no monthly fees to worry about. Once the account is open your money will stay in the account and grow without being eaten away by fees.
The only restriction on the account is that you are limited to six in-person withdrawals per quarter. online and ATM withdrawals don't count toward this limit.
The Friendship State Bank Passbook Savings Account
The Friendship State Bank Passbook Savings Account is a great way to get young savers into saving. It's also great for anyone who wants a no-fee saving experience.
Because it is a passbook savings account, it comes with a small book that keeps track of your balance. You'll need to bring that passbook with you to the bank when you want to make transactions. Having this book and showing younger savers the effects of interest and regular deposits makes it a great way to teach kids about saving.
There is a $100 minimum deposit required to open the account. Once the account is open, you'll have to maintain that same $100 minimum balance to earn interest. If your balance falls below $100, you will stop earning interest, but there won't be a monthly fee, no matter what your balance is.
You may make up to nine withdrawals from the account each quarter without paying a fee. Each additional withdrawal will incur a $2 fee.
North Salem State Bank Silver Savings
The North Salem State Bank Silver Savings Account gives customers a no-frills, no-fee account.
You must make a $100 minimum deposit to open the account. Once the account is open there is no minimum balance to maintain or monthly fee to pay. If you can afford the opening deposit, this can be a good account for people who don't want to worry about fees.
Unlike some of the other accounts listed, the North Salem State Bank Silver Savings Account closes statements monthly rather than quarterly. That means you'll be paid interest monthly.
It also means you can make more withdrawals from the account. You may make six withdrawals per month without paying a fee. Additional withdrawals will cost $2. That makes this account a good choice for people who need to access their savings regularly.
How we picked
MyBankTracker applied a methodology when choosing the best saving accounts in Indiana. Our top recommendations were selected based on a thorough analysis of savings accounts offered by the top 50 banks by deposit market share in Indiana (based on FDIC June 2021 data)--serving major cities including Indianapolis, Fort Wayne, Evansville, South Bend, and Carmel.
We focused our choices on savings accounts with low monthly maintenance fees, easy-to-meet requirements to waive these fees, the bank's physical branch and ATM network, excess withdrawal fees, and any other convenience features.
Online Savings Accounts are Available Nationwide
After you've looked at local banks and credit unions, take the time to look into online savings accounts.
These accounts have grown more popular recently because they offer convenience, high-interest rates, and low fees.
In fact, we looked at more than fifty Indiana Banks and found very few that did not charge some type of monthly fee. On the other hand, online savings accounts almost never carry a monthly fee.
On top of increasing their fees, many traditional banks have reduced their interest rates in recent years. In many cases, people are paying their bank for the privilege of having a bank account.
Online banks are cheaper to operate than brick and mortar banks, allowing them to charge low fees and pay more interest.
Earn more interest without the monthly fees
Fees and interest can have a huge effect on the balance of your savings account over time.
Over the course of years, you could find that your account's balance is hundreds or thousands of dollars lower than it would have been if you had used an online bank.
Consider this example to see the effect of interest and fees:
You're saving for a down payment on a home. You have $10,000 and want to add $300 to your account each month for five years. After five years, you'll use your savings to make a down payment on a home.
A typical savings account might offer as much as 0.10% APY per year. Using this kind of savings account, you'll have $28,094.44 at the end of five years. You'll have earned less than $100 in interest in total.
Online savings accounts pay far more interest, often as much as 1.6% per year. If you chose an online savings account, you'd wind up with $29,559.90 after five years. You'd have almost $1,500 more just because you chose a savings account with a better interest rate.
Now recall that the traditional savings account is likely to charge a monthly fee. If the monthly fee is just $2, you'll pay more in fees than you earned in interest. Your ending balance will be less than the sum of all of the money you deposited.
Low minimum deposits
Another thing that online banks excel at is providing accounts to people with low balances.
Brick and mortar banks often require that you make a $50 or $100 minimum deposit to open an account. This can be difficult for people who are just starting to save.
Online savings accounts are available to anyone with a penny and an internet connection.
FDIC insurance
Many people are leery of online savings accounts because they seem less safe than a traditional bank. The reality is that online banks are just as safe as traditional banks.
The Federal Deposit Insurance Corporation insures accounts at online and brick and mortar banks in the U.S.
You can receive up to $250,000 in insurance, per account type at a bank. If you have multiple savings accounts at a bank, whether it be physical or online, the first $250,000 you deposit is insured.
Savings-focused
One downside of online banks is that they make working with cash more difficult.
You'll have to use ATMs operated by another bank because online banks don't operate their own ATM networks.
That means you'll be at the mercy of the fees charged by the owners of those ATMs. You also may be limited to withdrawing as little as $500 or $1,000 per day.
Another drawback is that you won't have a way to deposit cash to your account. You'll have to deposit it to an account at a local bank and transfer it to your online bank, or simply spend it.
The Best Savings Accounts in Indiana
There are two significant advantages to doing your banking with a local bank.
One is that local banks are in touch with the local community.
That means that they can offer account features that are useful to locals without wasting money on features that people won't use.
For example, why bother offering ATM refunds if every ATM in the area is on the same network? Local banks are much better at serving the needs of local customers than national banks are.
The second is that local banks excel at offering personalized service.
At a national bank, you'd be one of just hundreds of thousands or millions of customers. With a smaller, local bank, the employees at your branch will get to know you.
That will make it easier for them to provide personalized service as they will be familiar with your financial needs. That can be a big help if you find yourself in a complicated financial situation.
National banks do have some advantages. The major benefit of using a national bank is that you can feel confident that you can find a branch or ATM, no matter where you are. If you travel a lot, having access to a national network of ATMs and banks can be very useful.
Advantages and Disadvantages of Savings Accounts from Local Banks
Benefits
Drawbacks

Lower fees than national banks (but not always)
Personal service for account management

Smaller branch and ATM networks
Interest rates are not the highest available