Digit vs. Qapital vs. Rize Mobile Savings Apps Review: Which is Best for You?
Compare the biggest names in mobile apps that make it easier to save money: Digit, Qapital, and Rize. Learn their features and fees to find the best one.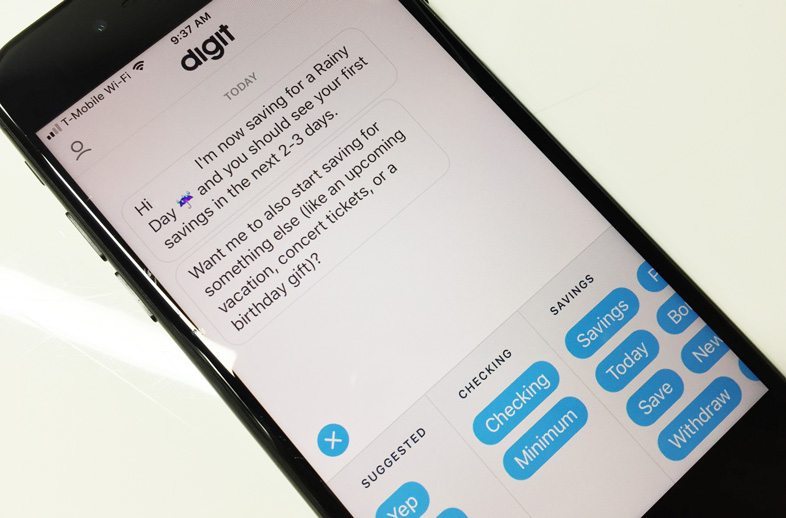 Digit App
Most of the time, saving money requires active effort. You need to track your finances to figure out what money you need for daily expenses, and what money is extra. Then, you need to go to the bank and move money from your checking account to your savings account. This can be a lot of effort, which is part of why many people don't save at all.
Digit automates the savings process by moving money from your checking to the Digit savings account for you based on your spending habits.
Digit App Pros & Cons
The Good
The Bad

Takes the thinking out of saving
Annual bonus on your savings
Android/iPhone Mobile apps available

Has a monthly fee
Not very intuitive process after the initial setup
Let Digit choose when and how much to save
You start by linking your checking account to Digit. Digit's program will then automatically look at your transaction history. It scans that history for income and common expenses and tries to predict your usual cash flow. For example, Digit will learn when you pay rent each month and how often you're paid.
Digit will then use that information to determine how much money you need to keep in your checking account. If you have some extra cash laying around, Digit will automatically transfer it to your savings account. Digit can do this on a daily basis, saving a few dollars here and there. Over time, the savings will add up.
If you're worried that Digit will accidentally move money that you need to spend, Digit offers a no-overdraft guarantee. If you overdraw your checking account due to Digit's auto-saving, Digit will reimburse you the first two times that it happens.
Digit will send you text messages regularly to let you know how much it's saved recently and your current account balance. Withdrawing money is as easy as replying "Withdraw $20." The money will be back in your checking account the next day.
An annual bonus to grow savings but pay a monthly fee
With a Digit account, you'll earn a 1% annual savings bonus and it is paid every quarter. The bonus is calculated off the average daily balance over a 3-month period (that balance is multiplied by 0.25).
However, Digit charges a $2.99 monthly fee for the service. There is a 100-day free trial for everyone to see if it works for them.
Digit is ideal for people who want to save without any specific goal and who don't want to have to think about saving at all. Everything is done automatically.
Qapital
Qapital App
Qapital works much like a bank by providing you with a checking account and a number of goal accounts. Each goal account is dedicated to a specific goal that you've set up, like going on vacation or buying a new smartphone.
Once you've moved your money into your Qapital checking account, you'll have to set up saving rules. You can use the basic set-and-forget rule, which automatically transfers money to a goal account each week or month, but Qapital's more unique rules are where the app really shines.
Qapital App Pros & Cons
The Good
The Bad

Easy step-by-step setup
Great interface
Customize "rules" for automatic savings
No monthly fees or transaction fees
Android/iPhone apps available
Set your own savings "rules"
Save every time you complete an item on your to-do list
Save whenever your favorite sport team scores
Save every time President Trump posts a Tweet
As a bonus, Qapital offers a bunch of convenient banking features, like the ability to get paper checks mailed to someone through your smartphone app.
No fees at all
The biggest draw to Qapital is that is are absolutely not fees involved with the account. There are no monthly fees or transaction fees.
Additionally, every Qapital account earns interest, but it isn't much -- not even close to what you'd get from online banks.
The most attractive feature of Qapital are the "rules" that you can customize to make saving a little more fun.
Rize
Rize
Rize does not yet offer native mobile apps (they're on the way). However, its mobile-browser experience is well-designed. Because of this, it is still included in the comparison.
Rize functions like a standard savings account with a few extra features that help you save towards your goals.
When you open a Rize account, you can link your checking account and set up a number of savings goals. You tell Rize how much you need to save to meet each goal and how much to transfer from your checking account each week or month. Rize will pull money from your checking account automatically and place it in your savings account.
You can tell Rize how to allocate your savings to your goals. If you save $200 per month and want to put $100 towards a house down payment, $50 towards a future vacation, and $50 towards an emergency fund, you can do that. Rize keeps the money in one account, but you can view the breakdown to see how much you have saved towards each goal.
Rize Pros & Cons
The Good
The Bad

Different ways to set up automatic savings
You decide how much you pay in fees
Power up your automatic savings strategy
To help you save more, Rize offers two "power-up" features.
The Accelerate power-up automatically boosts your monthly saving by a small percentage. For example, if you aim to save $200 each month, you can set accelerate to increase that amount by 1% each month. In the second month, you'll save $202, the third month, $204.02, and so on. After a year, your monthly savings will have increased by 13% and you probably won't have noticed the difference.
The Boost power-up functions much like Digit. Rize will monitor your checking account and pull any excess cash out automatically, up to $5 at a time. This will give you an extra push towards your goals.
Pay what you want
Rize operates on a pay-what-you-want fee schedule. You can pay nothing or a small percentage of your savings -- whatever you feel the service is worth.
Your Rize account will earn interest at a rate that greatly exceeds the average offered by national bank chains. The savings rate isn't as high as some of the top online banks, but it is fairly decent.
Rize is great for people who want the convenience of having one savings account, but the ability to save for multiple goals.
Savings Approach
Each app has a different savings approach that will fit different types of people.
Digit is all about automation without any thinking on your part
Once you set it up, you don't have to do anything and your savings will start to pile up.
Qapital is more hands-on
You have to set up rules and conditions that trigger its savings features. If you want to try to encourage yourself to do certain things like spend less at Starbucks or to go to the gym more often, Qapital offers the flexibility to help you. It adds some fun to saving.
Rize is all about goals
You set up automatic transfers and Rize will move the money to one account. It will then give you a breakdown of what amount of that money is dedicated to each goal. If you have a variety of financial goals, Rize can help you track them all.
Ultimately, you'd probably gravitate towards one of the above that matches your savings mentality.
Cost and Fees
When it comes to bank accounts, it is always an important question to ask how much an account costs. Fees can add up and they'll slow down the growth of your savings.
Digit charges the largest fee of the three, offering 100 days of service for free, and then charging $2.99 per month (nearly $36 annually).
Qapital charges no fees for the service. That makes it a good choice for savers on a budget.
Rize lets you set your own fee for the service. If you don't want to pay, you are not obligated to. If you want to pay a small amount each month, you can.
Qapital and Rize win in this category by allowing you start saving for free.
Insurance for Your Savings
Your typical bank account is insured by the Federal Deposit Insurance Corporation (FDIC). With these other savings apps, you're moving money into separate accounts. You'd want to know that your money is still safe.
Luckily, all three apps offer insurance that you'll get your money back.
Digit and Qapital offer insurance through the FDIC because the deposits in their accounts are held with FDIC-insured banks. Rize, on the other hand, offers insurance through the Securities Investor Protection Corporation. Both the FDIC and SIPC insure balances up to $250,000.
So, you can rest assured that you'd get your money back if any of these companies shut down.
Mobile App Experience
Mobile banking has become a standard method of how you access and manage your money. A great mobile app can increase the likelihood that you'd pay more attention to your savings.
Digit and Qapital offer full-fledged mobile apps that provide complete control over the accounts, such as looking at balances, configuring goals, etc.
Rize, however, does not yet have a native mobile app for its customers. Access is available through a mobile-friendly website that looks and feels much like a well-designed mobile app. Rize says that the apps for iOS and Android mobile devices are on the way.
Which App is Best?
First, you'd have to identify which savings approach matches your financial mindset.
Want to save automatically and don't have any goals in mind? Use Digit. Just note that you're going to pay a monthly fee for the privilege of not thinking about your savings.
Want to introduce some fun to the way you save? Have specific goals to save towards and don't mind having lots of accounts? Use Qapital. You might want to play around with the "rules" from time to time to keeps things fresh.
Want to simplify your savings with a single account but have multiple savings goals? Use Rize.
Why Not Use an Online Savings Account?
An online savings account will help you save, but does not offer all the features of Digit, Qapital, and Rize.
Online savings account do offer low fees and great interest rates, generally better than the apps offer. They also have sleek phone apps that make it easy to use your account. Many offer other features to help manage your money or bonuses like ATM cards to make withdrawals easy. Still, they can't do much to help encourage you to save.
Rize is most similar to an online savings account, but even it has some features that set it apart. The most that an online savings account can do to automate your savings is let you set up recurring transfers. It cannot move money for you by analyzing whether you'll need it like Digit can. Similarly, you can't create complex rules to trigger savings like you can with Qapital.
An online savings account is fine if you have the discipline to set up a recurring transfer from checking to savings. Some let you create multiple sub-accounts for specific goals as well.