14 Tips for an Affordable and Fun Family Vacation
With the winter cold melting away, millions of families are planning to travel this summer. We have tips on making your family vacation fun and affordable.
With the winter cold melting away, millions of Americans are planning to travel this summer. A recent survey of nearly 750 Americans conducted by Orbitz found that 88 percent of respondents plan to take a summer vacation, an increase of 11 percent compared to last year. But with airline, hotel, transportation and spending costs -- not to mention a host of fees blindsiding travelers -- taking a summer vacation isn't cheap.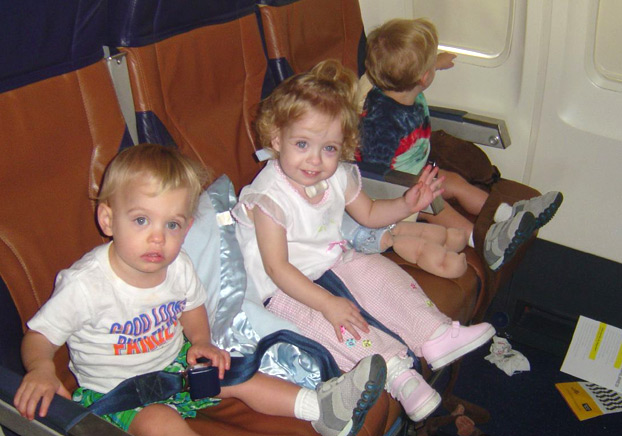 According to Jeanenne Tornatore, senior editor of Orbitz.com, the average consumer spends $2,780 on travel. Now imagine having to bring the kids along -- costs can quickly add up. Luckily, there are strategies that Americans can use to drive costs down.
"This year we're seeing more Americans traveling and, in fact, taking advantage of smart tactics to save costs and upgrade vacations," said Tornatore.
Here are a few tips to help you save money -- and have a great and stress-free trip -- when taking a family vacation:
Research
Don't just buy guidebooks and think you can wing it. Traveling with kids might not give you that luxury. Know decent restaurants in the area, find out what's open and what's closed on days you will be on vacation, research how to best get around, and look up kid-friendly activities so the little ones don't get bored. Good trip planning will save you a headache. That said, be prepared for some changes or bumps in the road. Part of the fun of travel is leaving things to serendipity.
Simplicity is key
Traveling with kids can leave you exhausted. So don't try to cram in too many activities in one day. The less you pack in, the more you can travel at a leisurely pace and enjoy your holiday. Plan less activities. Cut the amount of things you would normally do on a solo or adults-only trip in half and double the time you might spend at certain sightseeing stops. Also, be mindful of how much you're changing locations. Packing and unpacking takes time, especially with kids.
Get the kids involved
Involving your kids in decision making (even if it's done just in name alone) will help build enthusiasm for the trip. A kid armed with knowledge about what he or she is seeing will better appreciate the trip. So look for age-appropriate books or movies about the destination you are going to travel to. While on the trip, get your kids involved and explain things to them. If you can trust your child with a camera, let him or her take photos. Play a game while you're on the road. Give your kids a challenge to complete by the trip's completion.
Travel with others
Traveling with another family might be worthwhile so that the adults can take turns watching over the kids. But before you leave, make sure roles are clearly established about who will do what and that bills and budgeting are discussed.
Pack well
Take all the medications and products you might need -- even for sicknesses that you don't think are likely to strike. Also, be sure to pack the appropriate necessities depending on the weather. Sunscreen and a hat if you're going somewhere hot, a jacket and umbrella if you're going somewhere where it might rain. A sick child on vacation is no one's idea of a good time. In addition to the necessities, take along some easy-to-pack activities or toys (stuff like coloring books, crossword puzzles, or a stuffed animal) that can get the kids occupied in case they get bored.
Take the kids for a checkup
Before you head off on your vacation -- and in particular if you plan to go overseas -- get your kids checked by the doctor. Make sure their vaccinations records are up to date and that you have enough medicine to last your entire trip. Do the same for yourself as well.
Safety first
Kids wander off. Keep a close eye on your children when traveling, especially in busy areas. Explain to them what to do in case you get separated and tuck a business card from your hotel in their pockets (be sure to write your contact information on there).
Organize your documents
Check to see if any destinations you travel to will need visas. You'll have to prepare your documents as well as any for your kids. Some countries might charge fees for visas you get in person. Note what these visas will cost you and your children.
Look for deals
Some hotels offer discounted rates for families or have special deals. Look to see if your hotel offers free meals for kids. If you're staying at a resort, consider booking one that is family all-inclusive. Some booking sites might offer family packages that can save you more than booking things individually.
Consider alternative housing
You don't have to stay in a hotel for every stop on your trip. If you're traveling with a large group, consider a home swap, house sit, or apartment rental -- lodging options that can sometimes be cheaper than booking a hotel. Look into vacation rentals if you're staying a lengthy amount of time. Bed and breakfasts might also be a considerably cheaper option.
Use your credit card rewards
You can get free flights, hotel rooms, or even cash by taking advantage of travel rewards you get through your credit cards. If you have a rewards card, look into the types of travel deals you might get by spending a certain amount at various retailers or restaurants.
Take breaks
A vacation where you are constantly on the go is going to tire the kids out and make them irritable. So don't overdo it. See a site or two one day and mix in some fun activities for the kids like going to a park, museum, zoo, or eating at a fun restaurant. And take breaks when you need them. Rushing through things isn't going to make you -- or your kids -- happy.
Go for a cheaper vacation
Who says you need to travel thousands of miles to have a fun vacation? Staycations can be fun if you plan new and exciting activities for the whole family. Take mini vacations throughout the summer -- camping one weekend, a theme park for another. Travel nearby and take advantage of free housing that you might have by staying with family or friends in other parts of the country. Or take a road trip and enjoy America's natural wonders.
Be flexible
Be prepared for some changes or bumps in the road. Part of the fun of travel is leaving things to serendipity. So embrace spontaneity and have fun!
Related Stories:
The 5 Most Inexpensive Ways to Travel
How to Select a Travel Rewards Credit Card