4 Tips to Pick the Right Financial Planner
The mission of a financial planner is to guide clients in all aspects of personal finance and help them work towards their financial goals. The main objective for someone looking for financial advice is to find someone knowledgeable and trustworthy.
There is no perfect methodology when it comes to money management but there are often many ways to improve your personal finances — ways that you may not necessary be familiar with. Seeking the advice of a financial planner could help you solve some troubling areas of your money matters.
Follow these steps to be more confident in your choice of the right financial planner: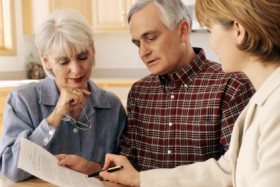 1. Ask About Financial Philosophy

You want to know that the financial planner has the knowledge and capability to help your reach your financial goals. If their savings plans and investment choices do not align with your expectations, you might want to find someone else who understands your perspective.
Let them know what you are trying to achieve and ask specific questions on how they intend to help you. An experienced financial planner should have examples of plans and portfolios of past clients that exhibit successful outcomes from situations like yours.
2. Check Certification, Background
Having someone else manage your money requires a great deal of faith. So you'd prefer a trustworthy financial planner who doesn't have any strikes on his record.
There are regular financial planners and Certified Financial Planners. The Certified Financial Planner (CFP) designation is awarded to those who meet the requirements set forth by the CFP Board and agree to abide by the board's code of ethical and professional conduct. You can verify their certification by visiting https://www.cfp.net/search/.
Other resources for background checks include FINRA BrokerCheck and the SEC's website.
3. Understand the Compensation Plan
How financial planners get paid will play a major role in how they operate. Their paycheck could be based on flat fees, hourly rates, commissions, or any combination of the three. Financial planners who get paid depending on product sales and trade commissions may sell you an insurance policy or mutual fund because it boosts their income but it may not necessarily be good for you.
The ideal financial planner is an independent advisor who sets a flat fee or hourly rate for certain financial services while earning commission based on the performance of the investment portfolio they have set up for you. Under these terms, if you make money, the financial planner makes money.
4. Know the Advisor-Client Relationship
You want a financial planner who communicates and follows through. Throwing a financial plan in front of you and sending you monthly statements counts as minimal work. Good and responsible financial planners will answer your questions in a timely manner. They will meet with you to check up on your progress and discuss changes in your financial situations or goals.
In the end, you should expect someone who genuinely cares.