How a Bank Shares Your Personal Information
Every year, you find a privacy notice from your bank in the mail and it gets dismissed right away. What may seem like a piece of paper filled with financial jargon and irrelevant fine print can actually shed a little bit of light on how your financial privacy isn't so private.
Do you ever wonder how merchants happen to find out your mailing address and send you catalogs of things that tempt the spendthrift within? For all you know, your spending habits may designate you as an advertising target because of the places you chose to swipe your credit card.
After you open an account at a financial institution, your personal information becomes a very valuable resource that could possibly further profit the institution, other subsidiaries under its corporation, and even outside companies.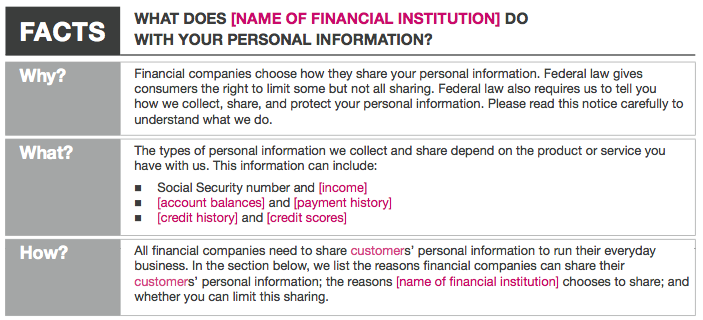 Your age, income, location, transaction history, account balance, credit scores, and more are all revealing information that helps banks and credit companies determine your financial behavior. Soon, you may be classified as a potential customer for refinancing loans, credit cards, and insurance policies. Even more reaching, some of your information can be shared with retailers and telemarketers that offer products and services in which you may be interested.
For example, the Citibank Privacy Notice states, "Nonaffiliates we share with can include companies engaged in direct marketing and the selling consumer products and services."
Depending on your bank, your personal information may be released to different types of companies. Larger financial corporations will usually share your information more so than smaller financial institutions.
Protect Your Financial Privacy
Many customers don't like the fact their personal information is shared for marketing purposes. Some customers don't appreciate the amount of junk mail, e-mail, phones, and unsolicited promotions. Others find that it helps them give them more options when they shop for loans, insurance policies, and investments.
The Gramm-Leach-Bliley Act of 1999 placed rules that allowed customers of financial institutions to limit the sharing of their personal financial information. This is how the regulation offers more control to the customer:
Each financial institution must disclose how it collects customer information and the types of business that may be provided with that information. This disclosure is the privacy notice that must be furnished to you when an account is established. Also, you must be sent the most updated version of the privacy notice annually.
Your financial institution must give you the opportunity to opt out of or limit the sharing of your personal information.
Financial institutions must describe the measures taken to protect the confidentiality and security of your information.
Customers, including former customers or unapproved customers, can check each financial institution's privacy policy by visiting the institution's website and clicking on the "Privacy Policy" link. Many financial institutions use the a privacy notice template to disclose their privacy policy.
In the privacy policy, you can find out how each institution shares your information, what information you can keep from being shared, and how to go about opting out or limiting information sharing.
Compare Best Accounts Now