What to Do (and Not Do) Right Before Closing on a Home?
Learn what to do (and what not to do) in the weeks and days leading to the closing of your new home purchase -- to avoid jeopardizing the process.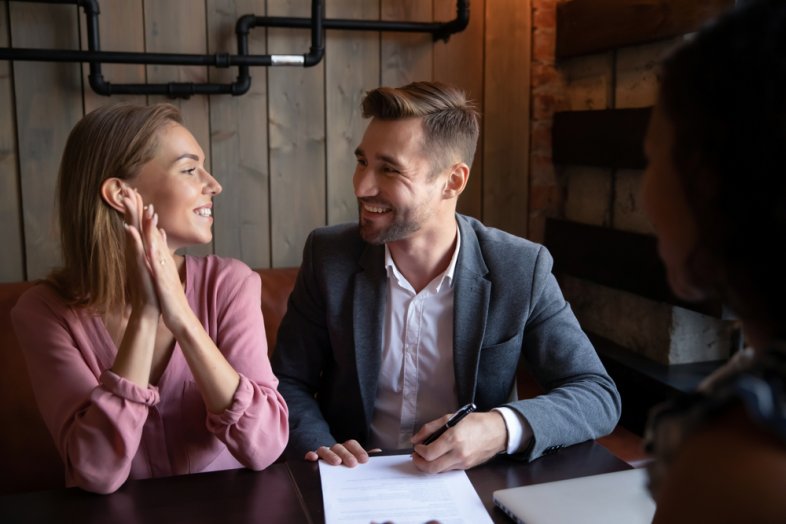 Buying a house is a major milestone. It can take years to save up a down payment or build a strong credit score. And sometimes, you have to make several offers before a buyer accepts your bid. 
The mortgage pre-approval is an important step in this process. But much can happen between getting approved and actually closing the deal.
It only takes one wrong move during the mortgage process to throw closing off track.
So if you've been approved for a home loan, here's what to do—and not do—as you await your closing date.
What to Do Before Closing on a Home?
Getting pre-approved for a mortgage doesn't guarantee closing on the loan.
Mortgage lenders will check your credit during the pre-approval process, and again right before closing. So it's imperative that your credit and financial situation remains the same. 
To keep closing on schedule and avoid delays, here's what you need to do:
1. Increase your savings account
Buying a home is expensive. In most cases, you'll need cash for your down payment and closing costs.
Minimum down payments can range between 3 percent and 5 percent of the sale price, and closing costs can cost an additional 2 percent to 5 percent of the loan balance.
Once you have a purchase agreement, your mortgage lender will prepare a Loan Estimate.
This form provides an estimation of your closing costs and mortgage terms. It'll include information such as:
property address
loan amount
tentative interest rate
estimated monthly payment 
estimate amount needed on closing day
But while this form provides an accurate rough estimation of your out-of-pocket mortgage costs, what you'll actually need to close can be higher. So continue to save your money and increase your down payment fund. 
The amount you need to close could be hundreds or thousands more. The more cash you have on hand, the better.
Compare Savings Options
Be sure to check out more savings accounts worth considering:
2. Keep paying your bills on time
Remember, your mortgage lender will check your credit a few days before closing. Therefore, continue to pay all of your bills on time. 
Any new late payments appearing on your credit report—or other derogatory information like collection accounts and judgments—can delay closing, since your lender will request an explanation. 
Sometimes, a new late payment or negative item can cancel your mortgage. Some mortgage lenders will deny applicants who have late payments within the previous 12 months.
3. Pay off your debt
If you're confident that you have enough saved to cover your closing costs and down payment, use this time to pay off debt. This can include credit card debt or auto loans. 
Paying off credit card debt can increase your credit score, helping you qualify for a lower mortgage interest rate. Plus, the less debt you have, the easier it'll be to adjust to a new home loan payment. More so when the mortgage payment is higher than what you're currently paying for housing.
4. Be prepared to document large deposits
Your mortgage lender will also request 60 to 90 days of bank statements, which they'll examine to determine whether you have enough in reserves for mortgage-related expenses. 
Be prepared to explain any large deposits into your account. You're not allowed to borrow money for your down payment and/or closing costs.
So if you have any large deposits into your account, you must prove that funds came from an account you own, or another legitimate source.  
This can include an inheritance, a settlement, or a work bonus. You're allowed to use gift funds for your mortgage-related expenses. But these funds can only come from acceptable donors, typically a family member. 
Your mortgage lender must approve the donor before you can use their funds to buy a house.
5. Purchase homeowner's insurance
Since you're financing a home loan purchase, you're required to have homeowner's insurance.
Understand, though, it's your responsibility to shop policies and choose a provider before closing.
You'll need to sign up for a policy, and then forward this information to your mortgage lender to keep closing on schedule.
6. Respond to your lender's request
Throughout the closing process, your loan officer might request additional information. It's important that you respond to these requests in a timely manner.
Ignoring your loan officer and late submissions can potentially delay closing.
What Not to Do Before Closing on a Home?
But even if you take the above steps, an error on your part could jeopardize buying the house.
To avoid the worst-case scenario, here's what "not" to do right before closing on a house.
1. Don't make any changes to employment
Financial stability is crucial when buying a home. For this reason, you're typically required to remain with the same employer, or within the same field, for at least 24 consecutive months before qualifying for a mortgage. 
Again, getting pre-approved for a home loan doesn't guarantee closing. So after you're approved for a mortgage, don't make any significant changes to your employment. This isn't the time to quit your job and start working for another company. 
Also, this isn't the time to switch from a salaried position to one that pays commission. Changes of this nature could delay closing, or worse, cancel closing.
If you lose your job through no fault of your own during the mortgage process, contact your lender immediately. If you're able to secure another job within the same field and with the same pay, closing might remain on schedule.
Along with not making any changes to your place of employment, don't quit your job to become self-employed. 
You can purchase a home as a self-employed borrower, but you'll have to jump through more hurdles.
And in most cases, you have to be self-employed for at least two years before a lender will approve your mortgage application.
So if you're thinking about becoming self-employed, wait until after closing to quit your job.
2. Don't accumulate new debt
It's also important that you don't accumulate any new debt right before closing on a home.
Your qualifying amount wasn't only based on your income, but also your debt load at the time of application. 
Financing a new car or furniture, or accumulating extra credit card debt can increase your overall debt-to-income ratio and reduce purchasing power.
Debt-to-income ratio is the percentage of your gross monthly income that goes to debt payments. 
When buying a home, your debt-to-income ratio should not exceed 36 percent to 43 percent, depending on the mortgage loan.
Let's say you qualify for a $250,000 mortgage with your current debt load. Since financing a new car increases your monthly debt payments, you could end up qualifying for a smaller mortgage, which puts your current mortgage in jeopardy. 
As a general rule of thumb:
If you need to buy a car during the mortgage process, talk to your lender first.
They'll let you know how much you can spend without putting your mortgage at risk.
In addition to "not" taking on new debt for yourself, don't cosign a loan for anybody. Cosigned debt also appears on your credit score. This increases your debt-to-income ratio, while possibly decreasing your mortgage qualifying amount.
3. Don't go on a shopping spree
Understandably, you're excited to buy new furniture and start decorating. But wait until after closing to shop for the house. 
Again, you won't know your actual closing costs until a few days before closing.
So the more money you have in the bank, the better—in case your closing costs are higher than originally stated on your Loan Estimate.
4, Don't skip the home inspection
A home inspection might seem unnecessary when a home appears to be in good condition. But the property could have hidden problems, which can be costly in the long run. 
A home inspection isn't required when buying a property, yet highly recommended. When submitting an offer on a property, include a clause stating that your offer is "subject to a satisfactory home inspection." 
The home inspector will check the property's roof, foundation, plumbing, electrical system, appliances, and other systems for problems. If the home has issues, ask the seller to fix these problems before closing. 
5. Read your Closing Disclosure
A few days before closing you'll receive your final Closing Disclosure from your mortgage lender.
This form includes:
your actual home loan terms
your interest rate
monthly payment
the amount you'll need on closing day
other loan details
Read this document carefully and compare it with your Loan Estimate. If you have any questions, contact your lender immediately.
Final Word
Closing on a mortgage and buying a house can be a stressful time, especially since a lot of stuff can go wrong. 
To stay on schedule, make sure you keep your employment, income, and credit status the same.
Respond to lender requests in a timely manner.
And if anything changes financially, update your lender as soon as possible.