ATMs: When You Can't Use a Branch
There are easy ATM banking methods that won't require you to visit a bank branch to complete a financial transaction.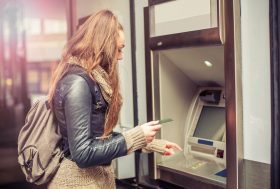 Bank branches are not always open and even if they are open, teller lines may be long. More often than not, many teller transactions can be completed at an automated teller machine (ATM). Since most bank accounts come with an ATM or debit card, there is often no need to speak to a teller for service when easy ATM banking methods are at your disposal. Additionally, banks tend to have more ATM locations than branches (due to the placement of ATM-only facilities), so you are more likely to have access to ATMs than branches.
Automated teller machines (ATMs) are getting more and more enhancements as the years go by. For many common everyday banking tasks, an ATM should be enough to get the job done. Also, they come in handy when you cannot visit the bank during normal business hours, when you are typically at work.
While the specific capabilities of ATMs are going to vary from bank to bank, there are features that have become common across all banks.
Typically, you'll be able to check your account balance, transfer funds between accounts, withdraw cash and deposit cash and checks. When you deposit checks, you can opt for a receipt with an image of the check for recordkeeping purposes.
Advancements in ATM technology are even allowing bank customers to deposit cash and checks together in a single insertion without any envelopes.
Be aware that balance inquiries and cash withdrawals at out-of-network ATMs may come with fees, both charged by your bank and the ATM operator.
To expedite your trips to the ATM, you should configure your personal ATM settings so that you don't have to waste time navigating unnecessary screen options during every visit. Usually, you can select the language and the receipt option. In future ATM visits, you will no longer be prompted to take these additional steps to completing your transaction.