Should Your Family Rent or Buy a Home?
If you've made enough money to start building a family and you've got a good college savings fund going, you've probably considered the question: Should you rent an apartment or buy a home?
Each has its advantages and disadvantages, and the answer might come down to personal preference. Let's take a look and some of the pros and cons of each:
Why Rent?

The main argument for renting is the flexibility it affords you. Say you receive a once-in-a-lifetime job offer at a company two states away. If you own a home you might not be able to uproot your financial life and purchase another home in the new town, giving you two options: Turn down the job or make a long commute that could deprive you of valuable family time. If you're a renting family, you can move to a new town at your leisure. Your only expenses will be the fee to break your lease, which in the big scheme of things, probably won't set you back too far.
You don't risk losing money on your investment when you rent. You'll pay on a per-month basis to live in your apartment but you won't be penalized if the housing market crashes like it did over the past several years. If you sink hundreds of thousands of dollars into your home but need to sell it during a market downturn, you could lose thousands.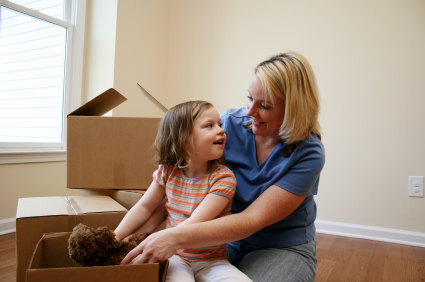 Your overhead costs will be substantially lower when renting a home. Even if your mortgage payments and monthly rent are nearly equal, the money you'll spend on repairs and taxes will outweigh your extra rental expenses. As a homeowner your property taxes could run you anywhere from 5% upward, and you'll have to replace broken appliances and put in plenty of hard work whenever something goes wrong around the house. Money for a new refrigerator or microwave might be better spent on your kids' education. On top of those costs, your homeowners' insurance will definitely top renters' insurance — by as much as 10 fold, in some cases.
Why Buy?
Buying a home is a logical step in many peoples' lives as they settle down and put down roots in a certain place. If you have job security and you are content in your current situation, buying a house can add a sense of security.
You can treat your home like an investment and come away from home ownership with a profit, but it might take some elbow grease. You'll need to put in some time and money to make your home a more appealing real estate property, but if you do, you could score a profit of thousands of dollars. Remember, the return on your investment will be tied to the performance of the nation's housing market and the values in your individual neighborhood or city.
If you have a child or two, moving every several years may not be an ideal plan. Kids need stability, and having a familiar home and neighborhood can be valuable parts of childhood. It can be tough for a child to adjust to a relocation — they may need to make new neighborhood friends and change schools.
The tax deductions that come with home ownership can help defray some of the maintenance costs. A few of the most enticing tax deductions for homeowners include:
• Mortgage interest — Any interest your mortgage accumulates should be tax deductible.
• Mortgage insurance — Through 2010, you can write off the cost of mortgage insurance.
• Moving expenses — You can't deduct all your moving costs, but some of them could come back to you via tax deduction.