Gen Y Likes Direct Deposit Due to Eco-Friendliness
More of the younger generation of workers are opting for direct deposit because it is more friendly to the environment.
Generation Y, those of born in the year 1979 or later, are more likely to than other generation groups to collect their paychecks through direct deposit because of environmental reasons, according to a new study by NACHA, an electronic payments association, and PayItGreen.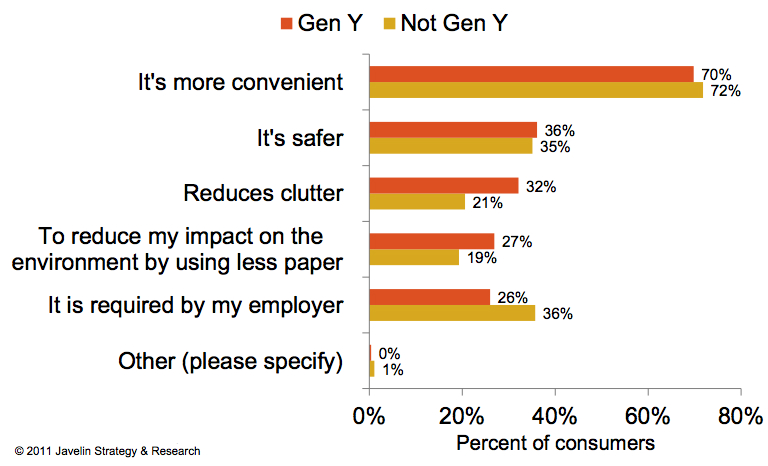 Released during National Payroll Week, the PayItGreen survey found that 27% of Gen Y respondents said they opted for direct deposit to reduce the impact on the environment by going paperless, compared to 19% for other generation groups.
"Gen Y brings a new energy to products and services that support causes like environmental sustainability," Janet O. Estep, president and CEO of NACHA, said in a press release.
Another survey was cited saying that 89% of Gen Y would switch brands if the new one supported environmental friendliness, assuming price and quality stayed the same.
"Although convenience is still the number one reason that all generations use direct deposit, Gen Y is leading the environmental charge to help reduce paper use by receiving their pay electronically," Estep added.
Gen Y respondents cited use of direct deposit because of convenience (70%), safety (36%), less clutter (32%), environmental friendliness (27%), and employer requirement (26%).
Read: Direct Deposit Helps Businesses Go 'Green'
Converting the remaining portion of American workers to direct deposit is a hurdle that would allow business to reduce use of paper. Under laws in certain states, employers are allowed to require employees to receive direct deposit.
Banks are playing a major role in this movement as many checking accounts now charge monthly account fees unless customers meet fee waiver requirements - one of which is monthly direct deposit.
"Once employees start using Direct Deposit, its safety, security, and convenience make them true believers," Estep says. "They wonder why they didn't do it sooner."