How to Find a Good Bankruptcy Lawyer
Find out what to look for when you need a good bankruptcy lawyer that will help guide you through the process of discharging personal debt.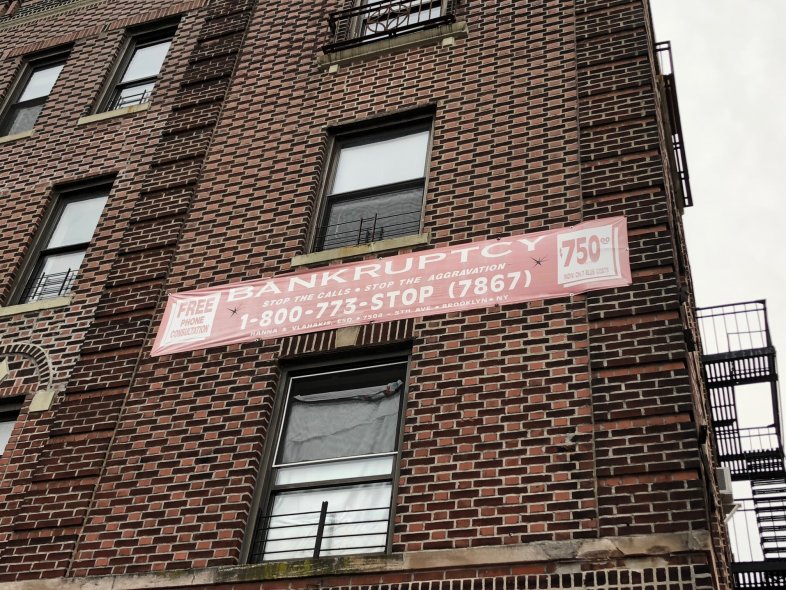 If you're drowning in debt, you may be considering declaring bankruptcy.
If so, you're not alone.
According to the United States Courts, 12.8 million consumer bankruptcy petitions were filed in the federal courts between 2005 and 2017. 
Bankruptcy can be a solution if you cannot pay your debt, but you'll likely need to hire a lawyer to help you navigate through the process.
A bankruptcy attorney will have an intimate look into your finances, so it's important that you trust whomever you hire. 
Here's how to find a good bankruptcy lawyer for your unique situation.
How Bankruptcy Works
If you pursue bankruptcy and the court rules in your favor, some or all of your debt may be discharged, meaning you won't have to repay it any longer.
However, bankruptcy can stay on your credit report for up to 10 years and can make it difficult to qualify for a mortgage or even to get a job, so it's important to ensure you've exhausted all other debt management options. 
Before you can file:
You must undergo credit counseling from a government-approved organization.
Once you've completed the program, you can proceed with the process.
When you file for bankruptcy, you have to decide which type you'll file: either Chapter 7 or Chapter 13.
Chapter 7
Chapter 7 bankruptcy is straight bankruptcy, meaning all of your assets that are not exempt — such as cars, work-related tools, and basic household furnishings — are liquidated.
It could be sold by a court-appointed official, or turned directly over to your creditors.
With Chapter 7 bankruptcy, you'll have to undergo a means test that confirms your income doesn't exceed a set amount.
Chapter 13
With Chapter 13 bankruptcy, people with steady income, such as a full-time job, can keep certain properties, such as a home or car, that they would otherwise lose in bankruptcy.
The court approves a five-year repayment plan; after you make all of your required payments, the debt is discharged.
How to Find a Good Bankruptcy Lawyer to Represent You
Finding a bankruptcy lawyer may seem overwhelming, but you can find a reputable attorney by following these five steps: 
1. Learn what a bankruptcy lawyer does
Bankruptcy proceedings are complex.
While you can technically handle the process on your own, a lawyer can be well worth the expense. 
Bankruptcy cases require extensive paperwork and involve detailed court rules.
The worst part:
If you make a mistake, there can be lengthy delays or the court may refuse to discharge your debt.
Or, you could end up with criminal charges for fraud. A bankruptcy lawyer helps you avoid these errors. They'll make sure you comply with court requirements, fill out the necessary paperwork, and abide by all of the court's rules. 
A bankruptcy lawyer helps you avoid these errors. They'll make sure you comply with court requirements, fill out the necessary paperwork, and abide by all of the court's rules. 
They'll offer advice on how to manage your assets, so you don't lose certain assets unnecessarily.
An attorney can also help you deal with your credit, including tips on how to minimize the impact to your credit score. They can even help you negotiate with creditors and settle debt.
2. Think about fees and costs
According to The Bankruptcy Site, the average bankruptcy lawyer charges between $1,200 and $1,500 for Chapter 7 bankruptcy services. If you're planning on filing for Chapter 13 bankruptcy, Nolo reported that the average price for attorney fees is $3,000. 
The cost you'll pay is dependent on your location, the complexity of your case, and the experience of your lawyer.
You'll also have additional costs, such as court filing fees. 
When evaluating lawyers, pay attention to their fees and costs. Some lawyers are willing to work with clients and will set up payment plans for you.
Or, you may be eligible for free assistance through legal aid. 
When you file for bankruptcy and use a lawyer, the lawyer must report what fees they charge to the court.
If the amount is viewed as excessive, the trustee can file a motion either cancel the fee or to refund a portion of it back to you.
You can also file a motion on your own if the fee is too high.
3. Search for an attorney
The best way to find a lawyer is to ask friends and family members for a referral.
They may have firsthand experience with an experienced attorney, which can be an invaluable recommendation. 
If you can't find an attorney through your personal network, there are several other ways to find a reputable lawyer: 
4. Ask questions
When you meet with a prospective lawyer, it's important to ask questions to make sure they're a good fit for your needs.
Some questions to ask include:
How much of your work involves representing consumers in bankruptcy cases? You want a lawyer who specializes in consumer bankruptcy cases so that they know the rules and regulations inside and out. 
How many cases like mine have you handled? Your lawyer should be familiar with court proceedings, so it's a good idea to hire a lawyer who handles several bankruptcy cases per month. 
Do you charge upfront fees, or do you offer payment plans? If you don't have extra money to pay an attorney, look for a lawyer that offers pro bono legal services or who will accept a payment plan. 
If I lose my case, do I still owe you a fee? Some lawyers will waive their fee if they lose their case, while others will still require you to pay the full amount. Make sure you understand how your attorney structures their fees to avoid any surprises. 
If I can't afford you, can you refer me to another lawyer who may not charge upfront fees? Reputable lawyers will often connect you with attorneys that offer pro bono assistance. 
5. Do your homework
It's a good idea to make sure your lawyer is in good standing with the state bar association.
The disciplinary record of all attorneys is public record.
You can contact the state bar association and inquire into the attorney's record; many bar associations even have databases online you can use to search for past records.
Bottom Line
If you plan on pursuing bankruptcy, hiring a lawyer is a wise decision.
With a deep knowledge of the law and court regulations, a skilled attorney can help you through the proceedings.
If you're not sure how to find a good bankruptcy lawyer, use the above steps to locate and vet potential attorneys.
By doing your research and asking thorough questions, you can find the right lawyer for you.