7 Ways to Get a Better Seat on Your Next Flight
Flying can be really uncomfortable, especially if you're stuck in an economy-class seat. Follow these tips to get a better seat next time you fly.
Flying isn't the most comfortable thing in the world, especially if you're spending hours cramped in an economy-class seat. You might be stuck in a seat that doesn't have much legroom, fighting for space with the passenger next to you, contending with a baby crying in the distance.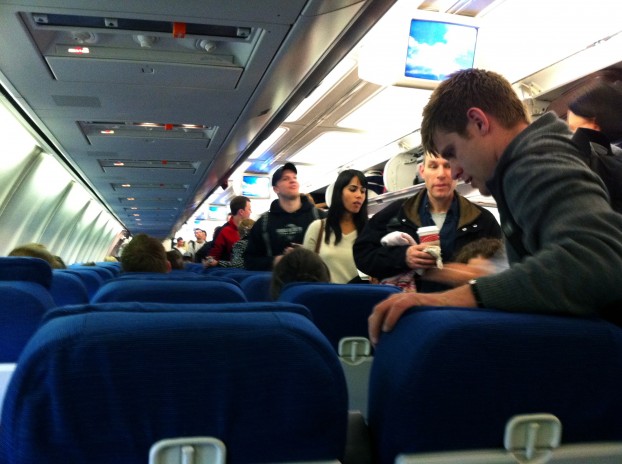 When you're on a long flight, you want to feel as comfortable as possible. Getting a better seat might make the long flight more tolerable. But what makes a good seat? It really depends on what's important to you.
Do you like having a seat near the front of the plane so that you can disembark more quickly? Is access to a bathroom nearby a necessity? Maybe you need ample leg room or access to a power port? Your happiness depends on what makes you comfortable during flight.
Here are a few things to consider when deciding what seat you'd like best:
Rows near restrooms or flight attendant areas might be noisier than other areas on a plane.
Exit row seats generally offer more legroom.
Window seats allow you to rest your head against the plane.
You usually experience less turbulence sitting over the wing.
If you don't want the passenger in front of you to recline their seat, choose one that's behind a physical barrier like a wall or screen.
If you're sensitive to light, don't sit right in front of a screen.
If you plan to work during flight, choose a seat that has a power outlet nearby.
If you hate waiting to disembark, sit closer to the front of the plane.
With that criteria in mind, establish what's important to you when you fly. And then follow these tips to help you land a better seat:
Become a frequent flyer
If you are a frequent flyer, you can accumulate points and miles that you can redeem for seat upgrade. If you are an elite or loyal flyer, you might even get bumped up without having to pay. One way that you can earn miles is by applying for a travel rewards credit card. Oftentimes these cards offer bonus miles just for signing up. Be sure to check the terms and conditions of your travel rewards card, so that you take full advantage of the miles you can accumulate for a seat upgrade.
Be early
More seats will obviously be available the earlier you book your flight. But even if you can't book many weeks in advance, you can at least check-in online early or arrive at the check-in kiosk at a decent hour to see what seat options are still available for you. You should arrive early enough to be at your gate in time for boarding -- otherwise you risk losing your seat.
Fly on slower travel days
There are fewer people flying the friendly skies on Tuesday or Wednesday, increasing your chances of getting a better seat. If you can fly in the middle of week, you might have a more pleasant experience because there will be less congestion and maybe even more space on the plane if you're the only person sitting in your row.
Keep an eye on cheap, last-minute seat upgrades
The best seats on a plane might not always be worth the cost. However, if you're lucky, there might be last-minute offers that allow you to upgrade for a fairly reasonable price. Be on the lookout when you check-in online, at the airport kiosk, and at the gate. When in doubt, ask. You never know what might happen.
Keep trying
Most airlines allow you to choose a seat when booking your flight. If you're unable to book a desirable seat at that time, consider alternatives flights. The more flexible you are with your schedule, the better your chances to get a desirable seat. Generally, more seats will be available on flights that are more expensive. If getting a good seat while flying is important to you, weigh the costs carefully. Flying business or first class isn't always as expensive as you think. When you check-in, be sure to review your flight details and see if you can change your seat to something more desirable.
Use SeatGuru or SeatExpert
The websites SeatGuru and SeatExpert have seat maps for nearly every airline and aircraft type. Consult one of the websites to find out which airlines, planes, and seats offer the most legroom.
Purchase a better seat
Sitting in business or first class doesn't always cost that much more than a seat in economy class. Some airlines, let JetBlue and United, now offer economy class seats with more legroom. You can also pay for preferred seating on some airlines, which will give you the opportunity to board a plane earlier than people sitting in economy class and score a more desirable seat near the front of the plane.
Related Stories:
When Upgrading to Business or First Class Is Worth It
Weighing the Value of Frequent Flyer Programs
How to Select a Travel Rewards Credit Card