What Lenders (and You) Can Say on Your Credit Report
Lenders technically can add statements to your credit report, but they're written in code and won't have a direct impact on your credit score.
The entire credit scoring system hinges upon lenders reporting information on their borrowers to the credit bureaus. But consumers may be happy to know that there are limits to what a a lender can and cannot tell Equifax, Experian or TransUnion.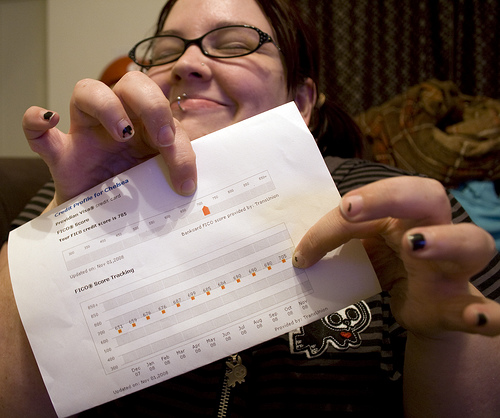 While lenders typically report information regarding an account's status, its current balance and accompanying credit limit, there are certain times when additional information may be warranted. But consumers always have a right to respond to such information.
In these instances, "lenders may add condition codes or special comment codes which help further explain the status of an account," says Maxine Sweet, vice president of public education for Experian.
However, she adds, these codes are standardized across the industry as part of the required reporting format. For example, lenders can add a code that specifies whether an account was closed "at consumer request" or "transferred to another lender."
"There are many narrative codes for credit grantors to choose from," Demitra Wilson, a spokeswoman for Equifax, says "It's not free form."
Put in your 2 cents
This differs from the option consumers have when they feel the need to clarify a line item on their credit report.
Under the Fair Credit Reporting Act (FCRA), consumers can add a statement of dispute of up to 100 words that can say whatever they would like it to. For instance, a person might want to specify an account went delinquent because a bill was sent to the wrong address or they never received the services they were charged for.
These statements, however, aren't going to have an impact on the report's accompanying credit score since they are ignored by credit scoring models. Instead, it's up to the new lender in question to decide whether to disregard the information it pertains to and ultimately offer the prospective borrower a loan.
Keep in mind, the process works a little bit differently when a piece of information is being formally disputed by a consumer. Credit bureaus are required to show when an account is being contested and most credit scoring models will disregard the information associated with this notation while an investigation is conducted.
This can potentially help preserve a person's score in the short-term. However, FCRA requires the bureaus investigate the contested information within 30 days of a dispute, so it won't have a long-term effect should the investigation not go the consumer's way.
Standardized statements added by lenders aren't factored in a score either.
Instead, "they are coded to be identifiable by another lender receiving the report so that they can set up special procedures for certain conditions if they so choose," Sweet says.
This means, just like with consumer statements, a new lender has to decide if the additional information has any bearing on whether a prospective borrower gets the loan.