In Debt? Here's How to Slash Your Spending
Avoiding debt can be difficult. Getting out of it is even harder. Essentials such as food and shelter cannot be cut out of your budget, seemingly leaving little space to shave your spending.
A set of numbers from the Bureau of Economic Analysis shows in which areas Americans have cut their expenses since the beginning of the recession. This information could provide you a blueprint for your own steps to frugality.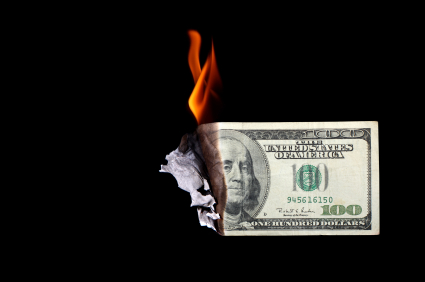 Chop Transportation Expenses
If you live in a major metropolitan area, chances are you can find a more cost-effective and healthy way to commute than by car. Using public transportation — or just cutting down on the miles you put on your car — is a great way to save money, many Americans have found. Since the end of 2007, Americans have cut their spending on automobiles and parts by 16% and their gasoline cost consumption by 15.3%. Those expenditures, which the nation cut by a combined $125 billion in two years, were only trumped by cuts to moving and storage services.
Luxuries such as foreign travel (-7.4%) and video or audio equipment (-8.4%) have also grown less popular with Americans. Both of those expenditures could definitely be dropped if you're looking to become more budget-conscious.
Stay Stable by Avoiding Unnecessary Purchases
A look at the areas in which Americans are upping their spending also offers some lessons if you're trying to save money.
In the midst of the recession, Americans have increased spending on telephone equipment and pets, both by more than 14%. The phone equipment splurging is no surprise: As phones have become more and more advanced, their popularity has surged. Pets have also become more expensive. It's easy to eliminate these categories from your budget by downgrading your next phone purchase or by not investing in a pet.
Education, childcare and healthcare costs have skyrocketed at no fault of the consumer. These costs are hard to avoid, but remaining prudent can help you shave a few dollars off of these areas of your budget.