How to Buy Disney Stock: Invest in the Walt Disney Company
Learn how to buy shares of Disney stock to invest in one of the most popular global brands. Compare the different methods to trade shares of (DIS).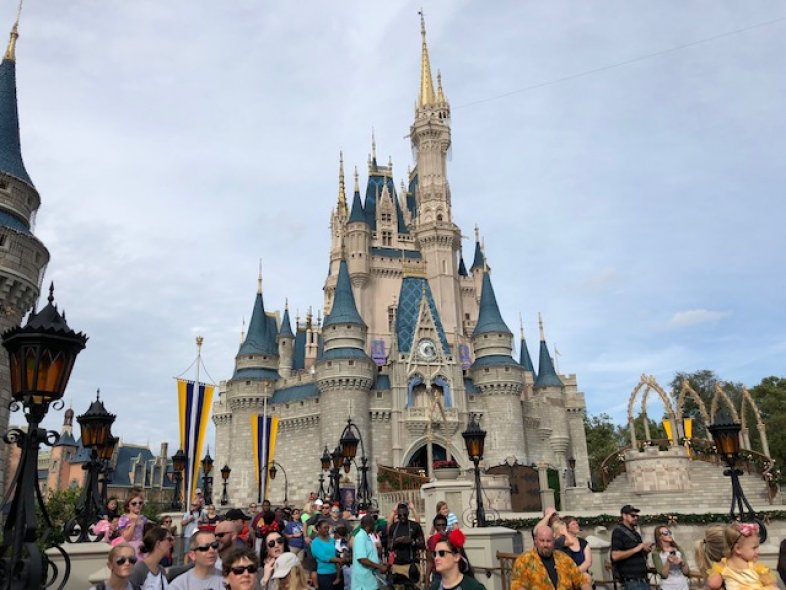 The Walt Disney Company is one of the world's largest and most prominent brands, dominating everything from theme parks to movie screens.
If you're a fan of the company, then you may be thinking about investing your hard-earned money with Disney.
But how do you even get started?
Here's everything you need to know about how to buy Disney stock and become an investor.
Disney: Company Overview
The Walt Disney Company is an international corporation operating in several different business segments, including:
media networks,
theme parks, experiences, and products
studio entertainment
a number of subsidiaries and affiliates. 
Several major television stations fall under Disney's brand, such as ESPN, ABC, FX, and National Geographic. Major production companies like Marvel Studios, LucasFilm, and Pixar fall under Disney's umbrella, too. 
And in 2019, the Disney+ streaming service will launch, adding to the company's presence in the direct-to-consumer streaming space. 
With its wealth of products and services, Disney makes money in a variety of ways: park ticket sales and merchandise, movie tickets sales, licensing, subscriptions, and vacation packages. 
Disney's main competition is other media conglomerates, such as:
Viacom, Inc
Time Warner Inc
Twenty-First Century Fox
CBS
Comcast
Research and Analysis
Before investing in a company, it's important to do your due diligence and research your options ahead of time. While many experts recommend looking at different aspects of a company, here are a few factors to consider when doing your own analysis: 
Form 10-K: Each year, companies are required to file an annual report with Form 10-K, which details its financial statements. You can review a company's balance sheet and see what assets and liabilities it has, and what revenue it brings in. 
Form 10-Q: Companies are also required to file Form 10-Q, a quarterly update on operations and financial performance, which can give you a more up-to-date view of the company's results. 
Think about challenges: Disney is a robust company, but it also faces many major competitors. Give some thought to the company's products and services, and think about how you feel the company is facing those challenges. Are they adapting sufficiently to new technology? Is the entertainment space getting overly crowded? Or do you think there's room for continual growth? Your answers will help influence your investment choices. 
Look at past performance: Use resources like MorningStar to track a stock's performance and see how it's done in the past. Disney is a blue chip stock, meaning it's a popular stock to buy because it's relatively stable and often pays attractive dividends. 
Once you've done your own research, you can make a sound investment decision.
However:
Keep in mind that a company can look great on paper and have solid past results, but fail to produce in the future.
There's no way to guarantee that your investment will result in a positive return, but doing your homework will help you make an informed choice.
Decide how much you want to invest
If you've done your research and have decided to proceed with investing in the Walt Disney Company, think about how much money you want to invest. In the past 52 weeks, Disney stocks have ranged in cost from $100.35 to $147.15 per share.  
Keep in mind that the stock market can be volatile; stocks that normally perform quite well can plummet overnight.
Investing in the stock market isn't a way to build wealth quickly.
To grow your money, you should plan on leaving your money in the market for at least three to five years, if not longer. When thinking about how much you can afford to invest, only use money that you won't need in the short-term. 
Besides the lump sum amount you're willing to invest upfront, you may be able to afford to continue buying shares each month.
Set up a budget and set aside money each month for investment purposes. Over time, those savings and investments can add up.
How to Buy Disney Shares
Once you've decided how much to invest, it's time to figure out how to buy Disney stock.
There are three main ways to invest in Disney:
1. Buy stock directly from Disney
Some companies — like the Walt Disney Company — allow you to buy stocks directly from them rather than requiring you to go through a brokerage firm. 
With Disney's direct stock purchase plan, you can start investing by completing an enrollment form and making either an initial cash investment of $175 or by authorizing monthly deductions of at least $50 from a bank account to purchase Disney's stock. 
With this approach, all dividends are automatically reinvested in Disney common stock, and you can sell all or any portion of your stock through the plan. 
When you buy Disney stock, you can also opt to buy a Disney Collectible Shareholder Certificate for $50.
Many people buy the certificate when they give stock as a gift to commemorate the occasion.
2. Purchase individual stocks with a brokerage account
To purchase individual stocks, you first need a brokerage account.
You can open a brokerage account online in just a few minutes.
When comparing brokerage companies, think about your investment needs:
Do you plan on being a hands-on investor, or would you prefer an advisor do most of the work?
Are you mainly looking to invest in individual stocks or funds? 
Each brokerage firm has their own fee structures, so it's a good idea to compare common costs — such as online trading fees — before signing up for an account.
And, some companies have high minimum investments, which may be a barrier for new investors. 
Once your brokerage account is set up, you can move forward with investing your money. 
If you decide to buy individual stocks, meaning you want to buy only Disney shares, Disney trades on the New York Stock Exchange with DIS as the company's ticker symbol. 
In your brokerage account, go under the buy or trade section. Input Disney's ticker symbol, then list how many shares you want to buy. 
Next, choose your order type: 
Market: With a market order, you'll buy stocks at the current price per share. 
Limit: With a limit order, you only buy stocks if it reaches a price you specify ahead of time. 
When buying individual stocks, make sure your total investment doesn't exceed 5% to 10% of your total portfolio.
That way, if Disney's stocks decrease in value, you won't lose all of your money. Diversifying your investments is essential for long-term wealth and security.
3. Invest in mutual funds, index funds, and ETFs
Buying individual stocks can be risky.
And, if you want to appropriately diversify your portfolio, you'd have to research and buy stocks from 30 to 50 other companies, which can be time-consuming.
Another option to consider is investing in mutual funds, index funds, or exchange-traded funds (ETFs) rather than individual stocks.
With these types of investments, you invest in hundreds of companies at once.
If one company doesn't perform well, you won't lose your entire investment; the other companies that are part of the fund help offset those losses. 
Many funds include Disney.
For example, large-cap growth equities like Vanguard Communication Services ETF (VOX), Fidelity MSCI Communication Services Index ETF (FCOM), and SPDR Dow Jones Industrial Average ETF (DIA) all include exposure to Disney.
Consult an Advisor
Now that you've learned the basics on how to buy Disney stock, you can start your investment strategy. 
If you're still uncertain or need help coming up with a plan for your overall finances, consider hiring a financial advisor for assistance.
They can create a comprehensive financial plan that fits your goals, helping you select the right investments for your needs. 
Or, if you intend to be a more hands-off investor, you can invest with a robo-advisor, who will allocate your money based on your goals and risk tolerance for you. 
Bottom Line
If you're a fan of Disney's products and services, you may be considering investing in the company.
Before you do so, make sure you do your research and come up with an investing budget so you can invest wisely.