How to Buy Stock in DoorDash: Invest in Food Delivery & Takeout
Learn about the steps you need to take to buy shares of DoorDash stock and become an investor in the popular food-delivery service.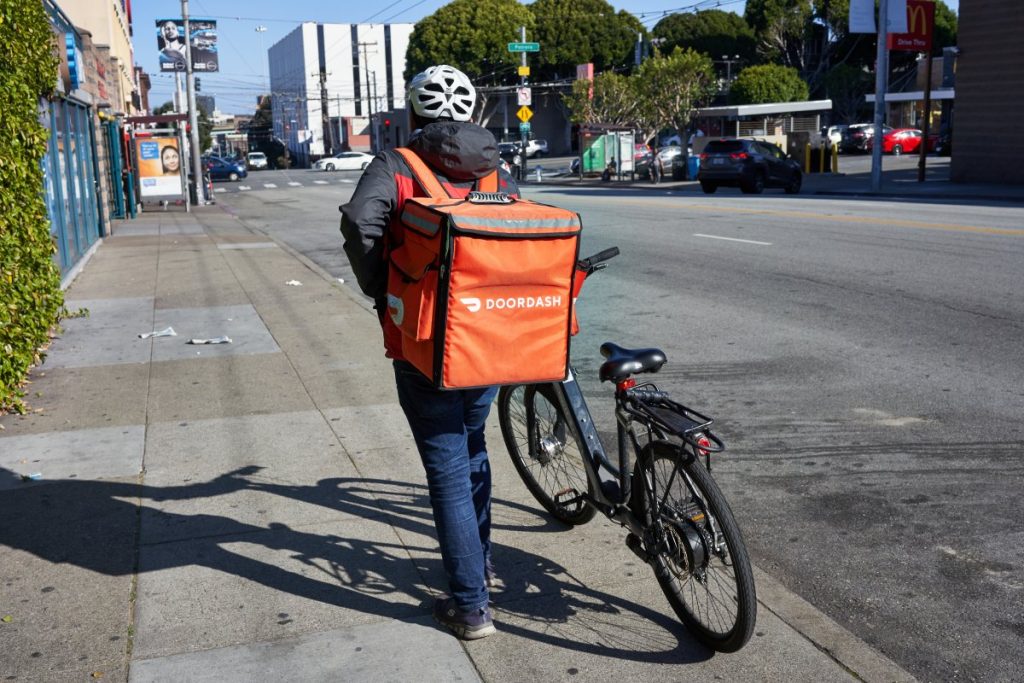 When it comes to food delivery, DoorDash is easily top-of-mind. As a consumer, you can order food to show up at your door with a few clicks on a computer or your smartphone.
Holding one of the largest shares in the market of food-delivery services, DoorDash may be on your radar as a potential investment.
If you're interested in buying shares of DoorDash stock, learn about the steps you need to take to become an official shareholder and investor of this popular food-delivery company.
Company Overview
DoorDash (NYSE: DASH) is an American company, based in Palo Alto, California, that operates an on-demand food-delivery service.
The company aims to generate a profit by:
Charging a commission fee (percentage of the food order) to restaurants
Advertising fees paid by restaurants to feature their menu at the top of search results
Delivery fees collected by Doordash's own drivers
Subscription fees to DashPass (free deliveries on eligible orders at select restaurants)
For restaurants and eateries, DoorDash offers a way for them to generate more business without having to hire their own delivery personnel. 
For consumers, DoorDash may provide expanded food delivery options because consumers can now order from local restaurants that didn't previously offer food delivery.
What are the biggest DoorDash competitors?
The most notable competitors to DoorDash are other food delivery services and restaurant ordering platforms, including:
GrubHub (NYSE: GRUB)
Postmates
Instacart
HelloFresh
How to Buy Shares of DoorDash Stock
To buy individual shares of DoorDash stock, you will need a brokerage account, which allows you to trade and hold securities.
A quick review of what you'll need:
Pick a brokerage.
Open an account (whether taxable or tax-advantaged).
Place a buy order to purchase shares of DoorDash.
1. Pick a brokerage
If you're choosing your first brokerage, you might be overwhelmed with your options. 
There are brokerages that we recommend depending on your investing preferences.
Generally, most brokerages will allow you to trade individual stocks, including DoorDash.
Other factors to consider as part of your decision are:
Account minimums
Commission fees for trades
Fractional investing
Account management and access
Research tools and data access
Open a brokerage account
When it comes to opening a brokerage account, the process can take as little as 10 minutes to submit an application.
Be prepared to provide the following information when opening a brokerage account:
Full name
Mailing address
Social Security number
Bank routing and account numbers
Note that the brokerage firm may reach out to verify these details. You may need to provide copies of documentation for further review.
After you've submitted your application, it may take up to a week or longer before you can start trading (usually it's much faster).
Place a buy order
Once your brokerage account is up and running, you simply need to place a buy order.
Remember to enter the correct ticker symbol for DoorDash, which is DASH.
You will have the option to choose a market order or a limit order.
A market order means the trade will execute immediately at the market price.
A limit order means the trade will execute only at a specific price set by you (it does not execute unless that price is reached).
Then, you may have the choice to purchase a specific quantity of shares. Or, you can simply enter a dollar amount to buy as many shares that you can afford for that amount (you may end up with fractional shares, if allowed by the brokerage).
You'll be given the opportunity for a final review of the trade request before submitting the order for execution.
Afterward, you'll see the shares in your account so that you can track its performance and your personalized gains or losses.
Another Way: Mutual Funds and ETFs
You don't have to buy individual shares of DoorDash in order to benefit from the company's success.
Mutual funds and exchange-traded funds (ETFs) may also own DoorDash as part of their holdings.
Better yet:
Because these funds tend to hold a large number of other investments, you become diversified instantly.
Frequently Asked Questions
Does DoorDash stock pay dividends?
No, DoorDash does not pay dividends to shareholders.
It's possible that any company may start paying dividends in the future, but that decision is entirely up to the company and there is no guarantee of it.
When should I sell my DoorDash shares?
There is never a correct answer on when would be the right time to sell any particular investment. 
Typically, investors will sell a stock when they believe that the company is no longer in a position to be profitable, whether that may be due to management changes, market conditions, or a new competitor.
Ultimately, it's your decision on when to drop DoorDash from your investment portfolio.