Schwab Intelligent Portfolio 2023 Review
Find out all the features that are available from Schwab Intelligent Portfolios, a robo-advisor service that helps you build a balanced and diversified investment portfolio based on Charles Schwab ETFs.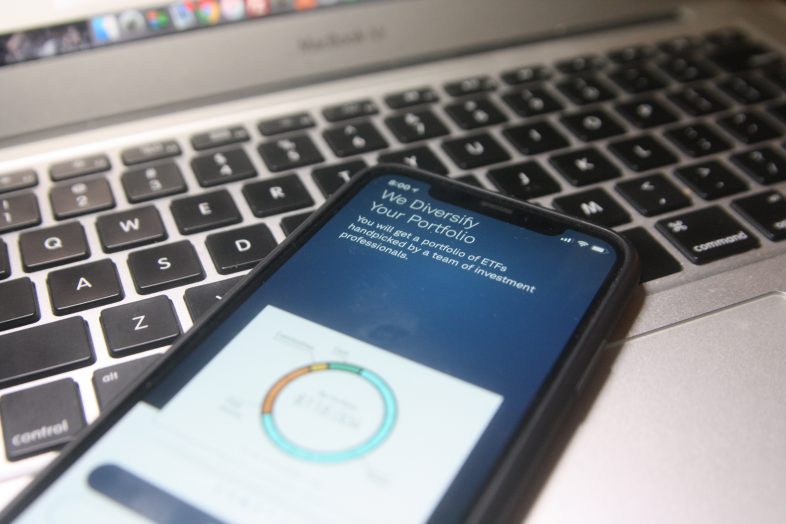 These days, there's an easier way to invest and it's all happening online. Robo-advisors bring something new to the investment landscape, with convenient, low-cost ways to build a portfolio.
Schwab Intelligent Portfolios is one of the robo-advisors vying for your investment dollars.
This technology-driven platform offers a way to start investing with no advisory fees.
This is one place you may consider putting your money if you want to invest for retirement, your child's future college costs or a similar goal.
Every robo-advisor is different. Some may have features or benefits that appeal to you more than others. To help you decide where to invest online, we've put together a complete review of Schwab Intelligent Portfolios.
Schwab Intelligent Portfolios is Great for...
People who have at least $5,000 to invest
Investors who want to invest in exchange-traded funds
Someone who's hoping to avoid high investment fees
Schwab Intelligent Portfolio Pros & Cons
Compare Investment Options
Act now to maximize the growth of your finances with one of these investment platforms.
Types of Accounts Offered
Altogether, Schwab Intelligent Portfolios offers 10 taxable and tax-advantaged accounts for investors. Here's what the full range of options covers:
Taxable Brokerage accounts: Individual, Joint Tenant with Rights of Survivorship, Tenants in Common, Community Property, Custodial
Revocable Living Trust: Single Trustee, Two Trustees
Retirement accounts: Roth IRA, Traditional IRA, Rollover IRA, SEP IRA, SIMPLE IRA
If you're self-employed, the option to choose from a SIMPLE or SEP IRA is a nice added benefit.
Many robo-advisors typically offer one of these accounts, but not both. Unfortunately, Schwab Intelligent Portfolios doesn't include a solo 401(k) as an option.
You also can't open a 529 account. If you want to save for future college costs for your child, you'll have to stick with a brokerage or trust account.
Are There Different Schwab Intelligent Portfolios Account Tiers?
Some online investment platforms offer different account tiers, based on how much you have to invest. Schwab doesn't do that.
There's one account tier. Although, some features only become available when your balance reaches a certain limit. We'll dive into that a little later.
Investment Options
Schwab Intelligent Portfolios are built exclusively using exchange-traded funds or ETFs. These types of funds are different from traditional mutual funds in a couple of ways.
First, they're traded throughout the day like a stock. That means their price can go up and down throughout the day, whereas a mutual fund's price is set once a day at closing.
Next, exchange-traded funds tend to have lower expense ratios and be more tax-efficient. Those features can work in your favor if you're a cost-conscious investor.
Schwab builds its portfolios from a pool of 53 ETFs that include a mix of both stocks and bonds. These ETFs offer broad diversification across the market. They include investments in over two dozen asset classes, such as:
U.S. Large-Cap stocks
U.S. High Dividend stocks
U.S. Small-Cap stocks
U.S. Exchange-traded REITs
International High Dividend stocks
International Exchange-traded REITs
International Emerging Market stocks
Master Limited Partnerships
U.S. Treasuries
U.S. Inflation Protected bonds
International Emerging Market bonds
Gold & other precious metals
Your individual asset allocation is based on your time horizon, risk tolerance and goals. When you sign up for a new account, you tell Schwab what your preferences are and they create a portfolio for you.
You can accept it as is or switch out up to three ETFs that have been chosen for you for another of Schwab's ETF offerings.
One thing to know about Schwab Intelligent Portfolios: cash features fairly heavily in all portfolios.
According to Schwab, the typical Intelligent Portfolios investor has between 6 and 10 percent of their investments in cash.
Cash allocations can climb as high as 30 percent. It depends on your portfolio's structure.
Keeping a big chunk of your investment dollars in cash can help you feel more secure. When the market becomes volatile, cash can be a safe haven.
Playing it safe, however, could mean missing out on bigger returns on your money. If you've got several decades to invest, you could pass up a significant amount of growth by carrying too much cash.
How Do the Fees Compare?
Part of the big attraction with robo-advisors is that they charge fewer fees than traditional advisors.
Schwab Intelligent Portfolios gets a gold star when it comes to their fee structure, with no:
Advisory fees
Account service fees
Trading commissions
That's a big change from other online investment options, which typically charge an annual management fee for their services.
These fees are usually taken right out of your account balance. They may increase as your account balance grows.
While you sidestep advisory fees with Schwab Intelligent Portfolios, your investments aren't totally free.
You still have to pay the expense ratio for the ETF you're investing in. The expense ratio is the fund's management fee.
Every ETF Schwab offers has its own management fee. Schwab calculates an average weighted expense ratio, based on your asset allocation. Here's how those break down:
0.06% for conservative portfolios
0.15% for moderate portfolios
0.20% for aggressive portfolios
The more risk you're comfortable taking, the higher the fees climb. But the trade-off is the potential to earn higher returns from your investments.
Automatic Rebalancing and Tax Loss Harvesting
Your portfolio should evolve as your risk tolerance and time horizon change.
When you're younger, you can afford to take more risk. As you get older, your portfolio might need to become more conservative.
Your asset allocation matters for managing risk. If you have too much of a particular investment in your portfolio you could lose big if its value drops.
Regular rebalancing ensures that you're not over-weighted in any one area.
Schwab Intelligent Portfolios takes the hassle out of rebalancing by doing it for you.
Your portfolio is periodically reviewed and Schwab determines whether it's time to trade any of your ETF shares. This feature is automatic and comes built-in for every Intelligent Portfolios investor.
Tax Loss Harvesting
Capital gains tax can take a big bite out of investment gains in a taxable brokerage account. Tax loss harvesting can help offset the tax impact of gains. It works by selling off other investments in your portfolio at a loss.
Some robo-advisors include tax loss harvesting automatically. With Schwab, you only get this benefit once your account balance reaches $50,000.
You do have to enroll in the service to take advantage of it. From there, Schwab monitors your account regularly to look for loss harvesting opportunities.
The tax loss harvesting feature can be both a pro and a con. If you've got $50,000 or more to invest, then it's a definite plus. Tax loss harvesting can be time-consuming, not to mention complicated. Having someone else do it for you takes away that stress.
On the other hand, it's a con if you're just starting out with investing and you haven't made it to the $50,000 mark yet.
Online and Mobile Experience
Schwab Intelligent Portfolios is accessible online. Or, you can download the app for iOS and Android devices.
The website offers simple navigation and an eye-catching design. There are videos that explain how the platform works if you're the visual type.
There's an FAQ section that covers everything from getting started to portfolio management. If you can't find the answers to your questions, Schwab investment professionals are available 24/7 by phone or live chat.
The app allows you to:
View your investments at a glance
Track your performance
Make same-day mobile deposits to your account
Access Schwab's library of investment articles.
Overall, it's easy to get your account set up online, then manage it from your mobile device.
Schwab Research Tools
If there's an investment topic you want to learn more about, Investing Insights is a great place to start. Here you'll find in-depth stories on topics such as:
Rebalancing
Tax loss harvesting
Market volatility
Asset allocation
In terms of tools, there's really only one but it's an important one.
Schwab's Goal Tracker is featured in your investment dashboard. With this tool, you can project how your portfolio might perform using different scenarios to see how close you are to reaching your financial goals.
The results are hypothetical but they can be useful in shaping your portfolio over time.
The Goal Tracker also monitors your goals daily to let you know if you're on target or veering off the mark. That way, you can make any adjustments as needed.
Should You Invest With Schwab Intelligent Portfolios?
Schwab Intelligent Portfolios is good for beginning investors who have at least $5,000 to start and like lower costs.
Investors with larger balances will appreciate the tax loss harvesting feature. Overall, it's a solid platform for keeping things simple.
But, we'd suggest looking elsewhere if you're interested in a broader range of investments beyond ETFs.