TD Ameritrade Brokerage 2023 Review: Low Trading Costs
Our review of TD Ameritrade's brokerage accounts looks at the investment options, trading fees, advisory features, and portfolio management services.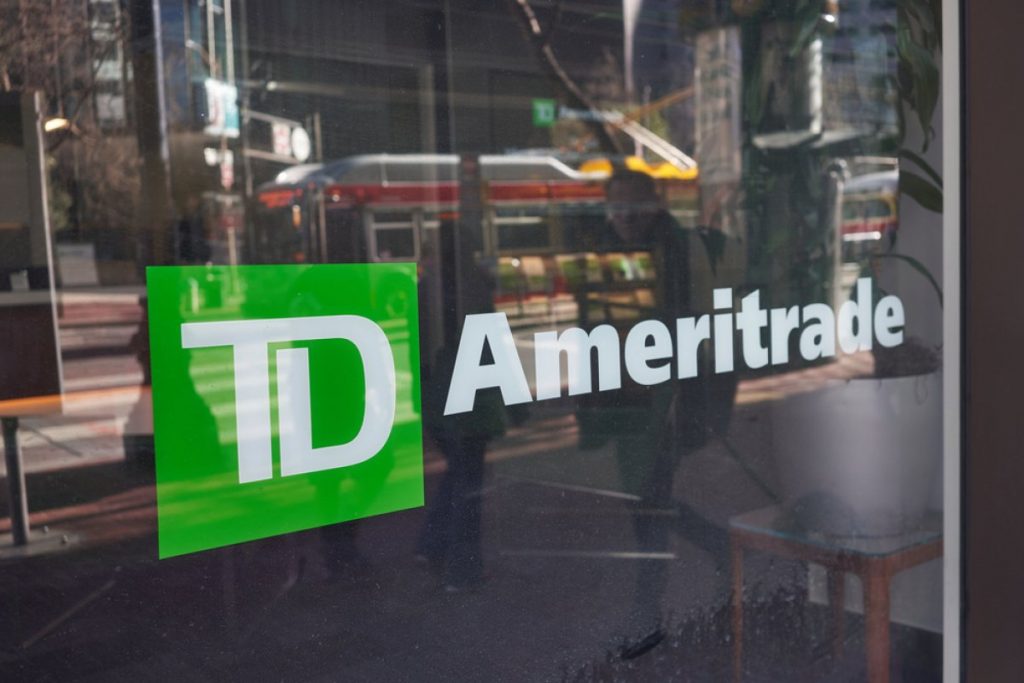 Opening an online brokerage account can be an easy way to start investing. But all brokerages aren't created equally. 
One you might be considering is TD Ameritrade. Like Vanguard and Fidelity, TD Ameritrade offers low-cost investing with no account minimum.
You can trade stocks, ETFs, mutual funds and other securities. And there are $0 trading fees for stock trades. 
If that sounds good, you may be interested in what else TD Ameritrade has to offer. Keep reading this TD Ameritrade brokerage review to help decide if it's the right place to invest. 
TD Ameritrade brokerage is good for…
Investors who want commission-free stock, ETF and option trades
Beginners looking for low account minimums
Advanced investors who want a wide variety of investment options
People who are interested in advanced research tools
TD Ameritrade Brokerage Pros & Cons
Pros
Cons

Open an account with $0
$0 commission fees for online stock, ETF and options trades
Commission-free ETF and mutual fund selection
Access to online investment education tools
Tax loss harvesting is available for managed portfolios

Broker-assisted trades will cost you more
Trading platforms can be difficult to navigate for beginners
Types of Accounts Offered
You can open both individual and joint brokerage accounts with TD Ameritrade. 
Either account can be opened online in just a few minutes. There's no minimum deposit required to open an account. 
If you're looking for other options TD Ameritrade also offers:
Traditional and Roth Individual Retirement Accounts
Rollover IRA accounts
SEP and SIMPLE IRAs
Solo 401(k) plans
Partnership and Limited Partnership accounts
Trust accounts
Coverdell ESAs
529 college savings accounts
Custodial accounts
Money market accounts
That's good if you want to save for retirement or college while investing. And money markets and CDs can offer security with a reliable rate of return. 
But for the rest of this TD Ameritrade brokerage review we'll look at how the brokerage account works. 
Are There Different Account Tiers?
Some online brokerages and robo-advisors offer one account tier. Others give you many options. 
With TD Ameritrade you can just open one standard brokerage account, with no tiers. 
And in a way, that's a good thing. Because it means you're not penalized when it comes to fees. 
Some brokerages that tier accounts charge a higher fee at the lower tier. The only way to reduce the fee is to invest more money. 
So if you're a beginning investor without a lot of money to get started, TD Ameritrade can make it easier to build a portfolio. 
TD Ameritrade Investment Options
When checking out online brokerages, it's important to look under the hood at how you can invest. 
Having a diversified portfolio is important for managing risk. The more investment options you have to choose from, the easier it is to diversify. 
TD Ameritrade gives you plenty of options for investing.
Depending on your goals and risk tolerance, you can invest in:
Stocks, including international stocks
Mutual funds
Exchange-traded funds (ETFs)
Options
Futures
Fixed-income investments, including bonds and Treasuries
Foreign currency
Being able to trade forex inside a brokerage account is something not all brokerages offer. You can also trade on margin if you have a higher risk appetite. 
One thing you won't find at TD Ameritrade is fractional share trading. 
Investing in fractional shares means you can buy more expensive stocks. You just do it by investing a few dollars at a time. 
That's something other big-name brokerages like Fidelity and Charles Schwab offer. So if you're interested in fractional share trading, it's important to keep that in mind. 
Are Managed Portfolios an Option?
Managed portfolios give you the benefit of professional advice and guidance when investing. 
While managed portfolios typically come with a fee, they can be a good choice for some investors. And this is a service TD Ameritrade offers if you're interested. 
There are three levels of managed portfolio accounts to choose from. 
Essential Portfolios
This is the most basic level of account management available. The highlights include:
Automated investing
Access to five goal-oriented ETF portfolios
Personalized digital dashboard with access to a financial consultant
Tax loss harvesting is included
Minimum investment of $500 required
Advisory fee of 0.30%
There are no commissions or trading fees with Essential Portfolios. It's a simple way to take advantage of professional management through a robo-advisor platform. 
Selective Portfolios
Selective Portfolios offers a brokerage range of investment options. Those include mutual funds and ETFs.
Here are the key features to know:
Choose between goal-oriented portfolios based on risk tolerance and goals
Manage your account with the help of a financial consultant
Automatic rebalancing is included
Tax loss harvesting is included
$25,000 minimum investment is required
Advisory fees vary by portfolio and investment amount
Selective Portfolios could be a good fit if you have more money to invest. And you want to include more than just ETFs in your portfolio. 
Personalized Portfolios
Personalized Portfolios are the highest tier for managed portfolio accounts. 
Here are the most notable features:
Professionally managed portfolio tailored to your financial situation
Dedicated financial consultant to answer questions and offer help
Automatic rebalancing is included
Comprehensive online dashboard to easily view your investments for TD Ameritrade and non-TD Ameritrade accounts
$250,000 account minimum
Advisory fee varies by portfolio and investment amount
If you're just starting out with investing, Personalized Portfolios likely isn't the best fit. But it's something to consider working up to later as your portfolio grows. 
Fees
Like other online brokerages, TD Ameritrade is a low-cost leader.  Here's a look at how the fees add up.
TD Ameritrade brokerage trading fees
| Investment options | Trading fee |
| --- | --- |
| Stocks and ETFs | $0 for online trades; $5 for automated phone trades and $25 for broker-assisted trades |
| Mutual funds | $0 for load and no-transaction fee funds: $49.95 for no-load funds |
| Options | $0 + $0.65 per contract fee; $5 service fee applies to automatic phone trades and a $25 fee applies to broker-assisted trades |
| Futures and options on futures | $2.25 per contract |
| Forex | $0 |
| Treasuries | $0 |
Overall, pricing is competitive. 
There's no annual fee or minimum balance fee for brokerage accounts.
Transferring your full account balance to another brokerage will cost you $75 if you decide to move your money. 
Are Tax-Loss Harvesting and Automatic Rebalancing Included?
Tax-loss harvesting and automatic rebalancing can both be helpful to your investment strategy. 
When you harvest losses, you're using them to offset capital gains. This can help minimize taxes.
Rebalancing keeps your portfolio aligned with your goals. This helps you stay on track with your risk tolerance as well. 
If you want tax-loss harvesting or automatic rebalancing, you can get them with TD Ameritrade managed portfolios.
Tax-loss harvesting is included with Essential and Selective Portfolios with no additional fee. Rebalancing is included with Selective and Personalized Portfolios.
If you're sticking with a standard brokerage account, you'll have to manage rebalancing and tax loss harvesting yourself. That's not very different, however, from other online brokerages. 
Online and Mobile Experience
TD Ameritrade offers both online and mobile access to its brokerage accounts. 
If you're managing your account online, you can choose between the Classic Web Platform or the Net Gen Web Platform. 
Both let you access your account, view balances and execute trades. The Next Gen platform is essentially an upgraded and optimized version of the Classic platform. You might choose that one if you're looking for a more advanced online trading experience. 
Now:
The TD Ameritrade Mobile App is essentially a mobile version of the Classic Web Platform. It's a simple and straightforward way to manage your account. 
You can also monitor your accounts with thinkorswim. This is TD Ameritrade's most advanced trading tool.
There's a desktop version and a mobile version. Thinkorswim is designed for investors who want to dig deeper into trading strategies. If you're a new investor, this one might be a little overwhelming to navigate. 
Regardless of which trading platform you use to manage TD Ameritrade accounts, they're all free. 
Research and Investing Tools
Beyond what you can find inside the online and mobile apps and thinkorswim, TD Ameritrade gives you other research tools. 
For example, there are:
Stock screeners
Stock profiles
Options research
Videos, webcasts and podcasts
Investing articles
Weekly analysis
Daily reports
TD Ameritrade also offers one unique tool: the Investor Movement Index. 
This tool gives you a snapshot look at how an investment is trending. You can use this tool to measure investor sentiment toward a specific stock or fund. 
Should You Invest With TD Ameritrade Brokerage?
In reading this TD Ameritrade brokerage review, you should have a better understanding of what the brokerage is all about. 
TD Ameritrade could be a good option if you're looking for low-cost investing, with managed portfolios as an option. It might also catch your eye if you're interested in trading forex.  
Overall, TD Ameritrade holds its own against competitors like Fidelity or Charles Schwab.
When comparing brokerages, pay attention to the range of investments and cost involved. And keep in mind other features, such as account access and research tools.