Facet Wealth Financial Advisor 2023 Review: Easy Access to Fee-Only CFPs
Our review of Facet Wealth looks at the financial-advisory firm's fees, access to Certified Financial Planners, and their services.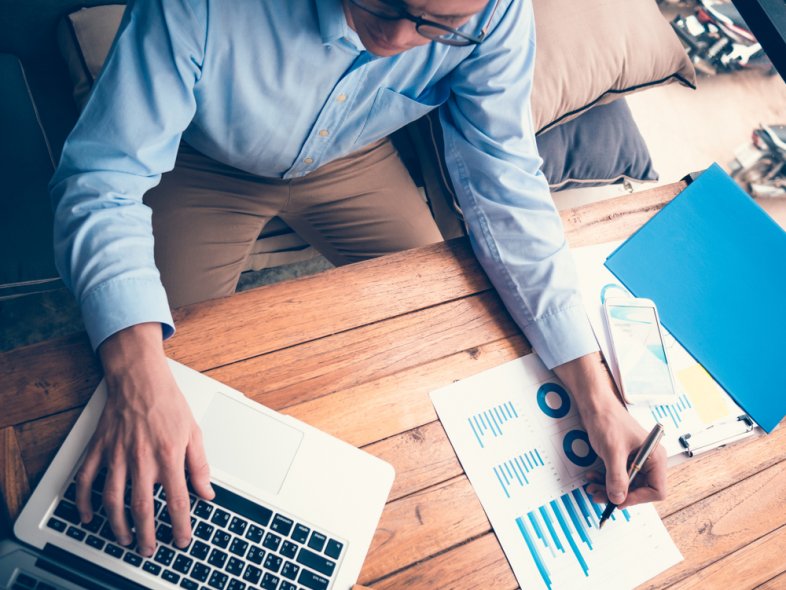 You may hire a financial advisor if you want to take your finances to the next level. Unfortunately, not all financial advisors are created equal.
Some advisors get paid commissions by the products they sell. This could create a conflict of interest. 
Others get paid directly by their clients and no one else. This method makes sure the advice is genuinely in a client's best interest.
Facet Wealth is a financial advisory service that aims to expand access to fee-only Certified Financial Planners (CFP).
The big draw:
You can speak with advisers virtually with ease.
If you're looking for a CFP financial advisor that isn't influenced by commissions, you may want to consider finding an advisor through Facet Wealth. Here's what you need to know. 
What Is Facet Wealth?
Facet Wealth is an online-based financial advisory firm based in Baltimore, Maryland.
They focus on helping individuals on a fee-for-service basis.
Facet Wealth helps clients nationwide through the use of technology rather than in-person meetings.
All of Facet Wealth's financial advisors are CFPs. To become a CFP, advisors must: 
Have a bachelor's degree
Meet a three year full-time personal financial planning experience (or equivalent part-time experience) requirement
Complete a CFP-board registered program or have certain other certifications
Pass a 170 question exam over 6 hours
Take continuing education classes
In addition to being CFPs, all of Facet Wealth's advisors are fiduciaries.
This means:
They must recommend financial products and services that are in their clients' best interests. 
This is compared to other types of advisors that may only be required to recommend suitable products and services, even if they aren't the best fit for the client.
How Does Facet Wealth Work?
Facet Wealth works with you to provide the financial planning services you need at your point in your financial journey.
The company realizes different people are at various stages.
They don't have a one size fits all approach to financial planning or their fee structure.
Provide your info and goals
You start the process by reaching out to Facet Wealth on their website.
Once you click one of the many get started buttons, you're given a simple form to fill out.
Give them your name, email address, phone number and your primary goals. 
Initial call
Next, Facet Wealth will reach out to you to set up a free 30-minute introductory call. This call is to see how they can help and if it is a good fit for you. 
During this call, they'll work to pair you with the right CFP for your situation, as each CFP may specialize in different areas. 
At some point in the process, you'll fill out a questionnaire detailing your current situation and future goals.
This gives Facet Wealth key information about your situation to help them serve you better.
Working with your CFP
If you decide to move forward with your CFP, that CFP becomes your dedicated advisor.
They get to know you, your financial situation and your goals.
Based on this information, they create a financial plan for you.
You'll meet with them over the phone or through video conferencing software as often as you feel necessary.
Even better:
Meeting times are flexible and you won't be paired with a different CFP during each call.
Facet Wealth states people usually meet more often in the first year as they craft and start enacting their financial plan. In future years, most people meet with their CFP two to three times per year. Ultimately, it's up to you.
Once you're working with Facet Wealth, you'll also have access to a dashboard.
The dashboard helps you view your entire financial picture in one place.
What Services Do They Provide?
Facet Wealth offers many services besides access to a CFP and their dashboard.
The most obvious is the financial plan you will work on with your dedicated CFP. 
The financial plan can cover aspects including:
retirement planning
education planning
life planning
asset management
income tax planning
insurance planning
estate planning
legacy planning
retirement income
The specific services you get access to will depend on the price point of your Facet Wealth subscription.
Here are a few specific services Facet Wealth offers that people often ask about:
Helping with your 401(k)
Helping you pick employee benefits
Helping with stock option plans
Helping with IRA and brokerage accounts
How Much Does Facet Wealth Cost?
Facet Wealth's pricing is straightforward.
Rather than charging you based on the amount of assets you hold, they bill you a flat fee for service over the course of a year. The price you pay will depend on the services you need access to.
You'll be charged somewhere between $1,200 and $6,000 per year depending on the complexity of your financial situation.
Unfortunately, Facet Wealth's pricing isn't super straightforward until you talk to them. They don't offer a list of price points or services included within the different price points. 
Facet Wealth states:
The initial consultation call can help the CFP determine what services you'll need and where you fall in their pricing structure.
There are no cancellation fees if you decide to cancel your annual plan with Facet Wealth.
Pros
Using Facet Wealth over other options has many benefits.
Flat-fee advice with no conflicts of interest
After your initial consultation, you should know exactly how much Facet Wealth's services will cost you for a year of service. 
Their flat-fee method helps you feel comfortable that your advisor isn't selling you something that will result in a big commission for the advisor but isn't in your best interests.
Instead, you know the advice is what the advisor truly feels is best for you.
The flat-fee model can also benefit those with significant assets. Traditional financial advisors may charge a 1% assets under management fee for their services. 
If the advisor manages $1,000,000, that's a $10,000 per year fee. In these cases, their fee increases as your assets grow even if the services they offer don't increase. 
Facet Wealth's highest price tier is much cheaper than this.
Unlimited access to your designated CFP
In the beginning, you'll probably run into quite a few financial questions you'll want answers to. 
The questions may not always pop up right before your scheduled phone calls, though.
Alternatively, you may forget to ask a question during your session.
This is why Facet Wealth's unlimited access to a CFP is a great fit, especially for those starting out. You don't have to worry about paying another fee for another meeting.
The cost includes all of the advice you need for a year within the pricing level you end up purchasing.
Cancel any time with no cancellation fee
Some companies make canceling a subscription a painful event. In fact, some services charge cancellation fees to make stopping service even more painful.
Facet Wealth doesn't charge a cancellation fee. If it's time for you to move on, simply cancel your service and be done with them.
Easy to reach
If you have a major financial change when you're not at home, you wouldn't be able to meet your hometown CFP face to face. 
With Facet Wealth, you can meet your CFP from anywhere thanks to technology.
Cons
Facet Wealth isn't perfect, though.
Can be costly for those getting started
Facet Wealth's lowest pricing tier is $1,200 and their plans go as high as $6,000. For someone getting started on their financial journey with a low amount of assets, this could be more expensive than they can afford.
Other types of financial advisors may not charge a flat fee to get advice.
That said:
They may be selling you high commission products to make up for the lack of a fee.
No matter the fee structure, you're always paying a financial advisor in one way or another.
Can't meet in person
Facet Wealth doesn't offer in-person meetings.
For people that need to see their advisor face to face in an office, Facet Wealth won't be a good fit.
Specific pricing requires consultation
While Facet Wealth states their fees are $1,200 to $6,000 per year based on your circumstances, they don't publish specific pricing. 
There are no details about what pricing tiers exist between the two amounts or what services they offer each tier.
Who Facet Wealth Is a Good Fit For?
Facet Wealth is a good fit for people that don't want a financial advisor that has a conflict of interest when they advise you.
Their fiduciary CFPs don't earn commissions, so you know the advice they give is always in your best interests.
The virtual meetings make Facet Wealth a good fit for technology-savvy individuals that don't care about meeting in a physical office.
The service is also a good fit for those that want to ask questions when they come up thanks to the unlimited access offered.
Their flat-fee model works well with people who need ongoing support throughout the year, rather than a single annual meeting. Otherwise, an advisor you pay hourly may be a better option.
Those with high net worths could get a bargain with Facet Wealth's flat-fee structure compared to traditional assets under management advisors, as well.
Summary
Facet Wealth offers comprehensive financial planning from a dedicated fiduciary CFP for a flat fee.
The way their service is set up removes the possibility of a conflict of interest in the advice they give.
Their service costs $1,200 to $6,000 per year, which could be affordable compared to other options for those with higher net worths. 
People getting started out may have trouble paying this fee.
That said, they could also benefit enormously from setting up a strong financial plan early.