The Best Personal Finance Mobile Apps of 2023
View a list of iPhone and Android finance apps that will help you with all of your financial goals.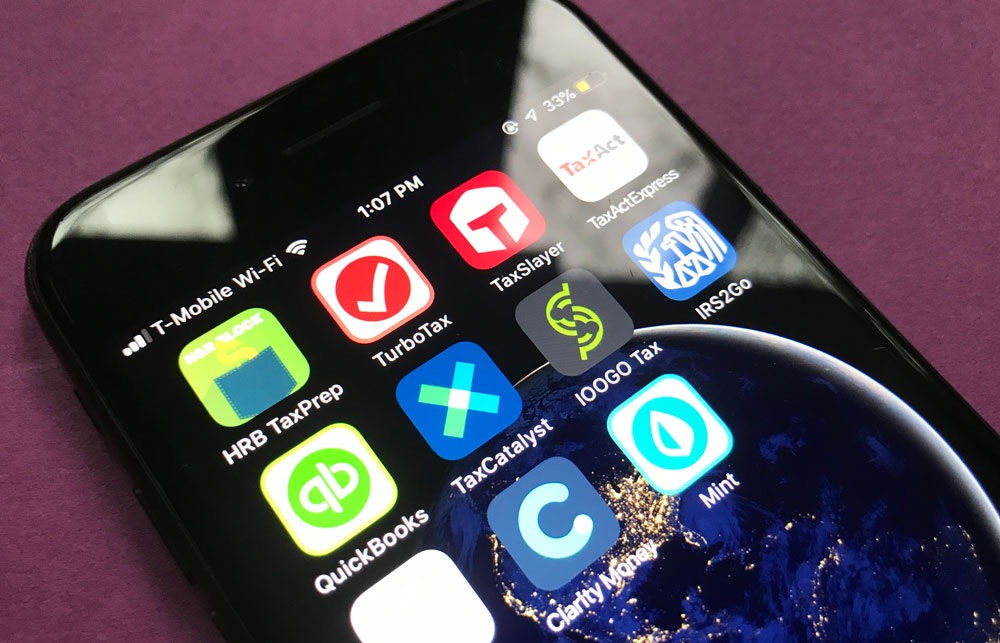 The unexpected coupling between technology and finance has created intriguing ways for people to take greater control of their finances.
If you're financially savvy, you can take advantage of opportunities financial tech gives to consumers.
These opportunities include: constant view of your cashflow, the opportunity to invest with ease, the ability to more easily save for special occasions, and more.
With that said, if you mindlessly download money apps without a plan, they won't take you very far.
But how are you supposed to have a plan (or even choose an app) when there's a new app coming out practically every day?
Let's walk this through.
There are apps for saving money, managing your overall financial picture, and even investing for the future.
The key to choosing and using a financial app is to focus on your personal goals and then figure out which apps are best geared towards those goals.
Let's get started.
Apps to Monitor All Your Accounts
Before you choose an app, you first need to understand your specific goals, for which you can then create a strategy.
If you're not sure where to start, using an app that gives you an overall view of your income is a great first step. 
Here a few examples with slightly different strengths and weaknesses, as well as some distinct differences:
You Need a Budget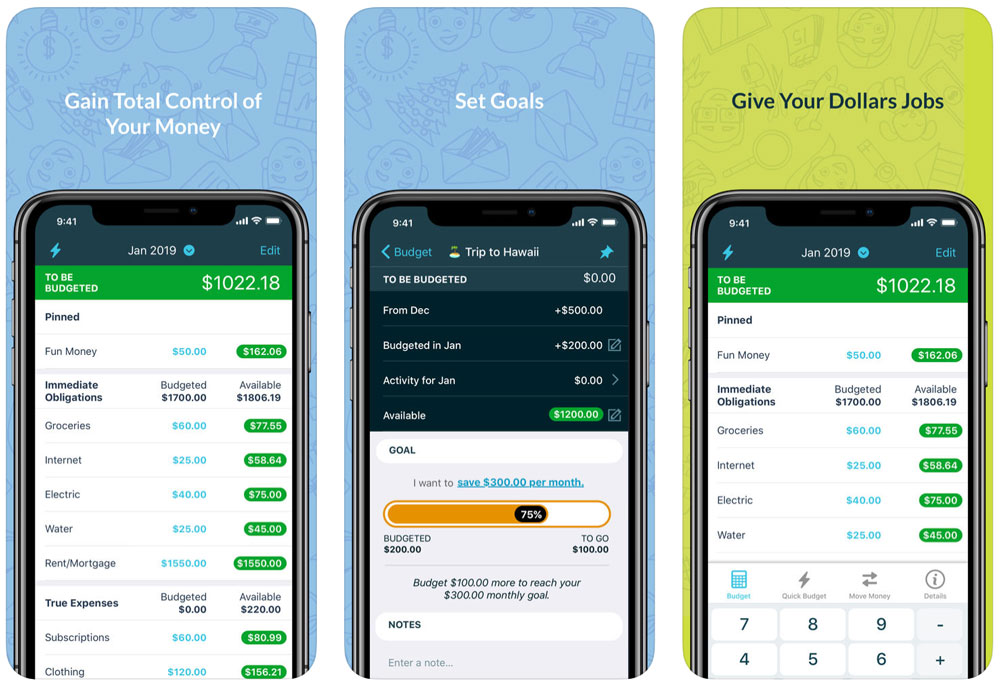 YNAB iPhone App
The great thing about You Need a Budget is that you must assign every dollar to a line item.
The website has tutorials to assist you with this and help you understand the nuances of budgeting.
The only downside is it may take a little bit of work to get a handle on how accurately use this system.
Mint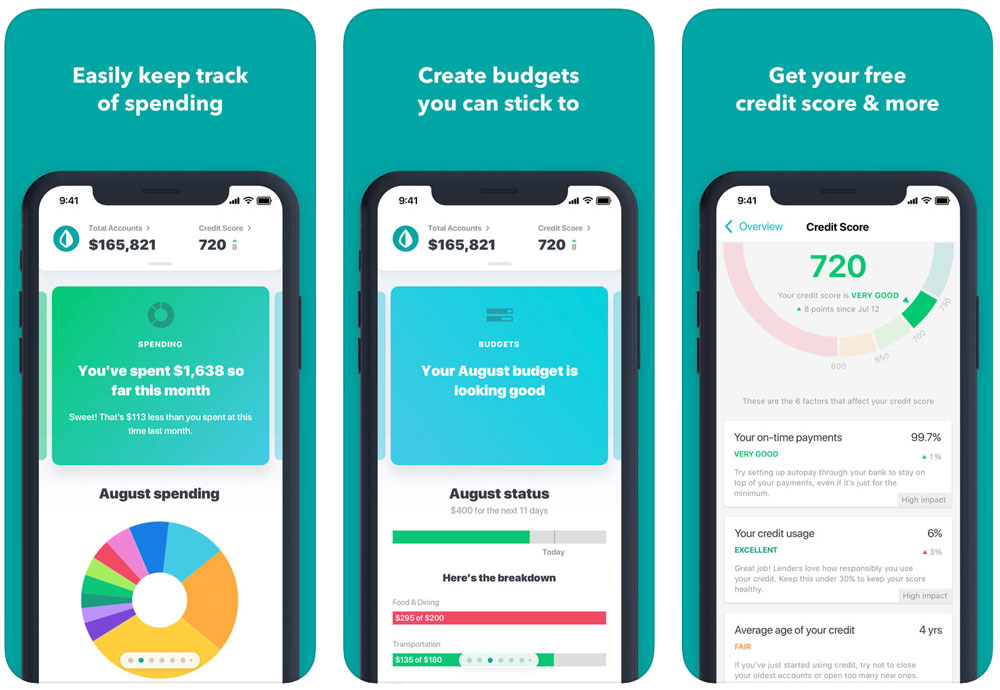 Mint is the granddaddy of money management apps. It's easy to use, intuitive, and is a fairly straightforward to set up.
Some downsides are that your login credentials might not work sometimes and at times Mint feels dated compared to some of the newer apps coming out.
Empower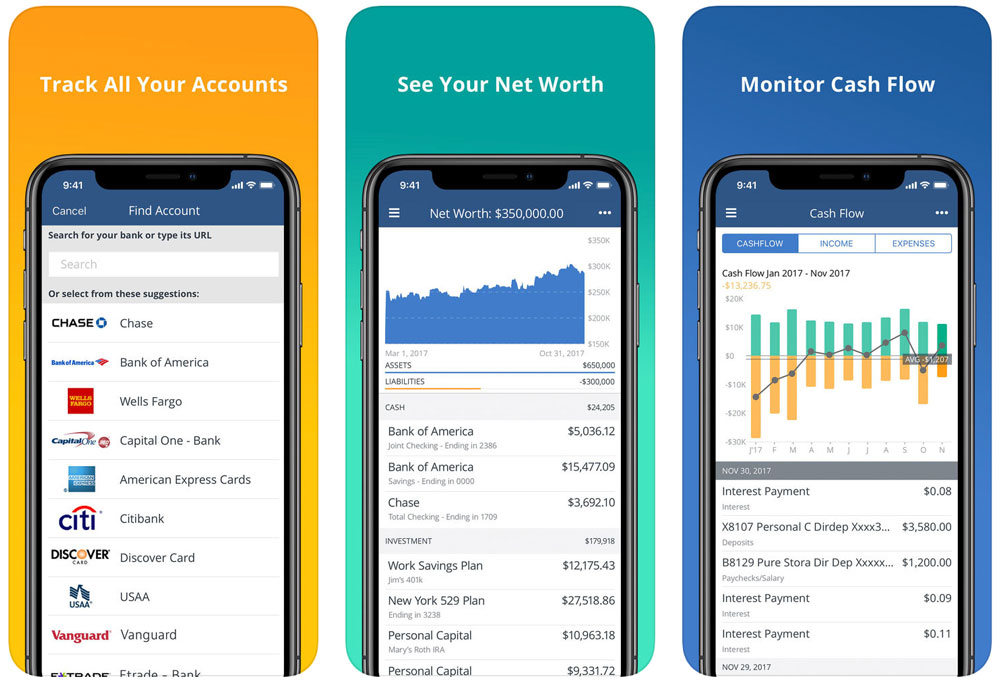 Empower iPhone App
Empower provides you with a comprehensive view of your entire financial life.
In addition to having an overall snapshot of your income and outgoing expenses, Empower also includes a retirement snapshot, information on your investments, and analytics on the fees you're paying for financial services.
PocketGuard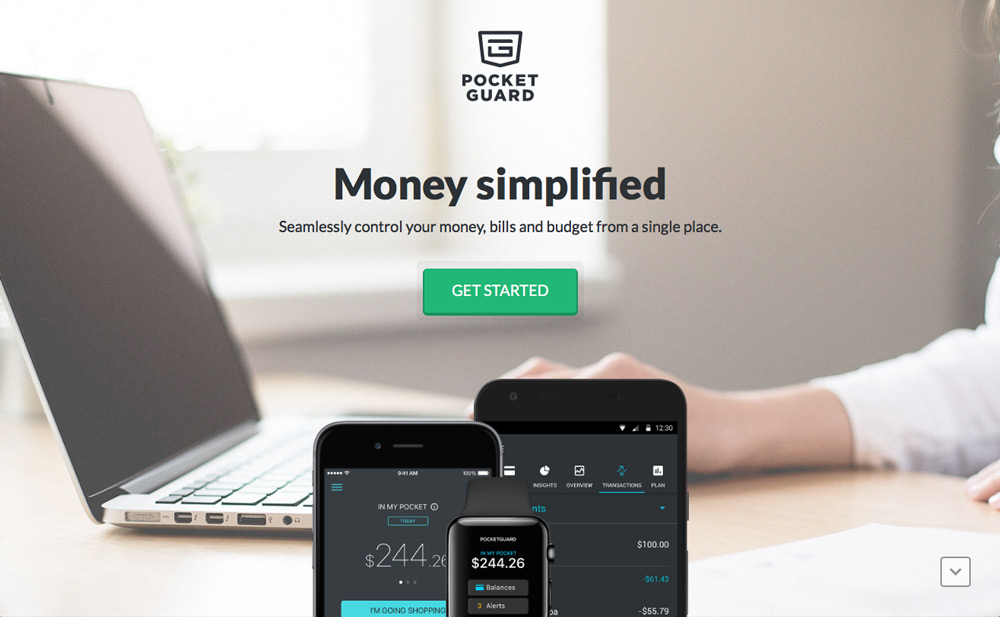 PocketGuard is similar to the other apps - but what stands out is its security features.
This app protects your information in the event that you lose your phone. It will also look at your previous spending to predict your future earnings and outflow.
These are just a few apps that can help you with your budget overall, with more coming out everyday.
However, these have so far proven the test of time and provide a great way to understand where your money is going (an important first step to take in any financial plan).
Apps to Track Your Spending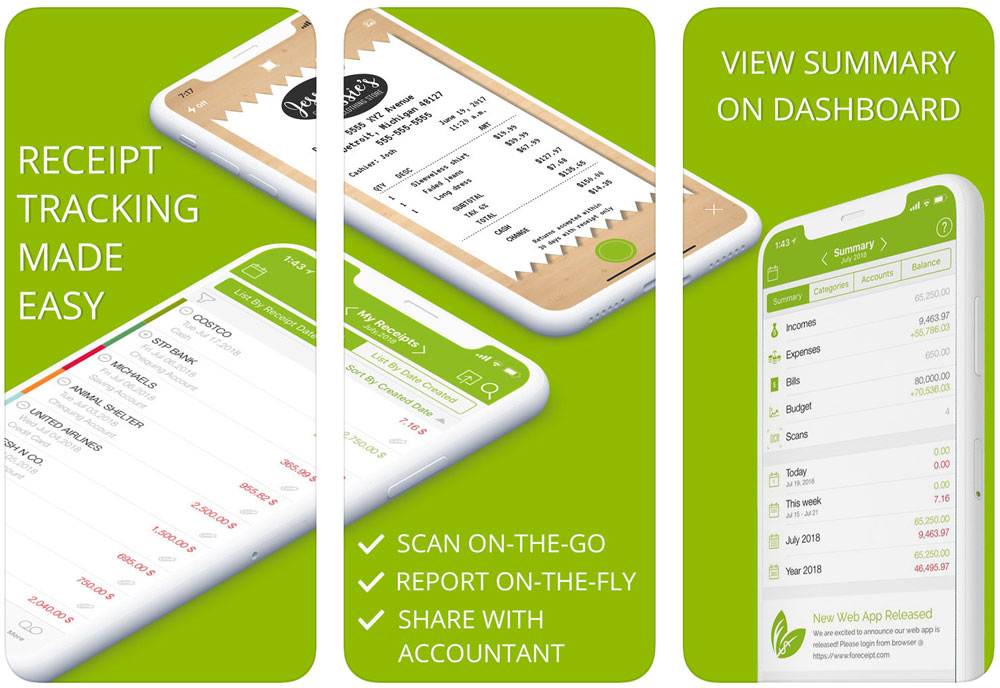 Foreceipt iPhone App
Do you ever look at your bank account at the end of the week or month and wonder where all your money went?
You know, the unaccounted for amounts that you just can't seem to figure out?
You know, the unaccounted for amounts that you just can't seem to figure out?
Or, do you operate on an all cash budget?
If you said yes to either of these, consider an app that delivers a deeper level of clarity on your budget.
Apps such as Forceipt or Shoeboxed are great for staying organized and reviewing expenditures based on your receipts.
Another benefit of apps like these is that they can help you visualize your habits.
You might think that you're only going out for coffee once or twice a week, but you might find through the app that it's more like four times a week.
While that doesn't seem like a huge difference upfront, it can add up to $30 per week or a total of $1440 per year - just for coffee.
Being able to visualize these details can empower you to understand what habits you might want to change or help you stay the course on your current plan. 
Financial clarity is everything.
Apps to Help You Save More
Creating a money strategy and gaining financial clarity are part of most people's overall plan, but the most exciting step is learning how to grow your money. If that sounds interesting to you, here are some apps to consider putting into your financial arsenal.
Digit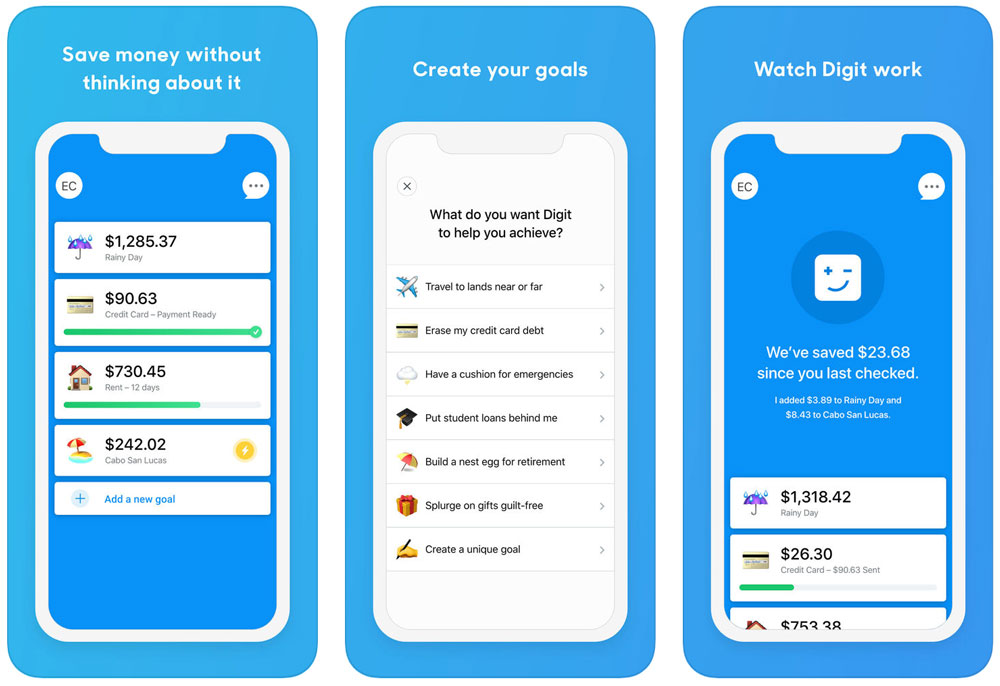 Digit iPhone App
Saving money is often easy to say, hard to do. 
Digit is an app that can help you surpass this challenge by automatically withdrawing small amounts of money from your checking account and depositing them into a secured savings account.
You get a text message every time this happens and you can pause the deposit via text message if you need to.
One thing to note is that there's no way for the app to know if you do or don't have enough money in your account before the withdrawal.
So make sure to set the withdrawal for a time when you get paid every month or ensure that you have the balance to cover the withdrawal before it happens.
Acorns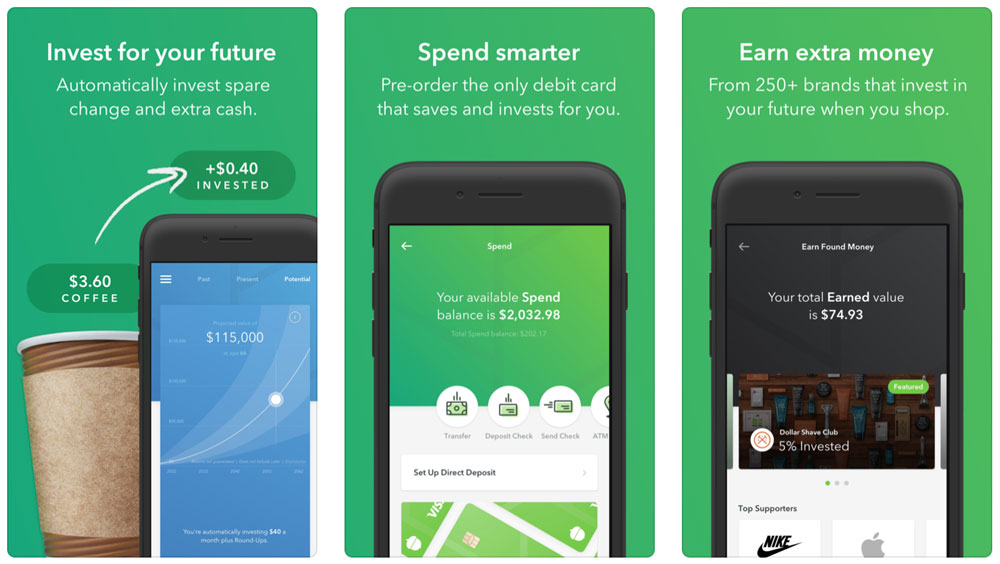 Acorns iPhone App
After you get used to putting money into your savings account, investing is the next step in growing your savings.
That's where Acorns comes in. Acorns is a simple way to begin investing for the first time and, while it shouldn't replace a well thought out investment strategy, it's a great way to get started.
The best part about using Acorns is that it works like Digit.
You can set it up to drip small amounts into your investment account on a regular basis so you don't have to worry about remembering to add to your investments.
Even better, Acorns also rounds up your purchases and then invests the difference into a diversified portfolio for you. How's that for an easy way to grow your money?
Maximize the Personal Finance App You Use
Ultimately, having a strategy with clear goals in mind will help you figure out which apps will serve you best. Take the time to consider a few pain points, such as:
What do you struggle with financially?
What do you consistently forget to focus on?
What would you like to prioritize?
Understanding the answers to these questions will help you figure out what to focus on and to find the app that will best help you.
But when you search for apps such as those listed here, spend some time researching client satisfaction, ease of use, how often the apps are updated, and their level of customer support.
Then look at each app's security features: are they encrypted? If you lost your phone would someone have access to your accounts via your app?
Finally, don't mindlessly download. Apps are here to stay but that doesn't mean every app is a good fit for you.
Be deliberate about what you're using and why. 
That way you can ensure a happy, productive experience with an app, not a ton of downloads that provide nothing of value to your financial plan.