The Best Checking Accounts in Montana for 2023
See the best checking accounts available from local Montana banks based on their account fees, features, and level of convenience.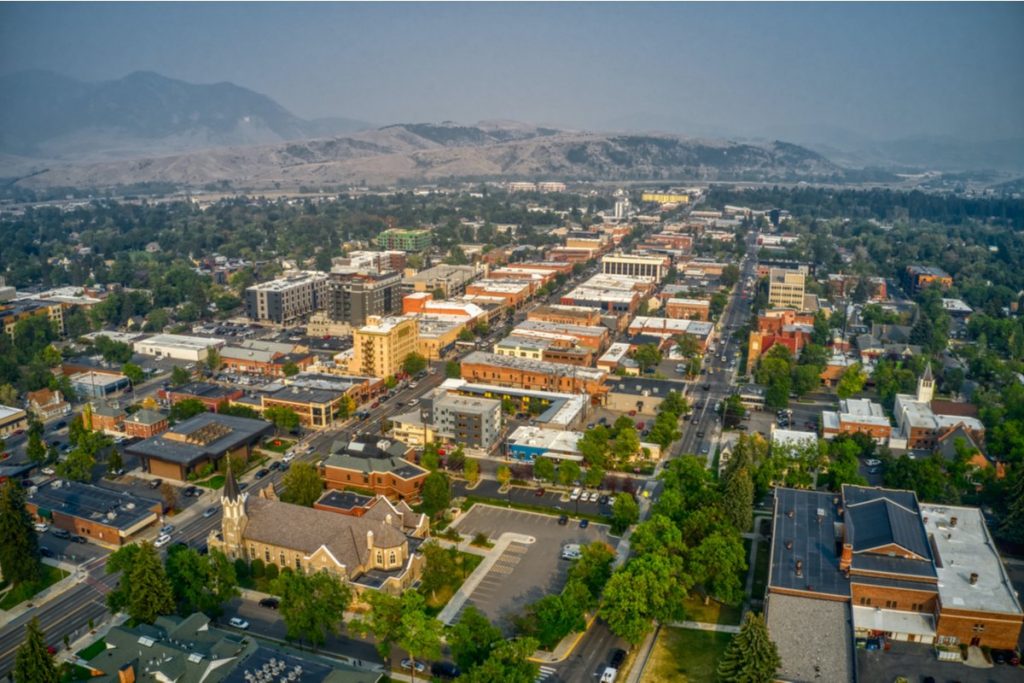 The difference between a good checking account and a lousy checking account can make a significant impact on your wallet. Bad checking accounts have a long list of costly fees.
Good checking accounts could be relatively fee-free for day-to-day tasks.
Finding the best checking accounts can be a lengthy process, though. You have several banks to choose from. Each bank could have multiple checking account options. We've narrowed down the list in Montana to help you get started.
Compare Checking Account Options
Make sure that you look at other checking accounts that could be better for you:
The Best Checking Accounts in Montana
Glacier Bank - Totally Free Checking
Glacier Bank serves western Montana customers with a few branches spread out throughout the region. If you're looking for a free checking account, their Totally Free Checking account may be a good fit.
This account has no minimum balances or weekly, monthly, or annual hidden fees. The company will even buy your old checks or debit card from a previous bank and issue a $25 to your account for signing up. You don't need an opening deposit to sign up, either.
The bank does not pay interest. You get unlimited check writing privileges. If you close your account within the first 90 days, you must pay a $10 fee.
Stockman Bank of Montana - 406 Checking
Stockman Bank of Montana's 406 Checking account has no monthly service fees and no minimum balances on an ongoing basis. You do need $100 to open an account, though.
Once you have an account, you get:
Free online or paper statements
Free Visa check card
Access to their online account management tools
Opportunity Bank of Montana - Opportunity Checking
Opportunity Bank of Montana has four checking accounts to choose from. We liked their Opportunity Checking account best. The account has no monthly service charges or minimum balance requirements after the initial $100 needed to open an account.
While you won't earn interest, you do get the following benefits as an account holder:
Free online banking
Free bill pay
Free mobile banking with mobile deposit capture
Free person-to-person payments
Free eStatements
Paper statements incur a $2 fee per statement. You have to pay a $15 account closure fee if you close the account within 90 days of opening it. A dormant account fee of $5 per month kicks in if your checking account has had no activity for a year.
Independence Bank - Freedom Checking
Independence Bank only offers two checking accounts. We preferred their Freedom Checking account. It has no maintenance fee or minimum daily balance but doesn't pay interest.
Both of Independence Bank's checking accounts come with:
Unlimited check writing
Free online banking
Free mobile banking
Free eStatements
Free debit card
Free direct deposit
Trailwest Bank - Liquid Rewards Checking
Trailwest Bank has five checking accounts, but the Liquid Rewards account tops our list. The account doesn't have a minimum balance requirement other than the $25 needed to open an account. It doesn't charge monthly service fees, either.
As an account holder, you get a rewards debit card that allows you to earn 10 cents in rewards per purchase and free paperless statements. Other features include:
Online banking
Mobile banking
Phone banking
Mobile deposit
The AllPoint ATM network with over 55,000 ATMs worldwide
How we picked these accounts
We considered the top 50 banks by deposit market share in Montana based on the FDIC's June 2022 data to decide on our selections--covering major cities including Billings, Missoula, Great Falls, Bozeman, Butte, and Helena.
In particular, we looked for checking accounts that had no or inexpensive monthly service charges, the terms to waive these fees if they existed, the bank's ATM network, and banking convenience features.
Big Banks vs. Online Banks
The banks above provide local or regional banking solutions, but other options are worth considering. You may want to look into big banks and online banks before opening a checking account.
Benefits of Online Banks
Digital accessibility
You can bank anywhere you have an internet connection and a digital device.
FDIC insurance
Online banks that are FDIC members that provide their customers the same deposit insurance brick-and-mortar FDIC-insured institutions do.
Interest
Online banks are usually more likely to pay interest than physical banks. Additionally, interest rates are generally several times higher than the average for brick-and-mortar banks.
Overall better fee structure
Most online banks have a shorter list of potential fees and lower costs for the fees they do have. You always need to check individual fees you may incur to verify.
Technological advantage
Without branches, online banks serve customers primarily through online or mobile banking. These banks know their technology solutions must be some of the best available and easy to use to keep customers.
Drawbacks of Online Banks
Cash deposits
Depositing cash cannot occur at a branch because they don't exist. You may have other options, but they don't offer the same experience.
Must have internet
If you lose access to the internet, you can't bank online. This can be a problem during natural disasters or if you're temporarily off the grid.
No branches
Without physical locations, you have no place to go to solve issues face-to-face with your bank.
Pros of Big Banks
Digital banking
Big banks know customers want access to online and mobile banking, but the technology may not be on the breaking edge of the sector.
Face-to-face support
If you want to talk to someone in-person about your accounts or an issue, a branch allows you to do so.
Large branch network
Big banks often have a vast network of branches with several locations in the areas they serve. This may offer a convenient location near you.
Variety of accounts and loans
As a giant organization, big banks can often offer several bank accounts and loan products thanks to the support from their corporate offices. This could include more niche solutions you may not find at smaller banks.
Cons of Big Banks
Fees
National and regional brick-and-mortar banks are known for having a long list of fees that often come at a high cost.
Hard-to-achieve fee waivers
You may be able to get some fees waived but likely have to meet challenging requirements to accomplish this. For example, you may need to keep thousands of dollars in an account.
Interest
These banks rarely pay interest on basic checking accounts. Those that do usually have interest rates very close to 0%.
Slower processes
While not always true, some transactions may be much slower due to the multiple levels of management and processes that come with massive organizations.
Discovering the Right Checking Account
It's not surprising one bank normally offers several checking accounts to choose from. Different customers have varying needs.
When considering checking accounts, you should look for the one that best fits your specific needs. Here are a few categories of things you may want to consider depending on your needs.
Access
Physical banks allow you to access your funds in person at branches and ATMs as well as digitally through online or mobile banking.
Online banks don't offer branches, but people that don't use them may find benefits elsewhere by giving up this level of access.
Fee structure
Most people will consider fees as one of the top factors in choosing a bank since they directly impact your money. Online banks tend to have fewer fees with lower costs, while larger banks tend to have more fees with higher costs.
It's essential to evaluate the fees being charged, though. As long as you don't have to pay ongoing fees for your typical day-to-day use, paying an occasional expensive wire fee may be acceptable.
Interest rates
Interest rates are rarely a deciding factor unless two checking accounts are very similar. Most accounts don't offer interest. Those that do typically don't pay much.
Even if checking accounts do pay interest, you can likely earn more interest by putting your money in a savings account. That said, online checking accounts may offer interest rates several times the average of a brick-and-mortar bank.
The one exception lies with rewards checking accounts. These accounts may pay 1% or more interest if you meet the qualifications each month. This higher APY is generally limited to a specific balance, such as the first $10,000.
To earn the higher rate, you often have to accept eStatements and make several debit card transactions each month. If you don't meet these requirements during a month, the rate you earn is normally very low or non-existent.
Other convenience features
Technically, you're shopping for a checking account. Banks offer several other products and convenience features, though.
If a suite of banking products at one bank is superior to another, it may be worth selecting a suboptimal checking account. Examples of features you may want to consider could include:
Savings accounts and their interest rates
Certificates of deposit and their interest rates
Loan options, their rates, and whether a loan officer is available at your location
Investment services, fees, and whether a financial advisor is available at your location
Don't forget to look at smaller convenience services, such as the cost and availability of a safe deposit box, money orders, or cashier's checks.
Technology solutions
In an increasingly digital world, most customers want to access their banks online or through a mobile app. Check to make sure your new bank's digital solutions provide the access you need, such as mobile check deposit and bill pay.
One way to verify an app lives up to a bank's promises is to read the reviews. Several poor reviews about accessibility or user-friendliness may be a red flag if you often have trouble navigating technology.
Choosing the Best Checking Account for You
The best checking account for one person may be different than the best checking account for you. You can get started by deciding which features are most important to you.
Once you have that information, compare them to the best checking accounts in Montana listed above. Finally, compare your best option with big and online banks to find a clear winner.