Wells Fargo Everyday Checking Account 2023 Review
Learn about the fees and features of the Wells Fargo Everyday Checking Account and compare it to the best checking accounts from online banks.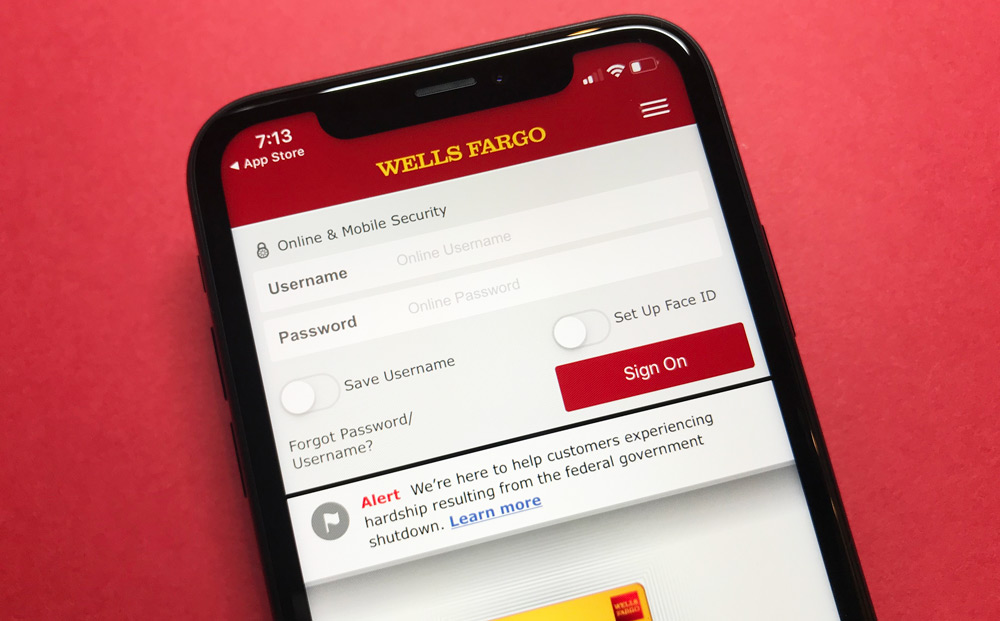 Wells Fargo App
A checking account is a convenient way to manage your money.
Instead of paying fees to have your paycheck cashed, for example, you can have it deposited directly at your bank.
Rather than buying money orders to pay bills, you can write a check or use online bill payment.
And you don't have to carry cash for purchases; you can just swipe your debit card wherever you go.
Picking the right checking account is the challenge.
You've got two choices: online banks or traditional brick-and-mortar banks. Both have their pros and cons.
Online banks, for example, tend to charge fewer fees. But, they lack branches, which might be important to you.
A traditional bank, on the other hand, has locations you can visit if you need to. The downside is you may be more likely to pay a fee for a checking account.
If you're leaning towards a traditional bank, Wells Fargo is one you might be considering.
The Wells Fargo Everyday Checking account is a checking option that's appropriate for just about anyone, including college students.
In this review, learn more about what the Everyday Checking account can do for you and compare it to other great options that are worth your consideration.
Wells Fargo Everyday Checking Account Pros & Cons
Pros
Cons

Large branch network
Mobile apps available
Free for college students

Non-interest account
Minimum opening deposit
Monthly maintenance fee
A Standard, Basic Checking Account Offering
The Wells Fargo Everyday Checking account is a basic checking account. That means it's light on extras but that may be appealing to someone who's looking for a straightforward way to manage their money.
For example, it doesn't take a lot of money to open an account. All you need is a minimum deposit of $25. That's good for college students, who may not have a lot of cash. And, you can always open an account with more money.
The account also comes with all the features you'd expect in a basic checking account. That includes:
24/7 mobile and online banking access
Custom text and email alerts to monitor account activity
Secure options for making purchases, paying bills or spending money
Budgeting, cash flow and spending tools
Mobile deposit
If you want a fuss-free checking account, the Wells Fargo Everyday Checking account more or less fits the bill.
Accessing Your Everyday Checking Account at the ATM
A debit card is handy when you need to make purchases or hit the ATM for cash.
The Wells Fargo Everyday Checking account does come with a debit card. You can use this card at more than 13,000 Wells Fargo ATMs fee-free.
There is, however, a fee when you use another bank's ATM. The fee is $2.50 for withdrawals at non-Wells Fargo ATM owners or operators inside the U.S. If you're outside the U.S., the fee goes up to $5.
Those fees don't include any additional surcharges another bank may charge you for using their machine.
If you make regular cash withdrawals or you spend time away from home regularly, it pays to know where the nearest Wells Fargo ATM is so you can avoid getting gouged by ATM fees.
Can You Earn Interest or Rewards With Your Checking Account?
While interest and rewards checking accounts are becoming less common, there are still banks that offer them.
With these accounts, you can earn interest on your checking account balance, rewards on debit card purchases or both.
Unfortunately, the Everyday Checking account doesn't offer any of these extras.
Wells Fargo does offer two interest-bearing checking account options. But both of these accounts are designed for customers who maintain high balances in their accounts. (Think $10,000+.)
A rewards program is available but only if you have a Wells Fargo credit card. There are some online checking accounts that offer interest and rewards.
What's the Monthly Maintenance Fee?
Free checking accounts are few and far between at traditional banks. If you want to escape fees as much as possible, an online bank's likely to be the better bet.
The Wells Fargo Everyday Checking account charges a $10 monthly service fee.
That sounds high but it's similar to what other brick-and-mortar banks charge. There are, however, a few ways you can get around that fee each month.
For example, you'd pay a $0 monthly service if:
You maintain a $500 minimum daily balance each statement period OR
You have direct deposits into your account totaling $500 or more each month OR
Your account is linked to a Wells Fargo Campus ATM or Campus Debit Card
There's also a discount on the fee for students. If you're between the ages of 17 and 24, Wells Fargo knocks the monthly service fee down to $5.
Are There Any Other Fees to Be Aware Of?
The monthly service fee is the main fee to know about but it's not the only one. There are several other fees associated with the Everyday Checking and one of the biggest is the overdraft fee.
Wells Fargo charges Everyday Checking customers $35 for overdrafts.
You can escape the overdraft fee by linking a Wells Fargo savings account or line of credit to your checking account.
In that scenario, you'd pay $12.50 for each transfer or advance from a savings account or line of credit to cover overdrafts.
The $35 overdraft fee is standard for traditional banks. There are some online banks that charge a lower fee, or no fee at all. That's something to consider if you overdraw your checking from time to time.
Wells Fargo Everyday Checking Account Fees
| Type | Fee |
| --- | --- |
| Monthly Maintenance Fee | $10 |
| Out-of-Network ATM Fee | $2.50 |
| Overdraft Fee | $35 |
| Overdraft Protection Transfer | $12.50 |
| Returned Item | $35 |
| Stop Payment | $31 |
| Deposited Item Returned or Cashed Check Returned | $12 |
| Incoming Domestic Wire Transfer | $15 |
| Incoming International Wire Transfer | $16 |
| Money Order | $5 |
| Cashiers Check | $10 |
Managing Your Account
The Wells Fargo Everyday Checking account does offer check-writing privileges.
Unfortunately, you don't get free checks with this account. You'll have to order them for a fee through Wells Fargo, or you can get them through a third-party check service.
Besides checks and your debit card, you can also manage your account through mobile and online banking. That includes mobile check deposit.
You can deposit personal, business and government checks via mobile deposit.
You can't, however, deposit international checks, money orders, remotely created checks or convenience checks through your mobile device. For that, you'd need to visit a branch.
There is a limit on mobile check deposit. The limit is $2,500 per day, or $5,000 per month. If you routinely receive large checks, you may have to plan on depositing some of them at the ATM or a branch.
Other Wells Fargo Checking Options
If you're interested in becoming a Wells Fargo banking customer, but aren't sold on this checking account, check out additional checking account options also offered by this bank:
Wells Fargo Preferred Checking
As one of Wells Fargo's more premier checking accounts, the Preferred Checking account is an interest-bearing account that offers multiple Wells Fargo account holding members exclusive savings and benefits.
This account is best for customers who want to earn high interest, have larger account balances, and are Wells Fargo Home Mortgage owners.
There is a $15 monthly maintenance fee tacked on to this account, unless you can meet one of the following requirements:
Have $10,000 or more in combined deposit balances, or
Post direct deposits totaling $1,000 or more, or
Have a linked Wells Fargo home mortgage
We've highlighted the account's main fees and features below:
Wells Fargo Preferred Checking Account
| Type | Fee |
| --- | --- |
| Monthly Maintenance Fee | $15 |
| Minimum Opening Deposit | $25 |
| Stop Payment Fee | $31 |
| Overdraft Fee | $35 |
| Non-Wells Fargo ATM Fee | $2.50 (first transaction waived per cycle) |
| Money Order | $5 |
| Overdraft Protection Transfer Fee | $12.50 |
| Deposited Item Returned Fee | $12 |
| Cashier's Check | $0 |
| Incoming Wire Transfer Fee | $15 |
| Outgoing Wire Transfer Fee | $30 |
---
Wells Fargo Checking vs. Other Checking Accounts
It's always a good idea to compare bank accounts before opening one. While a bank like Wells Fargo offers access to physical branches, you may find that it doesn't really suit the way you bank.
For instance, moving your checking account to an online bank could give you more bang for your buck, if you don't mind missing out on branch access.
A traditional bank struggles to compete with the low monthly fees (often no monthly fees) and the high checking rates offered by online checking accounts.
These accounts may also come with more extensive ATM access before they refund fees that you might pay at any ATM.
Here are some great choice that you should look into:
Final Verdict: Who Is the Wells Fargo Everyday Checking Account Good For?
The Wells Fargo Everyday Checking Account keeps things simple but there are some better checking accounts out there.
Many of the popular online checking accounts are packed with features and perks that make it a standout.
If you've never considered an online bank before, it may be worth it to branch out as you explore different checking options.