Affordable Halloween Costume Ideas
Eating your weight in sugar- and calorie-packed candy is only deemed completely acceptable one day each year: Halloween. The chilly October days are speeding by, and the 31st is creeping up on us. No Costume? No Problem, with these six affordable quick fixes.
MyBankTracker.com picked our favorite costumes from Costume Idea Zone, a website encouraging individuals to send in their own costume ideas.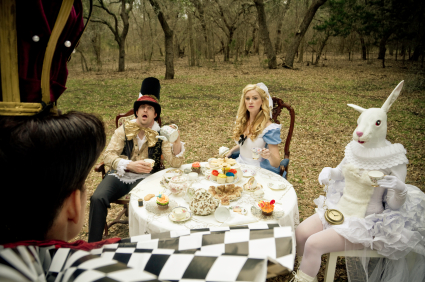 Raining Cats & Dogs
Necessary Materials: Umbrella, small stuffed cats and dogs, fishing wire or string.
Optional Materials: Raincoat and rain boots.
Instructions: Tie each of the stuffed animals to the string. If you want, you can vary the length of the string. Once you have tied the strings around the animals, attach them to the umbrella. Wear a raincoat and boots to add to the effect.
Cost: Seven stuffed cats and dogs for $10 on eBay.com, umbrella $5 on Amazon.com, fishing wire $3 at Midwest Hunters Outlet. The total cost of the necessary materials would be $18, which is about $5 less than the projected average Halloween costume cost for this year of $23.37.
Nickelback
Necessary Materials: A nickel.
Instructions: Okay, okay, Nickelback may not be the most critically acclaimed or most hip band, but we thought this costume was pretty funny, quick to put together and cheap! Just tape a nickel onto your back.
Cost: $0.05. You save yourself about $23.
Note: If you don't want to be Nickelback, you can be a Quarterback, in which case your costume will cost you $0.20 more.
Black Eyed Peas
Necessary Materials: Poster paper or white shirt, eye make-up.
Instructions: Cut out a big 'P' (or paint it onto the shirt) and use the eye make-up to give yourself a "black eye."
Cost: Paper $0.85, white shirt $5 at Walmart.com, horror makeup kit $13 on SpiritHalloween.com. You can also use black eye shadow, which costs approximately $6 depending on the brand. Total cost is $5-$19.
Babysitter
Materials Needed: Doll, velcro or tape.
Instructions: Attach the doll to your backside and when people ask you what you are, sit on it.
Total Cost: Used dolls cost $5 on eBay.com.
Party Animal
Materials Needed: Streamers, balloons, confetti and an animal mask.
Instructions: Pick a solid color to wear, cover yourself in the party favors and wear the mask.
Cost: Animal Mask $6 from CenturyNovelty.com, Balloons $3, Confetti $3, Streamers $0.80 all from PartyCity.com. Total cost is approximately $12.
Piece of Gum
Materials needed: Pink clothes and a shoe.
Instructions: You can be a piece of gum stuck to a shoe this Halloween when you dress up in all pink and attach a shoe to your head.
Cost: Free!
Whether you are a trick-or-treat chaperone, on door patrol or running to a last minute party there is no reason not to get into the Halloween festivities with help from these affordable costume ideas.
Ask a Question