How Capital One's Credit Tracker Tool Educates Customers
The new Capital One Credit Tracker tool shows more than just a credit score -- it simulates how customers can improve, or hurt their credit profile.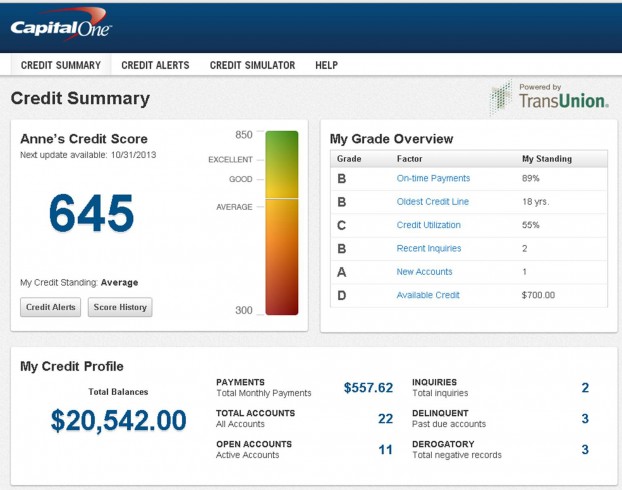 Launched today, Capital One consumer credit card customers now have access to the new Credit Tracker tool, which offers a TransUnion credit score and allows customers to gain a deeper understanding of various components that make up this score.
"Credit Tracker is most focused on showing customers how to use their credit wisely," said Manan Mahadevia, vice president of U.S. cards at Capital One. "The core objective is much more than just their credit scores."
Firstly, customers will receive a TransUnion credit score, which ranges from 300 to 850 (a higher score indicates a more creditworthy individual). Alongside the credit score, customers will see the six major aspects of their credit score and each one receives its own grade -- so customers can see which areas can be improved.
They also see their total debt, monthly debt obligations, credit inquiries, delinquencies and negative records. The tool shows how their TransUnion credit score changes over time.
Then, users can set up alerts to stay notified of any changes (i.e., new inquiries, public records, delinquencies, etc.) to their credit profiles.
Finally, one of the big advantages of the Capital One Credit Tracker tool over other credit-monitoring services is the ability to simulate how different credit behavior will affect their creditworthiness. For instance, a customer may use Credit Tracker to simulate how their TransUnion credit score would change if he or she paid off all credit card debt.
The simulator contains a wide array of credit events that could have an impact on creditworthiness, including balance changes, repayment activity, delinquencies, new accounts, new inquiries and credit limit increases.
With a better understanding on what has positive or negative effects on credit scores, the Capital One Credit Tracker tool can play a role in financial planning. Someone who is about to buy a home can see what they can do to boost their creditworthiness in the eyes of lenders, which will increase their chances of being approved for a home loan and possibly qualify for lower mortgage rates.
Credit Tracker is free and it's available to all Capital One branded consumer credit cards (not store or partner branded cards). It is currently accessible through the Capital One mobile applications and it will be available through online banking in April.
Related Stories:
How Your Credit Score and Credit Report Are Examined by Lenders
3 Things You Must Do if You Have Bad Credit