Use a HELOC to Repair Pet Damage to Your Home for Sale
If you repair pet damage and make your home more pet friendly, you'll command top dollar when you decide to sell.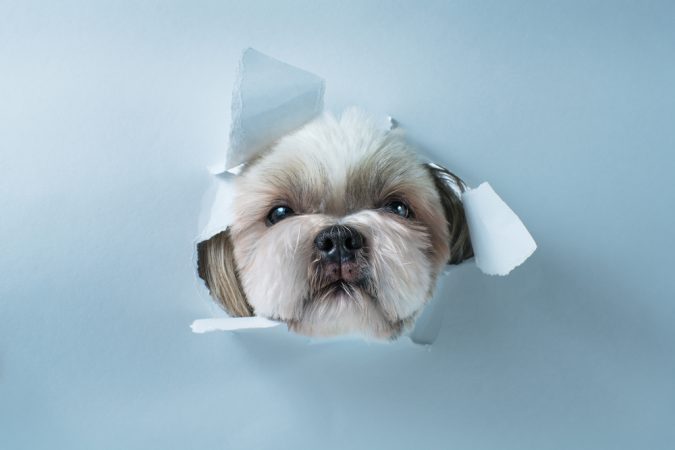 Let's face it. Your dog got the best of you and your house, leaving a trail of torn curtains, punctured screens, scratched floors and ugly brown spots on your beautifully manicured lawn that no buyer in his right mind is going to take off your hands, if and when you decide to sell your home.
A HELOC to the rescue
Well, you're not going to give your house away for a song or Fido, either.
Those are non-negotiables.
No, to repair pet damage and keep Fido in the family -- and get your home in the kind of salable shape it was in before your lovable pooch turned it into her personal playpen -- you need the kind of quick-action plan that a home equity line of credit (HELOC) was made for.
That's what Reno-based Norm Morgan, a proud owner of Princess, an Irish Setter, did.
At first, he thought he would dig into his own pockets to sand away the scuffed and scratched wood floors, replace the frayed curtains and repair the window screens his rambunctious puppy had shredded.
"If ever there was a time or need to use an equity line of credit, this was it," Morgan said. "Whatever upfront money I was putting up, I figured I'd get back in resale."
Morgan is not alone when it comes to spending money on his pets, whether the money went to repairing pet damage or preventing it by buying a few extra doggie treats or chew sticks.
Americans spend over $55 billion on their pets, according to the American Pet Products Association.
Smart fixes with a HELOC
Although Morgan's pet damage repair expenses didn't come close to five figures, he decided to open a $20,000 line of credit.
In addition to the repairs mentioned above, he decided to include a few other extras, figuring the enhancements would only increase his home's value.
He splurged on a kitchen island with a built-in sleeping nook for his dog, added a mud room with a deep farmhouse-style double sink off the kitchen, and landscaped the backyard with a new cedar fence, Fescue lawn and gravel area for Princess to do her business.
Morgan also wanted to roll a few human creature comforts into the remodel, such as replacing the peeling wallboard above his shower enclosure with subway tile.
"I, of course, wasn't planning on using anywhere near my approved limit," Morgan said, "but since you're only charged on the actual amount you use, I figured it was good to have as a back-up.
I also liked the interest-only option for the first 10 years because I plan to pay it off well before then."
Indeed, if Morgan sells his pet-friendly house before the full repayment period of interest and principal begins, he will easily pay off the HELOC from the sale proceeds.
Leveraging low rates
Morgan got an introductory interest rate for five months of 1.5 percent before moving up to a variable rate starting at about 4 percent. "I thought that was very fair and a smart way to leverage today's current low-interest rates," he said.
The increased lending reflects the twin forces of rising home prices and the corresponding rise in home equity.
Indeed, two-thirds of all U.S. homeowners, according to CoreLogic, a real estate information service, had at least 20 percent equity in their homes. To determine what your rates and payments would be, use MyBankTracker's mortgage calculator.
All the creature comforts of home
Whether your dog chews the leg of your dining room chair or treats the corner of your couch like a fire hydrant, the condition is fixable and can be made more manageable by turning your living space into a habitat more compatible for humans, cats and canine alike, such as choosing stain-resistant fabrics, harder-surface, less-porous flooring, and non-toxic satin paints that make cleaning up a little wall drool a breeze.
Whether you dip into savings or take out a HELOC to finance your pet repairs and upgrades, the improvements should pay immeasurable dividends.
As for Morgan, his home is now nicer than when he bought it five years ago. It's show-worthy once again -- a place made perfect for him and his Princess. Should he decide to put his house on the market today, it will command top dollar.
House going to the dogs (and cats)
No one knows exactly how many of those remodeling dollars are being directed toward repairing pet damage or making pet-friendly additions, but there's no shortage of people dipping into their savings or unleashing some of their equity to improve their homes, which hold an estimated 73 million dogs and 90 million cats.
Elizabeth Weintraub, a Sacramento real estate agent, recently installed floor-to-ceiling windows on both sides of her fireplace in her craftsman-style home, just so her cats wouldn't feel so cooped up in the house.
"The windows come in three sections," she explained. "The bottom windows are sliders, so my cats can look out or come and go as they please." A less frustrated feline is also one that will be less apt to sink her claws into a nearby chair or sofa.
Across the country in Charleston, S.C., Jane Miller is a member of the Pet Realty Network, which lets prospective buyers know, by her affiliation, that she is a pro-pet Realtor.
"It was a multi-level home," Miller said. "One of the first things they did was restore an old elevator in the home so their basset hound, which was past stair-climbing age, could easily go up and down. I think they spent about $33,000, but it was well worth it to them."