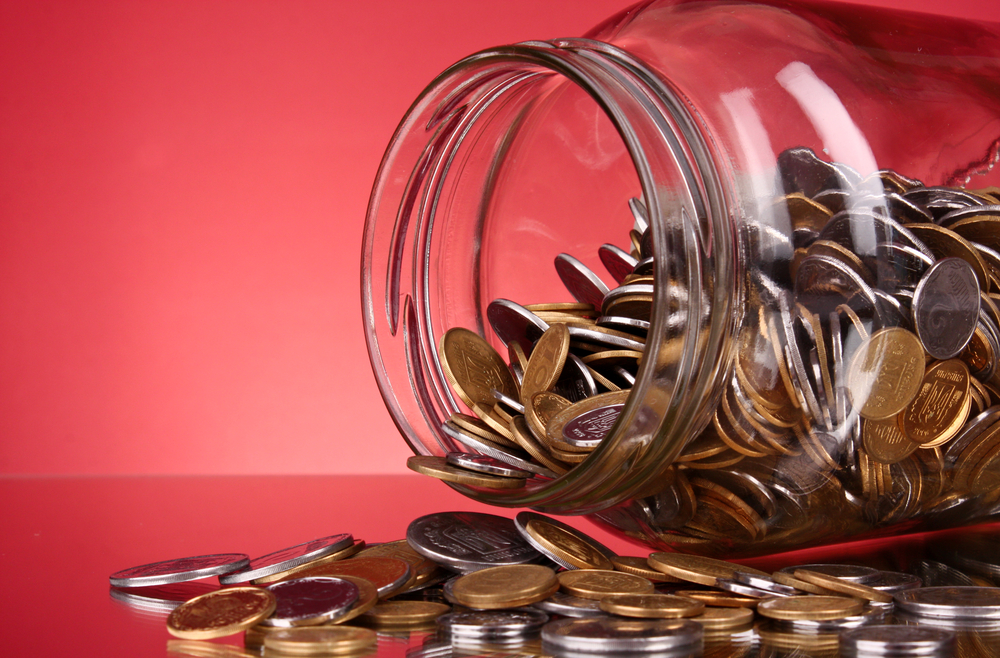 Remember the days you could take your piggy bank full of coins to the local savings institution and have them counted out for crisp bills or deposit. Fortunately, those days aren't entirely gone. MyBankTracker has identified a handful of banks still offering this service, although there may be a small fee. In that case, we also show you other ways to convert your coins for free.
Which banks still have coin counters?
Some big banks continue to provide coin-counting machines to customers and to non-customers. Many smaller community banks and credit unions are also likely to have coin-counting machines.
PNC Bank and BB&T still have these machines in many of their branches, but not all. For customers, it should be no surprise that the service is free, with the exception of BB&T. For non-customers, however, there is a definitely going to be a fee that's equal to a percentage of the coins counted. (UPDATE: Capital One removed coin-counting machines from all branches by early 2016. TD Bank removed its popular Penny Arcade coin-counting machines from all branches in May 2016. PNC Bank began to removing its coin machines in Spring 2016.)
| Bank | Customers | Non-customers |
| --- | --- | --- |
| BB&T | Free for $25 or less, 5% fee for more than $25 | 10% fee |
| JBT | Free | 5% fee |
| Manasquan Bank | Free | - |
| Home State Bank | Free | 10% fee |
| First County Bank | Free | - |
| Shelby Savings Bank | Free | - |
| Cape Bank | Free | Free |
| Hancock County Savings Bank | Free | - |
| Navy Federal Credit Union | Free | - |
| Republic Bank | Free | Free |
| People's United Bank | Free | - |
Of these banks, PNC charges the lowest fee of 5 percent (e.g., $5 from $100 coins counted and converted to bills, so you get back $95), while it costs twice as much at BB&T.
Did you know? When you used TD Bank's coin-counting machines (called the "Penny Arcade"), you could guess the total value of the coins counted. If you were within $1.99 of the actual amount, you got a TD-branded prize (i.e., bag clip or magnet).
Now, you might be comparing the coin-counting fees at banks to the fee for using Coinstar machines, which are often found in U.S. supermarkets. Coinstar charges a fee of 10.9 percent if you want the coins converted to bills. If you just want cash from your coins, banks are the cheaper option. But, as mentioned above, if you convert those coins into branded gift cards through Coinstar, it is completely free (see other ways to avoid Coinstar's fee).
Coin-counting machines are costly for banks to operate and maintain — it's why banks charge you to use them. Meanwhile, people are using the machines less because they're more likely to use debit and credit cards instead, which means cash is not being exchanged.
Roll your mountain of coins before you hit the bank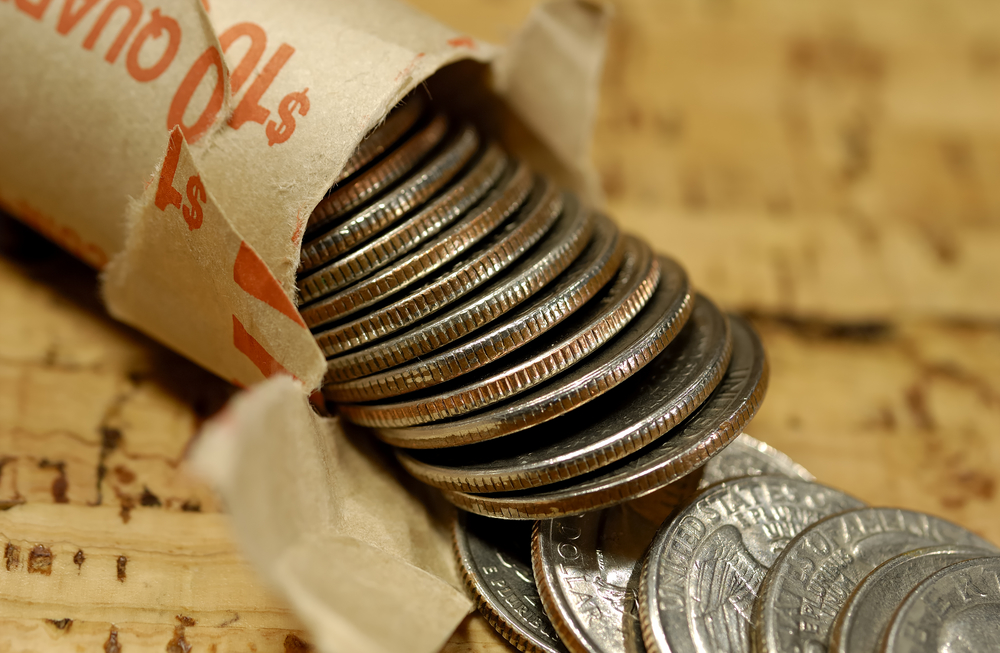 Don't want to pay a fee for coin counting? Don't worry.
After reaching out to all the banks, I found that every single one of them will provide coin wrappers for free, regardless of whether or not you are a customer.
Coin wrappers are paper wrappers that come color coded for different coin denominations. Each wrapper is used to roll 40 to 50 coins in denominations of 25 cents or less. Wrappers do exist for 50-cent and one-dollar coins.
If you've got a lot of coins, it could be a time-consuming task to stuff them into the wrappers. Once you've rolled the coins, just bring them to the bank for deposit or exchange. For customers of the bank, it is free. For non-customers, it's not as simple — read below.
Banks that exchange coins for free
Although every bank will give out free coin wrappers, not every bank will accept your rolled coins if you are a non-customer.
Chase Bank happens to have rather generous policies for non-customers, who can exchange up to $200 in coins as long as they're in coin wrappers. If you've got more than $200 in coins, there's a simple trick: just visit multiple Chase branches.
Did you know? It costs more than a penny to produce a penny. In 2014, it cost $0.166 to produce one $0.01 coin, according to a report by the U.S. Mint. The high cost of penny production has led many people to advocate phasing out the coin denomination.
While Chase will happily accept your coins, other banks I contacted will not. Most of them have a policy of not converting coins to bills for non-customers. In actuality, however, tellers would perform the coin exchange if the coins were wrapped and for a small amount — between $10 to $20.
Again, you can use the same trick here but going to multiple bank branches. If you have hundreds of dollars in coins, be prepared to make trips to many different banks.
Otherwise, your other option would be to just open an account with a bank that has a coin-counting machine — not exactly the best option I must say.
Do you know of any banks that still have coin-counting machines around? Please share them in the comments for everyone else to know — be sure to note the fee for non-customers, if any.
Coin-counting Alternative: Coinstar
Coinstar is a company that offers kiosks for counting coins. You can turn the coins into cash, electronic gift codes, or charitable donations. Coinstar kiosks can be found most often in major U.S. supermarkets.
These Coinstar machines are great alternatives for people whose banks don't have coin-counting machines. The biggest caveat is the 10.9% fee that comes with exchanging your coins for cash. The other two options do not come with any fee.
How it works
1. You can bring your coins without having to have them sorted or wrapped. They simply have to be free of dirt, debris, and other obstructions that could block the machine from accepting the coins.
2. Select the exchange option that you prefer.
3. For cash, you'll get a paper voucher that you bring to the cashier. For the electronic gift code, it will be printed on your receipt. For donations, you'll receive a receipt of your donation for tax purposes.
These are branded eGift cards that are available:
Amazon
AMC Theatres
Applebee's
Bass Pro Shops
Best Buy
Build-a-Bear Workshop
Chili's
Coldstone Creamery
Forever 21
GameStop
The Home Depot
IHOP
Apple iTunes
Lowe's
Nike
Old Navy
Red Robin
Regal Cinemas
Sears
Sephora
Southwest Airlines
Staples
Starbucks
Toys R' Us/Babies R' Us
Participating charities include:
American Red Cross
Children's Miracle Network Hospitals
Feeding America
The Humane Society of the United States
Leukemia & Lymphona Society
UNICEF
World Wildlife Foundation
The best cash out option to avoid losing a significant of money to fees is the electronic gift code or charitable donations.
| Coin exchange option | Fee | How it works |
| --- | --- | --- |
| Cash voucher | 10.9% | Turn in the cash voucher to a cashier |
| eGift Card | None | Gift code is printed on the receipt |
| Charitable donation | None | Donation is automatically made -- with a receipt for tax purposes |