A Guide On Product Recalls: Where to Check and What to Do
Hundreds of recalls occur annually. Follow these tips to find out where to get information about recalls and what you can do if your item's been recalled.
You've heard or read about product recalls in the news, but how vigilant are you really when it comes to checking for recalls? Whether you're a parent concerned about an item you just bought for your newborn, an aficionado at buying second-hand products, or a regular consumer -- it's important to pay attention to recalls.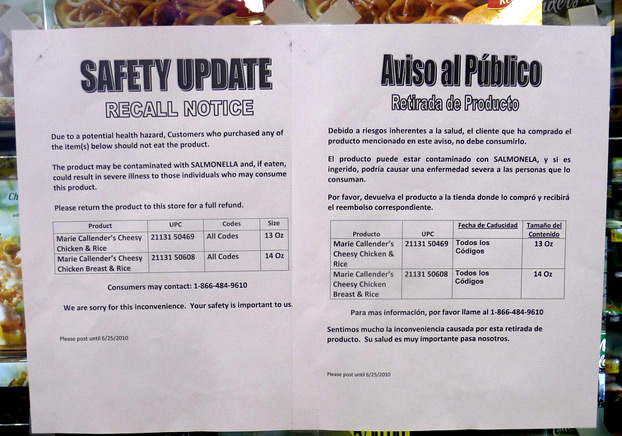 Each year, there are about 400 recalls of children's products such as toys, clothing, and jewelry. In 2012, the National Highway Traffic Safety Administration reported 586 safety- or compliance-related vehicle recalls, affecting nearly 18 million cars. And this year, the Food and Drug Administration has already issued 10 food, five drug, and two medical device recalls.
How can you find out if the product you've been thinking about purchasing has been recalled? Where do you look and how can you protect yourself? Follow these tips:
How to find out about recalls
With hundreds of recalls occurring each year, it can be tough to find out what products have been recalled. But there are several websites that can help. You can actively search for information using government websites like the Consumer Product Safety Commission, which has jurisdiction over more than 15,000 kinds of consumer products used in and around the home, in sports, recreation and schools. Or have the information sent to you by signing up to receive alerts via email at the CPSC's website (they also have an app available).
Here is a list of websites that the government recommends:
Recalls.gov lists government-initiated recalls that are gathered from federal agencies.

The National Highway Traffic Safety Administration lists recalls and safety information on vehicles and equipment.

The Food Safety and Inspection Service lists recalls that involve meat, poultry, or processed egg products.

The Food and Drug Administration lists recalls that involve food, medicines, medical devices, cosmetics, biologics, and pet food.

Report incidents and safety concerns with consumer products, search for incidents reported by others and find recalls at Saferproducts.gov.
Parents can also check out non-government websites like SafeKids.org or SafetyMom.com for recall information and tips on how to keep kids safe from potential hazards.
What to do if your product has been recalled
You might find out about your product recall by seeing a news report, learning about it directly from the company itself, or through websites. However you find out about the recall, be sure the take the proper steps to deal with your faulty item.
If it's a regular product recall, the manufacturer will try to make a reasonable attempt to contact you. That may work for vehicles because they are registered with the state, but it's not necessarily going to be so easy if you've purchased, say, a vacuum or coffee table (of if you bought it second-hand). What you should do is periodically check to make sure that there hasn't been a safety recall for products you own. If there has been a recall, stop using the product immediately.
Go to the manufacturer's website for more information and make sure the product you own is actually what's being recalled. Compare the brand model and serial number (if applicable) to what's being recalled. There should be information about what to do with your product -- whether you can get it fixed, traded, or even refunded -- along with contact info in the recall notice. Be sure to follow instructions about what you should do with the product.
If it's a children's product recall, locate and write down your item's product number. For a toy, product numbers are usually located underneath the toy. Take a look at the CPSC's website and register to receive email alerts on your kid's toy. Follow instructions from the CPSC, which should list a remedy to your faulty product and consumer contact information in its recall posting.
To protect yourself before a recall, register with the manufacturer after making a toy purchase. That way you'll be notified if a recall is issued. And be sure to keep receipts. If your item is recalled, many stores may take the toy back and maybe even reimburse you.
If it's a food product recall, don't panic, first of all. Oftentimes food manufacturers issue recalls as a precautionary measure. Secondly, don't eat or open the food. If you've already opened it, be sure to thoroughly wash your hands with warm water and soap. Lastly, check the recall and alerts page at FoodSafety.gov for instructions about what you should do. Sometimes you can return the product to the store for a refund.
Safety measures to take
You can't predict whether the item you purchase will be recalled, but you can take these precautionary measures to protect yourself:
For parents, be sure to spend time reading about safety on products like car seats and strollers to protect your children.
As previously mentioned, keep receipts and register your product. This will make the recall process much easier.
As always, properly research items you plan to buy before making a purchase.
Related Stories:
10 Retailers With Incredibly Flexible Return Policies
7 Items You Should Always Buy Generic