10 Retailers With Most Flexible Return Policies
You might be able to do all your shopping at these stores that have the most flexible return policies ever.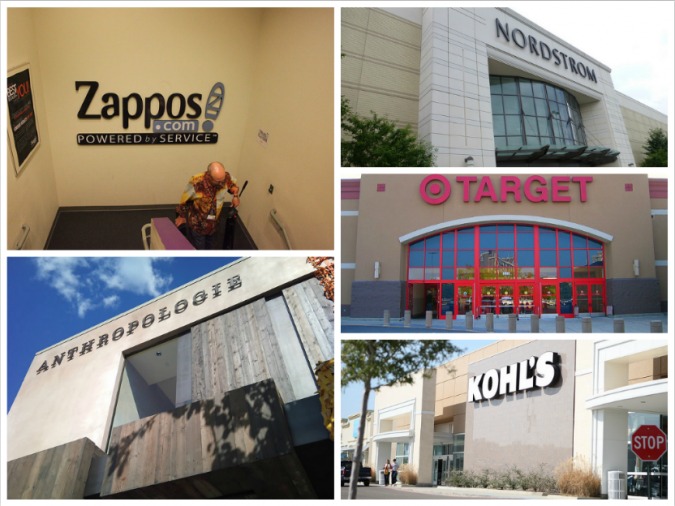 As consumers, we all hate that feeling when we lose a receipt or clip a tag off prematurely on a product it turns out we only semi-like. It's that moment when we give in to defeat when we wish there was a way to get our money back. But, it turns out that we might be able to do all our shopping at a few stores that have the best consumer-friendly, incredibly flexible return policies ever.
Top Retailers With Flexible Return Policies
| Store | Return Policy |
| --- | --- |
| Zappos | 365 days in it's original condition, returns must be unworn. |
| Nordstrom | Nordstrom handles returns on a case-by-case basis, with the ultimate objective of making customers happy. All refunds will be credited to your original form of payment or a Nordstrom Gift Card. |
| Anthropologie | All merchandise, with the exception of Unlimited Furniture Delivery items, may be returned at any time by mail or to stores. |
| Atheleta | Returns and exchanges are FREE when you use our prepaid return shipping label. Items purchased from Athleta may be returned at any time. |
| Costco | Electronics, Costco will accept returns within 90 days. Diamonds within 48 hours. |
| Kohl's | All Kohl's merchandise with the exception of premium electronics which must be returned within 30 days from the date of purchase with original packaging and a valid receipt or account look-up. |
| Eddie Bauer | You may return it for a full refund at any time. |
| Target | Most unopened items in new condition and returned within 90 days will receive a refund or exchange. |
| Land's End | If you're not satisfied with any item' simply return it at any time for an exchange or refund of its purchase price. |
| Bloomingdale's | You have 365 days to return almost any Bloomingdale's purchase for a refund or store credit, as long as your purchase is still in saleable condition. |
1. Zappos
Zappos boasts free shipping and free return shipping on all domestic orders. Customers have 365 days to return their order to the Zappos warehouse for a full refund. The products have to be unworn, in the state the customer received them, and in the original packaging.
Customers go through an easy self-service return process to print a free turn label out via their account. Customers who purchase an order on Feb. 29 of a Leap Year get until  Feb. 29 the following Leap Year to return their order, which is a whopping four years!
2. Nordstrom
According to a Nordstrom spokesman, Colin Johnson, "The return policy is that there is no return policy. You won't find one posted at the cash register or your receipt. The bottom line is that we work with our customer." In short, there is no time limit or receipt needed to make a return.
For those who order online, they can return in-store or get free return shipping provided by the company. When we reached out for contact, a customer service rep told us, "Returns are always up to the discretion of the returns process or the store but generally if the item doesn't meet your expectations you are always welcome to exercise your option to return or exchange the item."
3. Anthropologie
Anthropologie, a store owned by Urban Outfitters, offers a "curated mix of clothing, accessories, gifts and home decor." On their site, it says, "All Anthropologie merchandise is unconditionally guaranteed. If you are not satisfied with your purchase for any reason, please let us know so we can take care of you."
Upon calling the Anthropologie store in Soho, a sales associate said that the only things needed to complete a return are the receipt and the credit card used to make an order (if one was used) and identification. No tags need to be on the clothing, and the store offers complimentary return pick-ups provided by USPS,  who will come to your house and pick up the packaged item (with the free return label provided) right from your door.
4. Atheleta
Athleta, a retailer for women's performance apparel, has a superior returns policy that beats its competitor, Lululemon.
At Athleta there are no limitations on returning specific merchandise, merchandise can be returned at any time, returns are free, and exchanges are free.
5. Costco
Costco's return policy is generous, offering their customers a refunded membership fee at any time if dissatisfied, as well as a satisfaction guarantee on every product sold with a full refund.
Certain electronic products must be returned within 90 days of purchase for a refund. See their full policy.
6. Kohl's
Kohl's offers hassle-free returns, in which customers can return an item for a full refund or even exchange with receipt, or without a receipt, can make an even exchange by getting a Merchandise Credit or get a corporate refund.
For Kohl's Charge purchases, returns can be made for up to 30 days after the purchase date.
7. Eddie Bauer
Customers can rest assured with Eddie Bauer's guarantee that "Every item we sell will give you complete satisfaction or you may return it for a full refund." Customers can make returns with the receipt for a full refund in the original payment method (though this doesn't include shipping charges) and without the receipt for an exchange or merchandise credit.
According to a customer service representative, there is no time limit for returns, and original tags do not need to be attached to the products. However, return shipping is not free, with a charge of $6.00 deducted from your merchandise credit or refund for returns weighing 5 pounds or less, and $8.50 for all other packages.
8. Target
Target really goes all out to ensure easy returns for their customers, by offering a few ways to check your purchase: by scanning receipts or packing slips, offering receipt look-up, and offering a non-receipted return or exchange with a valid form of identification. Most unopened items in new condition can be returned within 90 days, and those that don't will have a return by or within day range on the receipt or packing slip.
Bundled items must be returned with all components for a full refund. For online purchases that are not allowed to be returned to local stores, shipping costs are deducted from the refund. Consumer electronics have a 30-day return window, and for the holidays, anything bought in November doesn't have the 30-day clock start until Dec. 26.
9. Land's End
"If you're not satisfied with any item, simply return it to us at any time for an exchange or refund of its purchase price." Customers who no longer have their packing slip and/or receipt can obtain their online order history through their personal shopping account, or can contact customer service. Customers can return catalog and internet orders to any Sears store. Returning items for exchanges will be paid for by the company, however returned items are charged a flat fee of $6.95 to the customer.
For customers getting refunds for returns, if the original form of payment is no longer valid, or was given as a gift or made from points or vouchers from the rewards program, a gift card will be give as a refund. For customers returning an item where the record of purchases dates back to 9 months or greater, the refund will be made in the form of a refund check. An item for which there is no record of purchase will get a refund for the item's lowest sales price in the form of a Lands' End Gift Card.
10. Bloomingdale's
While there is a 365 days limit on Bloomingdale's returns, the store does have exceptions on specific items, of which you can see in detail by going to the Bloomingdale's return policy page. All merchandise returned needs to be new and unused, with Bloomingdale's "b-tags" and designer garment tags still attached, as well as other accompanying materials that came in the original package.
However, Bloomingdale's also works to assist their customers in locating returned items, so if a customer shows up without a receipt, they can locate the item by scanning the white proof-of-purchase sticker located on the price tag.