How to Pay for an Expensive Car Repair
When the car repair cost is too expensive for your wallet, learn about the payment options available and how you can make the repairs more affordable.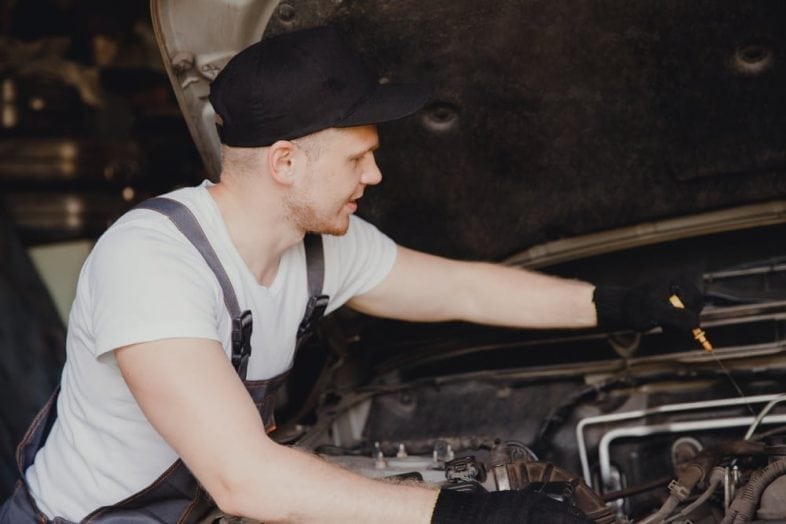 An expensive car repair can be disruptive both to your personal equilibrium and your finances.
We're not talking about relatively small repairs here – like the ones that cost $200 or $300. Those can usually be managed within your regular budget, with at no more than least minor difficulty.
But the really big ones, like over $1,000, can be downright disruptive. And some of the really big ones can be in the $2,000 to $3,000 range and put you in full-blown panic mode.
So:
How can you pay for an expensive car repair without nearly destroying your finances, especially if you're on a tight budget?
So you'll be ready when that dreaded moment arrives, we've listed several strategies to help you deal with the at least minor financial crisis that an expensive car repair can set off.
Tap Your Emergency Fund
Expensive car repairs are one of the major reasons why everyone should have an emergency fund.
There are two main purposes for an emergency fund:
covering temporary disruptions in income
paying for large, unexpected expenses
Expensive car repairs fit neatly into the second category.
Hopefully, you already have an emergency fund set up, and if you do, this will naturally be your first choice for covering a large repair.
At a minimum, you may be able to do a mix-and-match payment, in which you pay part of the repair bill out of your emergency fund, and the rest using some other method, like a credit card.
Look:
Most financial advisors recommend that you have somewhere between three month's in six months living expenses in your emergency fund.
Ideal Size of an Emergency Fund
| To start... | Ideal goal... | Super safe... |
| --- | --- | --- |
| $1,000 | 3-6 months of essential expenses | 12 months of expenses |
So, if your monthly living expenses are $2,500, your emergency fund should hold somewhere between $7,500 and $15,000.
But even if you can't reach those levels, $5,000 can cover at least two month's living expenses, which should also be plenty to pay 99% of car repairs.
In fact, if you have an emergency fund, it's never a bad idea to have a corner of it set up specifically for major car repairs. They're hardly unusual.
For example, You may want to have sufficient funds to cover 3 months living expenses, plus another $2,000 or so earmarked just for car repairs.
And if you do run into an expensive car repair, tapping your emergency fund is a perfectly logical strategy.
Just make sure you have a plan in place to replace the funds shortly after.
It's not unusual for one expensive car repair to be followed by another, or some other type of high priced emergency. It sometimes happens, and your emergency fund is your best protection against that event.
Take a Personal Loan
If you have good credit, you can often get a personal loan through your bank.
The advantage of a personal loan is that you can get funds for a specific purpose, like an expensive car repair.
Also, you aren't required to put up collateral for the loan. You can qualify based on your income and your credit history only.
If your credit isn't so good, you can take a chance getting a personal loan through online peer-to-peer lending platforms. Lending sites like Lending Club and Prosper can generally accommodate a wide range of credit profiles.
Interest rates are generally higher than they are with personal loans secured through banks, and you can expect to pay an origination fee of between 1% and 6% of the loan proceeds.
But if you're in an emergency situation, a peer-to-peer personal loan could be the answer.
Perhaps the biggest disadvantage with a personal loan is that it doesn't represent ready cash. It could take you two or three days (or more) to secure the loan.
If your car is not drivable due to the needed repair, that would require the use of alternative means of transportation.
You can rent a car or use Uber while you're waiting for the loan to be approved and the funds to arrive. But either option will, of course, increase your overall cost of the repair.
With that in mind, you may want to request a little bit of extra on the loan to cover those expenses.
Use a Credit Card
In most situations involving a car repair, a credit card will be a superior solution to a personal loan. This will be true for several reasons:
You won't need to apply for a loan, you can simply and immediately access the funds to pay for the repair.
You won't have to pay an origination fee on the amount borrowed.
The monthly payments on a credit card will probably be lower than they will be on a personal loan – which can also be bad (see below).
There are also plenty of reasons why a credit card may not be the best solution:
You may not have sufficient open credit to pay for a major car repair.
A particularly large repair bill can max-out your credit card, which will hurt your credit score.
You may already have the remnant costs of previous car repairs on your credit cards.
Interest rates on credit cards are generally higher than on personal loans.
The revolving nature of credit cards can turn a seemingly low monthly payment – like $40 per month on a $2,000 repair charge – into a permanent obligation (which is the same reason you still have old car repair bills on your credit card).
As logical and convenient as using a credit card to pay for an expensive car repair may seem initially, there are a couple strategies you should use if you go this route.
Try to use a card with a 0% introductory APR.
The 0% APR generally runs 12 months or more. And if you do use a credit card, and you don't have a 0% APR, have a plan to pay off the card as soon as possible.
An annual interest rate of 24% can dramatically increase the cost of a one-time car repair.
Tips to Minimize the Cost of the Car Repair
If you're hit with a major car repair bill, try not to panic. This will be an important time to work out ways to minimize the cost of the repair.
The better you're able to do that, the less drain there will be on your finances.
Shop for estimates
All repair shops don't charge the same rates.
Get an estimate from one shop, then present it to other shops in your area and see who can give you the lowest price.
Just make sure you also do research to determine the reliability of the repair shop. You can do this on sites like Yelp and the Better Business Bureau, but you can also find out who among your friends, family, and neighbors might have used a particular shop.
Negotiate
When you do settle on a repair shop, don't be afraid to negotiate.
For example, if your car is more than five years old, ask for remanufactured parts instead of brand new ones.
The cost difference can be substantial.
It also doesn't hurt to play on the heartstrings. Don't be afraid to let the repair shop know that funds are very limited, or that you may not intend to keep the car for much longer.
This can cause the repair shop to charge you a lower price, or at least to avoid any additional not-totally-necessary add-on charges or services.
Even if you've never been much of a negotiator in the past, if you use these strategies you might be able to chop a few hundred dollars off the cost of the repair bill.
And the less you need to pay for the repair, the less you'll need to borrow or take out of your emergency savings.
Final Thoughts
It's often said that when money's tight, maintenance is the first thing to go.
That can seriously work against you when it comes to car repairs. Every car has a service schedule listed in the car owner's manual. You should generally follow that schedule.
For example, change the oil, and get the car serviced at required intervals. This is particularly true of servicing at 30,000 miles and 60,000 miles.
While it may seem as if you're saving a lot of money by avoiding these service visits, not having the work performed can accelerate the need for major repairs, and make them more expensive than they otherwise would be.
Still another advantage is that those service visits are a lot less expensive than major repairs. You'll be able to work them into your budget more easily than major breakdowns.
But this is also a good time to circle back to the emergency fund concept.
should keep that fund well stocked in advance of events, like expensive car repairs. You should also keep your credit clean, in case you need to apply for a personal loan.
And of course, keep the balances on your credit cards as low as possible.
That will not only provide you with ready credit in an emergency situation, but it will also keep your credit score nice and healthy.