How to Invest in Marijuana Stocks and the Cannabis Industry
Learn how you can invest in the cannabis industry with marijuana stock, ETFs, and mutual funds in response to increasing legalization in the U.S.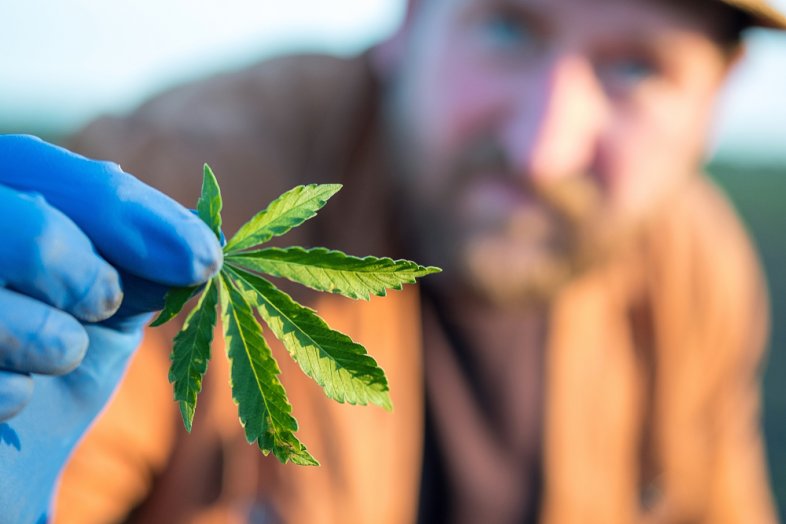 In the United States, the cannabis industry is booming.
According to Morningstar, an investment research firm, cannabis companies will see their sales grow by nearly nine times through 2030 as marijuana becomes legal in more states throughout the country. 
With so much potential for market growth, there's no surprise that you might be interested in investing in marijuana.
But if you're not sure how to get started or what investments to make, investing in the cannabis industry can be intimidating. 
Read on to learn how to invest in marijuana stocks and other options to diversify your portfolio. 
The State of the Cannabis Industry
In the United States, marijuana is still illegal at the federal level.
However, laws concerning cannabis vary from state to state.
As of June 2019, 14 states and territories approved cannabis for adult use. In 33 states, Washington D.C., Guam, Puerto Rico, and the U.S. Virgin Islands, marijuana was approved for medical use.  
There's still plenty of room for growth. By 2030, industry experts predict legalization and commercialization in nine more states. 
In a recent report, Arcview Market Research estimated that marijuana sales globally will surpass $40 billion by 2024. 
With such huge numbers, it's no wonder that investors are looking at the cannabis industry as the next hot opportunity. 
Types of Cannabis Companies
The rise of the cannabis industry has created new businesses and employment openings.
If you're looking to invest in marijuana stocks, there are three types of cannabis-related companies:
Growers
The growers are companies that grow marijuana plants.
Typically, cannabis is grown by large-scale farms in indoor facilities.
Canopy Growth Corp. (CGC) and Aurora Cannabis, Inc. (ACB) are publicly traded growers.
Biotech companies
Biotech companies are corporations that develop prescription medications with cannabis-based ingredients and compounds.
For example, GW Pharmaceuticals (GWPH) launched the drug Epidiolex, a medicine derived from the cannabis plant that's used to treat seizure disorders.
Support services
Support companies are businesses that provide other services to biotech companies and growers.
For instance, distribution and marketing firms would fall into this category.
Two examples are KushCo Holdings (KSHB), a packaging and supply company, and Scotts Miracle-Gro (SMG), a fertilizer company.
Ways to invest in the cannabis industry
If you want to invest in the cannabis industry, you have three main options: 
1. Invest in marijuana stocks
When you invest in individual stocks, you buy shares of one particular company.
While this strategy has the potential for large gains, it's also risky and volatile. If the company fails or its performance plummets, you could lose a significant amount of money. 
There are several stocks to invest in, including: 
Amyris Inc (AMRS)
Constellation Brands (STZ)
Innovative Industrial Properties (IIPR)
KushCo Holdings (KHSB)
Organigram Holdings (OGI)
Origin House (ORHOF)
Valens GroWorks Corp (VGW.V)
Village Farms International (VFF)
2. Invest in ETFs
If investing in just one company sounds too risky to you, consider investing in exchange-traded funds (ETFs) instead. ETFs are funds made up of stocks, bonds, commodities, or a mix of all three.
By investing in an ETF, you can invest your money in dozens or even hundreds of different companies at once, instantly diversifying your portfolio. 
As of December 2019, there are only a few cannabis ETFs on the market: 
AdvisorShares Pure Cannabis ETF (YOLO)
AdvisorShares Vice ETF (ACT)
Amplify Seymour Cannabis ETF (CNBS)
Cambria Cannabis ETF (TOKE)
ETFMG Alternative Harvest ETF (MJ)
Global X Cannabis ETF (POTX)
Horizons Marijuana Life Sciences Index ETF (HMMJ.TO)
The Cannabis ETF (THCX)
3. Use a robo-advisor
If you want a more hands-off approach, another option is to invest your money with a robo-advisor. The robo-advisor will ask you questions about your finances, goals, and risk tolerance, and will invest your money accordingly. 
With some robo-advisors, such as Wealthsimple, the available ETFs may have exposure to cannabis stocks, but they don't offer ETFs specific to the cannabis sector.
One exception is Stash, a micro-investing robo-advisor app. It allows users to invest in both stocks and ETFs.
You can invest in cannabis-related stocks, like Aurora and Canopy Growth. Or, you can invest in marijuana-specific ETFs, such as the ETFMG Alternative Harvest ETF (MJ)
What You Need to Invest in Marijuana Stocks
To start investing in marijuana stocks, follow these steps: 
Think about your goals
If you aren't saving for retirement, you're likely better off with an individual taxable investment account. There aren't tax advantages for contributing to these kinds of accounts.
However, there are no penalties for withdrawing your money before retirement age.
Research brokerage firms
Look at several different brokerage firms and compare their fees, convenience, and trading platforms.
If you would prefer that a brokerage firm do the heavy lifting for you, look for a robo-advisor who can automate your investments.
Open a brokerage account
Once you find a good fit, you can open an account.
Some brokerage firms have minimums as low as $5, so you can get started right away.
Place orders
If you're buying stocks or ETFs on your own, you can place an order by entering the trading platform and searching for the company or ETF ticker.
If you're working with a robo-advisor, just answer the questions about your risk tolerance, and the company will automatically invest your money for you.
Invest consistently
Investing your money on a regular basis is key to financial growth.
Set up a recurring schedule where you deposit money into your brokerage account.
Understanding Legal Issues
While investing in the cannabis industry could be a lucrative opportunity, it's still a volatile business.
As the federal government addresses the growing demand for the legalization of marijuana, the industry could change drastically over the next few years. 
Before you decide to invest in the cannabis industry, one word of caution: federal employees and contractors who invest in marijuana-related stocks could have issues with their security clearance, jeoparding their jobs.
If you are a federal employee or contractor, consider waiting to invest until the federal government's position on marijuana relaxes.