Mobile Investing Apps 2023 Review: Acorns vs. Stash
Learn about the Acorns and Stash mobile invest apps and compare their fees, ETF investments, portfolios, and features to see which micro investing app is best.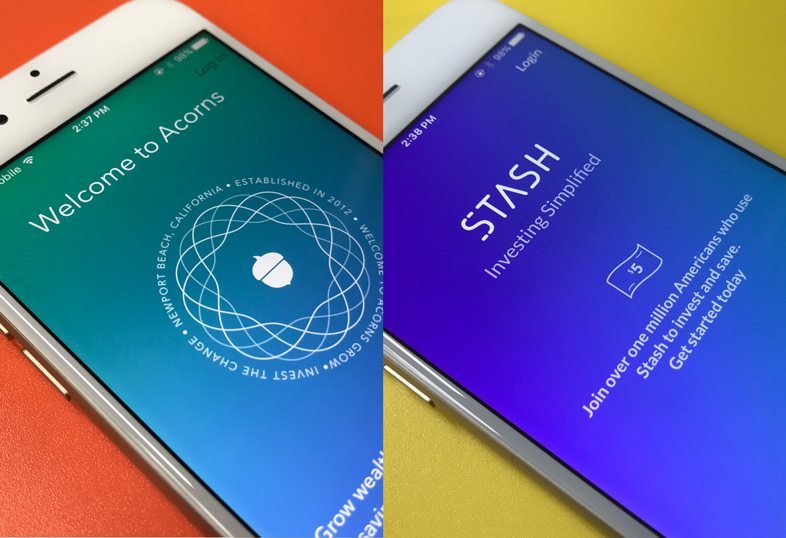 Investments can seem scary. Many people find them to be confusing and complex. These are all reasons why they may be hesitant to start investing.
Putting a good amount of money in your savings account is a good thing. It's also important to put some of your money into investments. With a balanced approach to your finances, you can have cash in your savings for short-term goals, while the investments grow a little faster to help you achieve long-term financial goals.
That's why more companies are making it easier to get started with investments. They include popular names Acorns and StashInvest. These micro-investing apps let you take small amounts of cash -- sometimes just pennies -- and invest in the stock market. For younger adults, these apps are very attractive.
Learn how each of these investing apps work and compare them to find out which one is the best match for you.
Overview: Acorns vs. Stash
Features
Acorns
Stash
Investing approach
Choose from preset portfolios based on your risk tolerance
Customize a portfolio based on your risk tolerance
Automatic savings

Invest spare change based on card purchases
Fixed amount every day, week, or month

Smart Save based on spending habits
Fixed amount every week, two weeks, or month

Number of ETFs
6
30+
Cost

$1 per month for balances under $5,000
0.25% per year for balances of $5,000 and up
Free for college students under age 24

Free for the 1st month
$1 per month for balances under $5,000
0.25% per year for balances of $5,000 and up

Initial investment
$5
$5
Mobile apps
iOS and Android
iOS and Android
Acorns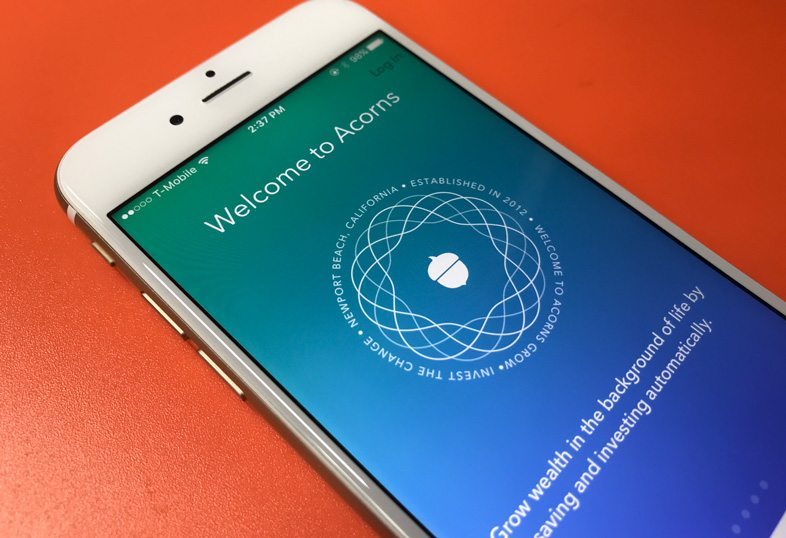 Acorns is a fully-automated micro-investing app that allows you to set up and manage your account from your phone. It takes its inspiration from Bank of America's Keep the Change program, investing your cash pennies at a time.
When you sign up for an Acorns account, you'll answer a few questions about your investing profile. Based on your answers regarding your investing goals and time horizon, Acorns will decide how to invest your money. Acorns invests your funds in a preset mixture of stocks and bonds to help get the right mix of risk and reward for your portfolio.
After you help Acorns determine your investing profile, you'll link your debit and credit cards. Each time you use a linked card, Acorns will round the transaction up to the nearest dollar, and the difference is moved from your checking account. So, if you paid $2.25 for a coffee, Acorns will take $0.75 and place it in your Acorns account. It will then automatically invest it for you.
By adding some change to your portfolio each time you make a purchase, Acorns will help you save without you even noticing. If you want to speed things up, you can also set up daily, weekly, or monthly deposits to your Acorns account.
StashInvest
Stash also allows you to invest without a large chunk of cash.
Primarily, Stash lets you decide how much you want to invest every week, two weeks, or every month. You can start with just $5. Also, there's a smart-saving option that lets Stash transfer money from your checking account based on your spending habits. So, it determines if you have room to move money to Stash and it'll do so without messing up your finances.
When you open your account, Stash will also ask questions to get an idea of your risk tolerance. Then, it offers investments that match your risk level. You can customize a portfolio with more than 30 ETFs to choose from.
Investing Approach
Both applications are designed to help you get started with investing, but they have different approaches to this.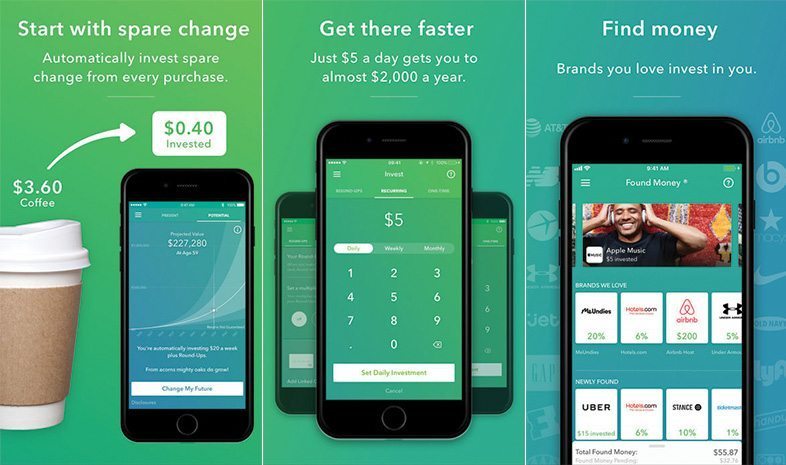 Acorns is a type of robo-advisor. You send your money to the account, and a program does all of the investing for you. It's good for people who don't really have any idea about the stock market yet and/or don't want to delve too deep into investing. With some many companies and funds to invest in, it can be had to know what the right choice is. Acorns' preset portfolios are comprised of only 6 ETFs in its accounts.
The ETFs offered in Acorns accounts are:
Vanguard S&P 500 (VOO)
Vanguard Small-Cap (VB)
Vanguard FTSE Emerging Markets (VWO)
Vanguard REIT (VNQ)
iShares Investment Grade Corporate Bonds (LQD)
iShares 1-3 Year Treasury Bond (SHY)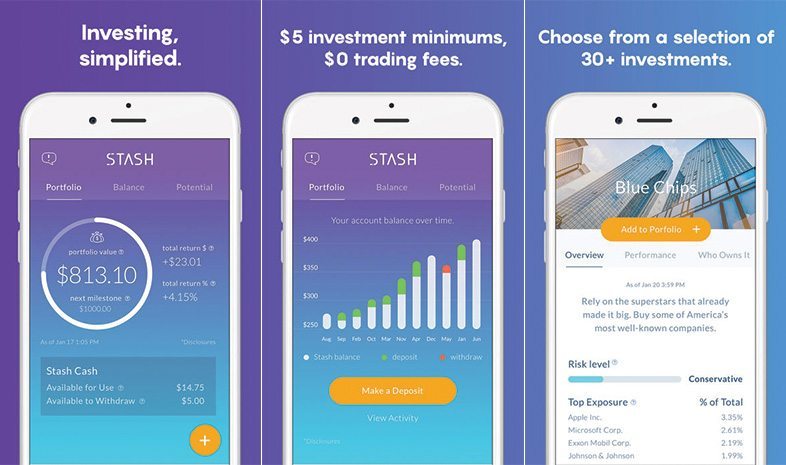 Stash gives you far more control over your money. With Stash, you can customize a portfolio with 30+ ETFs, already more than Acorns allows. You can choose investments based on your favorite brands, beliefs, and more (e.g., clean energy).
The ETF pool offered by Stash include (but not limited to) those from:
Vanguard
Schwab
iShares
SPDR
PIMCO
PowerShares
There is no better approach here. It really depends on how you like to invest. If you want a trouble-free portfolio picked out for you, Acorns does the job. If you want to personalize and interact more with your portfolio, Stash is the better option.
Fees
Nothing in life comes free, and that's doubly true in the financial world. Both Acorns and StashInvest charge fees for their services. Both applications charge identical fees, though Acorns does offer a benefit for young investors.
If your account balance is less than $5,000 both apps charge a fee of $1 per month. Once your balance reaches $5,000, the fees become .25% of your balance per year. This is on top of the fees charged by the ETFs that you hold in the account.
If you are an Acorns user you can get your fees waived if you are a student or under the age of 24. This gives the edge to Acorns when it comes to fees, but if you are over 24, the two apps will cost the same.
Accessing Your Account
Both applications offer slick mobile apps that let you access and manage your account. Because they're designed for younger, tech-savvy people, who are new to investing, powerful and easy to use. Both apps let you view your balance, schedule deposits and withdrawals, view your performance, and make changes to your investment mix.
Because Stash lets you choose what to invest in, Stash also lets you see a breakdown of your balance by the fund. If you notice a fund outperforming or lagging behind, you can use that information to change your investing strategy.
For people who still prefer using their PC to access financial websites, Stash does not offer a website based way to access your account. You'll have to use the app to make changes. Acorns does offer a portal that you can access from a computer so you can manage your money if you can't get to your phone.
Which One is Best?
Stash and Acorns have very similar goals of helping young adults get into investing with ease. However, Stash offers more options that are important in helping customers grow into more competent investors.
At the very start, Stash users can set up a portfolio without too much effort. But, as their accounts grow, they can look into changing their portfolio and have a hand in picking their own investments. This allows them to investigate and learn more about investing. Also, the Smart-Save feature means that Stash users can grow their portfolio faster than Acorns users, which invest their change and is likely to move less money into investments.
Acorns is great for someone who simply wants everything to be automated without as much thought involved. As users get more acclimated to investing, they might end up wanting more.
How Do Micro-Investing Apps Differ from Traditional Investment Accounts?
So why should you use a micro-investing app instead of opening a traditional brokerage account?
Micro-investing accounts have a much lower barrier to entry. If you want to open a brokerage account and invest in a mutual fund, you'll need a large minimum deposit. These apps let you invest with just a few dollars. Micro-investing apps also let you avoid trade commissions, which can eat up a large percentage of your money if you have a low balance to invest. These apps still charge fees, but they can be less than transaction fees for low balance accounts.
Micro-investing apps like Acorns that handle the investing for you also let you access the benefits of a robo-advisor without having to meet the requirements of larger robo-advisors such as Betterment or Wealthfront.
To put it simply, people without much money to invest benefit from micro-investing by getting started sooner and avoiding costly trading fees.