Money-Saving Tips for New Parents to Cut Costs on 3 Major Expenses
Never mind the late nights -- raising your first child can be very stressful. Here are 3 money-saving tips for new parents.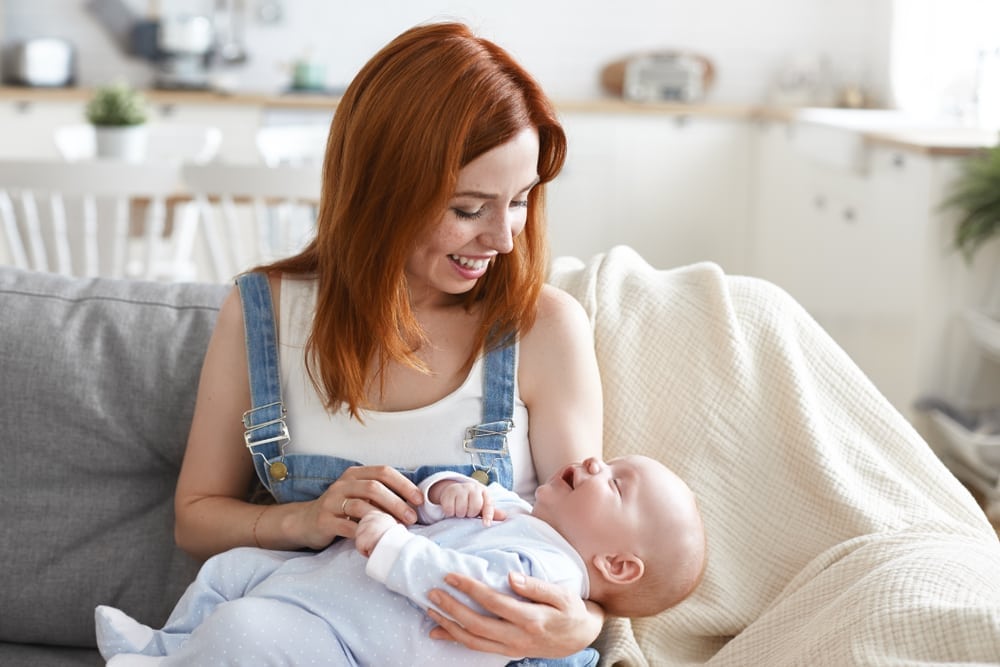 Buying baby equipment, purchasing outfits, changing diapers -- these are all things tasks that new parents have to face.
Bringing a baby into the world is one of life's greatest gifts, and it can be extremely rewarding.
Everyone knows, of course, that raising a kid isn't easy -- and it's certainly not cheap.
The average cost of raising a child born in 2020 to the age of 18 will cost a middle-income family around $240K, according to the U.S. Department of Agriculture.
Those costs include food, housing, childcare and education, and other child-rearing expenses up to age 18.
The idea of spending a quarter of a million dollars to raise a child is enough to raise anyone's blood pressure -- and that amount doesn't even include costs associated with pregnancy or higher education.
That's why it's no surprise to see many new parents seek out money savings tips.
"In today's economy, it's important to be prepared with as much information as possible when planning for the future," said USDA Food, Nutrition and Consumer Services Under Secretary Kevin Concannon.
There's no shortage of tips on how new parents can save on purchasing items like strollers and buying new baby gear, but what about the bigger costs?
Should you buy a new home for you growing family?
Who will take care of your little one when you're at work?
What about feeding your family?
Here are a few ways to drive down the costs of the three biggest expenses associated with raising a kid:
1. Should You Buy a House?
Housing costs are the single largest expenditure on a child. On average, housing amounts to 30 percent of the average total cost of raising a child.
For new parents with plans to raise one or more kids, the question of whether to buy a home is something that will weigh on heavily on your minds.
But if you haven't saved much money and are still paying off your student loan or credit card debt, the idea of buying a home might seem intimidating.
However, with careful planning and researching, you might be able to find the right place for your family.
First, you need to determine that you can actually afford to purchase the home.
Most likely you'll have to take out a loan.
So you need to know how much you make, how much you have for a down payment, your other savings needs, and your debt-to-income ratio.
Most lenders will limit your debt-to-income ratio between 36-45 percent.
Add your target mortgage payment plus your consumer debts and divide by 0.36, which is the gross monthly income you'll need to qualify for a loan to purchase a home.
Use a guide for first-time homebuyers to help you determine whether you can truly afford to purchase a house.
Take a look at the latest mortgage interest rates to get a better understanding of what you can afford.
If you can afford to buy a house, you need to figure out how much of a house you can actually afford.
Don't forget that you will most likely have to pay for a home inspection, closing costs, moving costs, maintenance costs, and higher utility costs.
Not to mention new furniture or appliances. All of that adds up to a lot of money, so you've got to be realistic about what you can really afford.
How to Save Money on a Home
There's no way getting around it: buying a home will cost you a large chunk of change.
But you can save money.
What you might have to do is compromise on the ideal home you're picturing.
You might have to commute a little further to get the best value for your money or give up on your idea of a white picket fence.
Maybe you purchase a fixer-upper, consulting with an independent home inspector to see how much it will cost to fix.
Or you rent to buy.
You might consider looking at neighborhoods in transition to raise your family or delaying purchasing a home for the time being to save money until you can get a house you want.
"Variations by geographic region are marked when we look at housing," said USDA Center for Nutrition Policy and Promotion economist Mark Lino.
Purchasing a home will be the largest expense you ever undertake, so it's a decision you don't want to rush into just because your family is growing.
You don't want to end up with a budget nightmare.
That said, if you can afford to purchase a home, be sure to shop around for the best mortgage rates.
2. Childcare and Education
Childcare and education are the second largest expense for parents raising a child, accounting for 18 percent of total costs.
As new parents, you might feel that one of you has to stay home to raise your baby.
If you can afford to do so, that's great news.
However, the majority of new parents can't afford to live on a single income.
That's why many parents turn to childcare, and boy is it expensive.
How to Cut Down on Child Care Costs
First, can family members or trusted loved ones watch your kid?
That's an easy way to cut childcare costs.
If not, does your company offer help or benefits for working parents that will help you pay for childcare (do they have on-site child care)?
You might also consider family child care, which might be less expensive than a day care center.
Perhaps you or your partner can shift your schedules so that you're more flexible and someone is around to watch your kid.
If you have friends with young kids, maybe you can share a nanny and split costs.
These are just a few ways that you might be able to make childcare more affordable.
Above all else, though, you don't want to leave your kid in the hands of someone who's not dependable or trustworthy.
So look for ways to cut down on childcare costs, but choose the option that's best for the well-being of your baby.
Funding Your Child's Education
When it comes to education, the earlier you save the better off you will be.
If you plan to send your kids to a public school, then the costs will obviously be cheaper than a private school.
To save money to send your kid to a private school, you might consider opening a Coverdell Education Savings Account, a tax-advantaged investment that can be used to cover future education expenses like books or tuition at elementary or secondary schools and college.
A Coverdell ESA works similarly to a 529 plan, except a 529 is limited to college, university or vocational schools.
The downside to a Coverdell ESA is that there's a $2,000 contribution limit.
If a 529 isn't the right plan, you might consider a mutual fund.
Whichever way you choose to save for your child's education, the important thing is to start saving yesterday.
3. Feeding a New Family is Expensive
Middle-income families can expect food to account for 16 percent of the totals costs that go into raising a child.
For a family of four, the USDA says a liberal plan would cost families with kids below five an average of $255 a week.
A more thrifty plan would cost a family $131. That's a savings of $124 each week, money that a family can wisely spend elsewhere.
"Food is among the top three expenses in raising children," said USDA Center for Nutrition Policy and Promotion Executive Director Angela Tagtow. "Parents have the challenge of providing food that is not only healthful and delicious, but also affordable."
Compare Savings Options
Be sure to check out more savings accounts worth considering:
How Can You Save on Food?
But when people think of healthy food, the word cheap does not come to mind.
How can families eat healthy and still save money?
For new parents, the key is to make sensible food choices.
New parents might be tempted to spend more money buying the best and tastiest foods for their newborn.
That's a habit that needs to stop.
Eating healthy doesn't have to be expensive and there are a few "tricks" new parents can use to save money when shopping for food.
First, don't go to the grocery store as often as you currently do.
Each time you head to the grocery store, you will be tempted to buy food that you might not need.
Cutting down on your visits to the grocery store will help you save money, especially if you're the type of person who has kitchen cabinets stocked with food already.
When you do head off to the grocery store, bring a grocery list so you limit the food you purchase.
The groceries you buy should be based on a weekly meal plan you create for you and your family.
If you're the type of person that craves more spontaneity when cooking, then don't plot out your meals for each day.
Just have a series of recipes you will cook as part of your meal plan and buy ingredients for those recipes.
That will give you some options as far as the meals you create.
Of course, you can save even more at the grocery store by browsing your grocer's flyers to see what's on sale that week.
In fact, you can even base your meal plans on the food that will be on sale that week.
Before you head to the grocery store, make sure you've eaten so you're not tempted to buy unnecessary products.
When you are at the grocery store, you can make healthier choices by buying produce in season and reading food labels to see a product's ingredients.
As a new parent, you want to establish healthy eating habits in your kid at a young age.
When you're purchasing food for your baby, make sure to choose food that's naturally low in salt.
Be sure not to give your child any prepared foods not made for babies.
Keep yourself healthy too buy buying frozen vegetables without added sauce or butter because you can make cheap and easy meals with these veggies.
When you're shopping be sure to take a look at the unit price for the food item you're purchasing.
That price will tell you how much an item costs per pound, ounce, quart, etc.
A 32 oz. tub of yogurt with a unit price of $0.05 is a better value than a 6 oz. tub of yogurt with a unit price of $0.12.
If the unit price isn't listed, you can determine it by dividing the total prize by the size of the item.
Housing, childcare and education, and food are just a few of the big expenses you have to worry about as a new parent.
Hopefully, by utilizing some of these money saving tips for new parents, you'll be able to raise your kid without financial difficulty.