Learning the Difference Between These 2 Types of Lenders Makes It Easier to Pull the Trigger on Buying a House
Choosing between a national or local lender can be one of the most difficult decisions you can make. Read on to learn why it's important to choose wisely.
When it comes to making huge purchases that can change your life, few things compare to buying a home. Whether you're buying new or used, purchasing a home can change practically every aspect of your life. For most people, a loan will be necessary in order to purchase a house -- and deciding who to choose as a lender can be one of the most important decisions you make.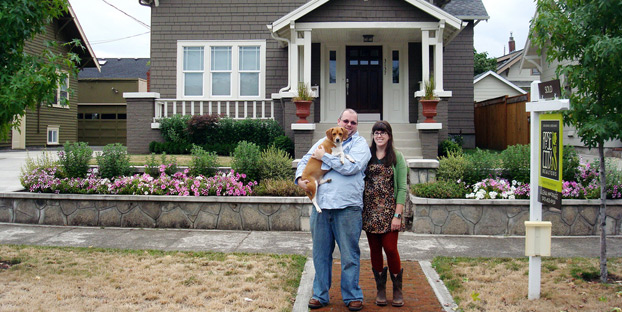 There are a number of ways you can prepare yourself for the process of securing a loan. More often than not, though, the average consumer will go into the process blindly, which makes finding the right lender a shot in the dark. Taking the time to educate yourself on the pros and cons of going with a national vs. local lender, then, is of the utmost importance.
National lenders: Pros
For some people, a national lender may end up being the best possible route to take when looking for a mortgage. A lot of what draws people to work with national lenders is a desire to stick with a company that has good name recognition and has been in business for many years, providing loans to customers throughout the country. After all, there's something to be said about a bank that has a positive reputation nationwide (of course, this might not apply to all large lenders).
Another reason why many homebuyers flock to national lenders? Having branches across the nation, which is a major advantage national lenders have over local banks. It's comforting to know that no matter where you are in the country,  your needs will be taken care of by the lender.
National lenders: Cons
As one might expect, there are a few things that make national lenders less than ideal for most consumers. For one, the issue of face-to-face communication comes into play. If you're not located near a physical location of your lender, you'll most likely end up dealing with things over the phone. Some homebuyers don't have an issue with this, but many might want to sit down with their lender when discussing something as serious as a mortgage.
Perhaps a bigger issue for homebuyers is the fact that loans offered by national banks typically come with a number of fees and higher interest rates than many people can afford to pay. That's one of the biggest reasons why some folks don't feel comfortable pulling the trigger on buying a home, and it's a relatively common problem when national lenders are part of the equation. Learning how to get the best interest rates is incredibly important. If you decide to work with a national lender, expect to encounter higher interest rates and more fees than if they were to take an alternative route -- though there are exceptions, of course.
Local lenders: Pros
There are plenty of reasons why you might want to work with lenders who are located locally. The shift towards "buying local" is omnipresent in all industries, and mortgage lending is no different. People want to know who they're dealing with on a personal level, working in the same community as their lenders and shopping at the same grocery stores, too. For many homebuyers, that personal touch carries a lot of weight.
Another reason some homebuyers might prefer to work with a local lender is that they will know the geographical area where you're searching for a home or land to build one more intimately than a national lender would. That's beneficial to you as a consumer in a many ways, but chief among them is the fact that you'll most likely be able to get better interest rates than you would by going with a national lender. That makes the home buying process smoother and helps you save money in the long run.
In addition, local lenders can often get the job done faster and with less hiccups than national lenders. Why? A national lender might have more clients, might be less familiar with the area, and might not run as efficiently as possible. With local lenders, you usually don't have to worry about these things.
Local lenders: Cons
There are only a small amount of cons associated with local lenders. Some people forget that not all lenders are created equal, which means you could have a bad experience with a local lender who is new to the job. The chances of that happening are much higher with a local lender than if you were to work with a national one. Still, this shouldn't be a problem if you choose your lender wisely, regardless of whether they're local or not.
The bottom line
In the end, you'll have to make the choice between going with a national or local lender, and it may seem rather difficult. However, many experts say that the benefits that come along with working with a local lender far outweigh those associated with national lenders, especially when interest rates and fees are taken into consideration. While either option will get you closer to moving into the home of your dreams, you might sleep just a bit more comfortably at night if you end up siding with a local lender.