13 Ways to Make Money Online: Build Your Career or Earn Quick Cash
Looking to make some money on the side? Here are the best ways to make money online. Whether it's a career or a one-time gig, you can find work online.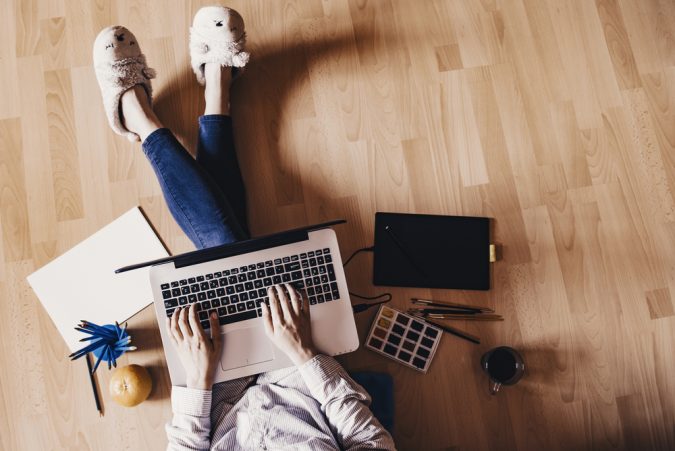 These days, the Internet is the place to make money, from quick and easy online gigs for folks who want to make fast cash, to trained professionals who can use their skills to fulfill virtual positions and make money online.
Online gigs to make fast cash:
1. Fiverr
Fiverr is a nifty website that advertises its spot as "the world's largest marketplace for services, starting at $5." On Fiverr, you can look for cool services that you want to pay for, or sell and market your own services and talents. The homepage features top-rated sellers that offer services which can help you market your brand or company, entrepreneurial services, music and audio skills, graphics and designs, or are just "fun and bizarre" (one of the categories on their site).
2. Amazon's Mechanical Turk
Amazon's latest venture, Mechanical Turk, offers simple opportunities for individuals to make a few cents by completing thousands of tasks for businesses and developers. Human intelligence tasks, or HITs as they are called, range from picking out the differences between two pictures, choosing the best result from a shopping search, entering a link into a box, or a quick translation. You won't get rich by using this method -- the tasks aren't very lucrative, and you would need to complete a lot in order to actually make something.
3. UserTester
If you're interested in giving feedback as a user tester, you can earn $10 per website test and $15 per mobile test at UserTester, which has been featured on media outlets like "Good Morning America" and The Wall Street Journal.
4. Gigwalk
Gigwalk is a company that gives everyday people a chance to make money by carrying out basic tasks for companies like Motorola. Users with an iPhone can earn money by conducting consumer research and verifying information in their area. Examples of gigs are taking local business photos, retrieving local pricing information, and verifying signs.
Complete enough tasks and you can treat your gigs as a part-time job, as "Streetcred" points given for quality work and leads to help you access higher paying gigs.
5. FixYa
Depending on your profession, you can find freelance work online. One example is FixYa.com, through which knowledgeable techs can answer questions and get paid for answering questions. Another site is Be a FreelanceBlogger, whose free ebook offers freelance bloggers and writers 57 sites that pay $50+ per post.
The best online careers:
Online careers can be lucrative, with professionals netting close to $100,000. However, not every remote employee can command such a salary. Check out the following online careers.
6. Medical transcriptionists
Telehealth is growing in the U.S., with at-home support staff being hired, such as medical transcriptionists who transcribe voice-recorded reports dictated by healthcare professionals into writing. These employees earn between $30,000 and $50,000 annually.
7. Physicians and Radiologists
These professionals earn on average, $1,975 a week, and are paid to review patient cases from home. Do the math and it translates to a six figure job.
8. Answering Service/ Call Center Employee
Individuals who have finessed the art of pleasant phone conversations will find that there is plenty of work for them that doesn't require their physical attendance. These days, many companies hire home agents to field calls that are directed through virtual call centers.
The salary for this ranges from $7 to $15 an hour. There's also an answering-service employee, who could even be the receptionist booking your doctor's appointment. Interested applicants should expect to earn $8 to $14 an hour.
9. Market and Survey Researchers
Companies often need to collect data and research from large populations of people, and for this, they turn to at-home market/survey researchers. The job requires people skills and the motivation to work hard. It pays on average, $61,000 annually.
10. The IT Sector
The IT industry is booming with positions for at-home workers. According to the Bureau Labor of Statistics, computer scientists, systems administrators, and programmers earn roughly $1,200 per week, as virtual IT companies now exist that hire contract workers to create a bigger and more competitive talent base for clients. Computer and software engineers make roughly $1,549 weekly, and graphic designers make a median weekly salary of $890.
11. Online Resellers
Buying goods and selling them through eBay is a great way to make money. The key is to sell inventory people will want, while charging a price customers are willing to pay that covers your costs while turning a profit. Resellers charge in a variety of ways, but some charge a flat fee or take a percentage of the sales overall.
12. Content Writers
Content writers can find plenty of freelance gigs online, fulfilling assignments from companies that need content creators, but don't necessarily have the budget to hire a staff. There are many aspiring writers, so finding a strong niche and developing your talents in that area is recommended.
The price range for a content writer varies, as contract assignments tend to be flexible when it comes to compensation. However, the average pay for a full-time content writer is $35,200. Freelance articles and posts can range anywhere from $20 to hundreds of dollars, depending on the size and scale of the job.
13. Virtual Assistants
Virtual assistants are all the rage these days, and people with organizational skills, administrative experience, and phone skills can expect to earn about $10 per hour at a temp agency and up to $30 an hour if they directly work with clients.
The Internet is a great place to look for work, whether it's fast cash you're interested in, or a career with longevity. Though the assignments range on the unorthodox side, taking up these gigs can develop your skills as a self-starter and an entrepreneur, which may help you get a foot in the door in the future.