What Bonds Should You Buy for Your Kids?
The benefits of buying savings bonds for your children provide them with a financial edge that could well serve them in the future.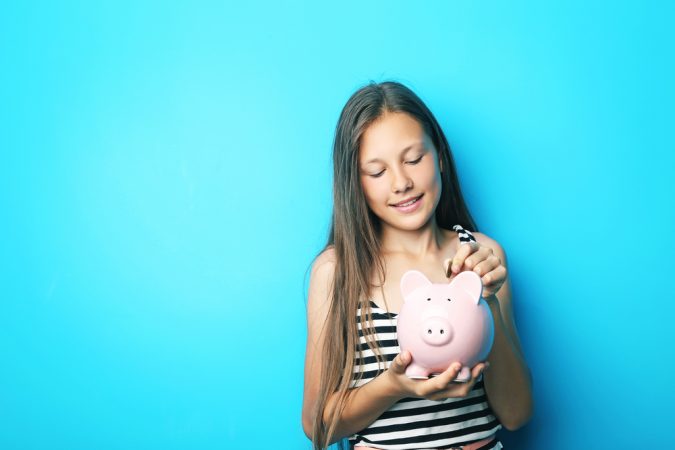 Savings bonds are a low-risk, government-backed savings product.
The interest rates on U.S. savings bonds are generally similar to competing options such as CDs and Money Market Accounts, and bonds come with potential tax breaks and the assurance that you will never lose money.
You can purchase savings bonds at most banks.
The bank will submit your paperwork to the U.S. government, which will mail you the physical copy of the bond within 15 business days.
You can also purchase bonds on TreasuryDirect site.
You can buy paper bonds worth $50, $75, $100, $200, $500, $1,000 and $5,000 denominations and electronic bonds down to the penny, as long as your purchase is bigger than $25.
Bonds never cost extra to buy: You'll pay $100 for a $100 bond. Any U.S. citizen can purchase bonds. The limit is $5,000 in bonds purchases per year.
The two most popular kinds of U.S. bonds are I Savings Bonds and Series EE/E Savings Bonds.
The main difference between the two varieties is that I Savings Bonds are adjusted to account for inflation every six months while Series EE/E Savings Bonds have a fixed rate.
I Savings Bonds typically reward their owners with higher interest rates. Series EE/E Savings Bonds currently have a fixed rate.
Both kinds of bonds allow you to defer interest.
Buying Bonds for Kids
Many adults today might remember being gifted with savings bonds as a child.
While there was not the excitement of a savings bond falling out of a birthday or Christmas card as there is when cash is involved back then, savings bonds are still a great way to help children financially while they are still young.
Security bonds are ideal for children because they are the only type of security kids can actually own.
Anyone can purchase a savings bond for another individual but important information will be needed from the bondholder.
Series EE Bonds
Series EE savings bonds pay a fixed interest rate and continue to earn that interest each month.
The bond's value is guaranteed to increase to at least double its value within a 20 year time period but the bond can keep earning interest for a total of 30 years.
Series EE bonds are available electronically through the Treasury's online system. 
Series I Bonds
Series I bonds are available in paper and electronic form.
This type of bond can be cashed in only after a year since it was purchased for the amount of money it cost to buy.
You will only earn the full amount of interest after the bond turns five years old.
If left alone, the Series I bond will continue to earn interest for 30 years.
This type of bond has two interest rates.
The fixed rate is set when you purchase the bond.
The second interest rate is based on the rate of inflation and subject to inflation and deflation in line with the economy.
Series I bonds can be purchased using tax refunds from the Internal Revenue Service in paper form or are available on the Treasury website in electronic form.
Providing a Financial Edge for Kids
The benefits of buying savings bonds for children go beyond teaching them about financial responsibility and the importance of saving.
Savings bonds can only be purchased for kids if they are bought in the child's name.
This can help circumvent problems if a parent or other family member wants access to a child's cash.
By substituting savings bonds for cash for a gift the recipient will be able to hang on to their own funds until they become adults and want to cash them in.
You also have the option of opening a Treasury Direct account with the Treasury Department where bonds can be held for children until they are older.
This is a good option for those not wishing to deal with the federal tax hassles involving savings bonds and minors.
Many relatives actually make it a tradition of purchasing savings bonds for their younger family members every year which can be used toward college and other expenses they face when they reach adulthood.
Such a financial gift may even lead to kids who are interested in investing and retirement-planning at an early age.
A Caveat of Today's Bonds
In light of savings bonds going digital, there may be some complications for those not computer literate.
The online system used by the Treasury Department has been reported to be somewhat complex, even for those who regularly surf the web.
This may be of particular concern to grandparents and older relatives that rely on walking into their own banks to buy savings bonds for their grandkids and relatives.
This will mean accounts need to be set up by parents in order for others to buy kids savings bonds or personal identification information including Social Security numbers will need to be shared prior to the purchase.
If parents are to be included on their child's bond, their Social Security number will also be required.
The Treasury Department does offer assistance for those interested in establishing an online account for regular savings bond purchases.
They produced an informational sheet that will help you find answers to the important questions about online bond purchases.
The sheet does highlight the specific decisions you will need to make to complete the process with the hopes of making it easier to buy bonds electronically.
Popular Alternatives To Savings Bonds
One of the most popular alternatives to buying savings bonds is investing in a Money Market Account or a CD.
U.S. savings bonds have some advantages over CDs and Money Market Accounts:
Bonds are inflation-adjusted, meaning your money won't be devalued by inflation over time.
You can defer your federal income tax payments on bonds, and you won't pay any state income taxes.
Redemption values of bonds never go down, meaning you'll never lose money by purchasing a bond.
The main advantage of Money Market Accounts and CDs over savings bonds is the fact that interest rates are typically higher.