Why Were You Denied a Savings Account?
Find out why you could have been rejected for a savings account. Learn about ChexSystems and how banks use it when reviewing your new account application. See what kind of marks on your ChexSystems report could have led to a denied bank account. Take steps to remove these violations from your record.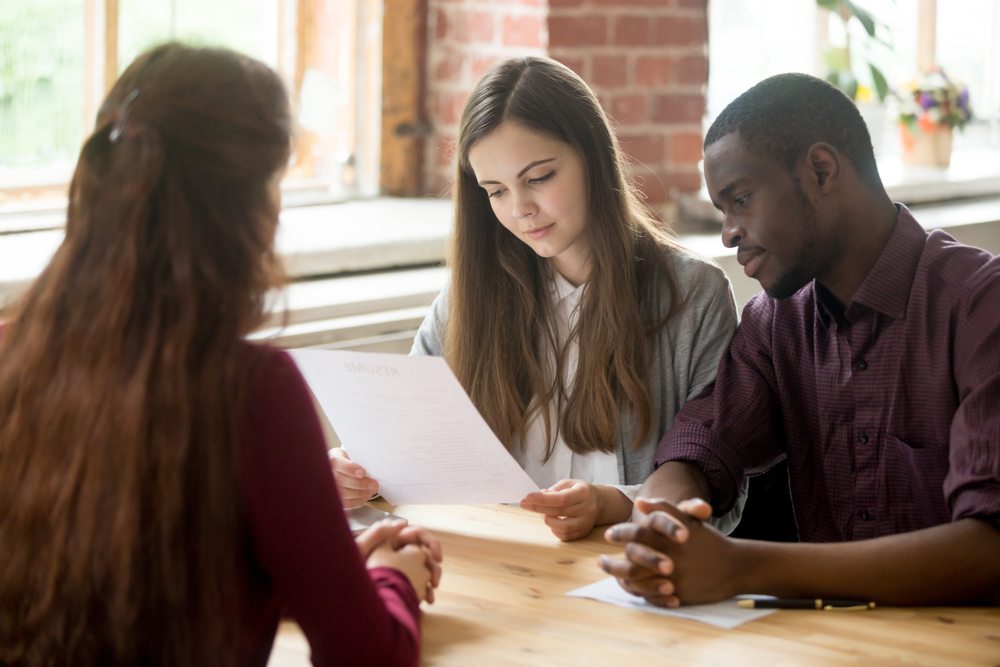 It's fairly common for banks to deny you from certain services they offer, like getting a personal loan or a credit card.
However, something that's slightly less common or you might not have even you could be denied from, is opening up a savings account with a bank.
It happens to many people. Many others have experienced something similar.
Being denied a checking or savings account is considered an "adverse action", and the bank is required to provide you with an "adverse action" notice that includes the name and contact information of the account screening company from which the bank got the report.
This notice may be provided online or sent via mail to your address on your application.
Learn why you were denied for a savings account and what you can do to make sure you get one next time.
Compare Savings Options
Be sure to check out more savings accounts worth considering:
Reasons Why You Might Have Been Denied
When you apply to open a bank account, you will provide personal information including your full name, address, social security number and date of birth.
The bank will use this information to verify you are who you say you are – and to conduct a routine background check, likely through ChexSystems or Early Warning Services, LLC.
There are several reasons why your application for a new savings account could have been denied, which may or may not be due to your actions or banking history.
Common reasons for account denials include:
It is possible that the bank simply cannot verify your identity. Many banks use multi-factor verification, like asking you to identify a street you've lived on in the last 10 years. If you cannot be found in public records, you may not be able to open an online banking account. You will need to provide a valid photo I.D. (Driver's License, Passport, Military I.D. etc.) and Social Security number.
The bank couldn't verify the checking account you wanted to transfer money from. If you want to transfer funds to a new bank account, you'll first need to verify a U.S. bank account. This may be done by having your new bank deposit two small deposits in your U.S. bank account (example $0.11 and $0.24) and you will verify the amounts. If you are unable to verify the correct information, your savings account application may be denied.
You owe too much money to other accounts in your name. If you have overdrawn other accounts for long periods of time, this may have been reported to your ChexSystems history by another financial institution. It is possible that this could happen and you not knowing about it.For example, if you had a bank account when you were younger that you overdrew and forgot about, or you thought you closed an account that had reoccurring debit charges that pushed your account into the red.Another common example is someone who had a joint account with a partner in a prior relationship. If you broke up and you discontinued using the account, the other party may have overdrawn the account and it was closed after a certain period of time. Even though this involuntary closure was due to no action of your own, you will still have to pay the repercussions.
Red flags on Your ChexSystems Consumer Disclosure. Although most banks do not check your credit when you are opening a savings account, they will check the ChexSystems database for red flags, such as too many bounced checks, or having banking accounts closed by a banking institution.
What is ChexSystems?
Chex Systems, Inc. (ChexSystems) is a nationwide specialty consumer reporting agency under the federal Fair Credit Reporting Act (FCRA) that gives information about you to banks.
The agency issues risk scores from 100 to 899. Your ChexSystems report, called a "Consumer Disclosure" or FACTA (Fair and Accurate Credit Transaction Act) Report, will show unpaid fees on other bank accounts in your name (probably from overdrafts or monthly fees that have overdrawn an account), checks that were bounced at retailers and suspected cases fraud.
Remember that ChexSystems does not make account opening determinations on behalf of any bank. The bank makes the decision.
If you are allowed to open an account, such as a second chance checking account, it may come with higher fees and more restrictions.
ChexSystems reports the following banking activity:
Involuntary bank account closure (common reasons are writing too many bad checks or fraudulent activity)
Bounced checks
Unpaid negative balances (for example, you are $70 "in the red" in overdraft fees and do not resolve your negative balance for 90 days)
ATM abuse (depositing empty envelopes at an ATM or depositing fake checks to have access to funds)
Inquiries (initiated by you, your employer, or other tanks)
Number of accounts applied for in the past 90 days
Check-ordering history from past 3 years
ChexSystems does not report your credit history.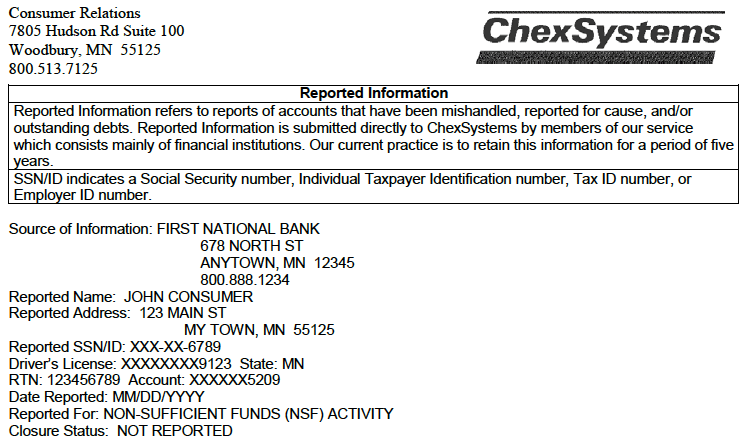 What to Do to Get Approved Next Time
Clean up your ChexSystems report
Your first step to cleaning up your ChexSystems report is understanding everything that's on it.
You're eligible for a free copy of your report once every 12 months.
You can call ChexSystems at 800-428-9623 or visit the ChexSystems website and order your own personal ChexSystems report.
Once you have your report you can pay off debts, dispute errors or inaccurate information, and then asks collection agencies and creditors to update your ChexSystems file. If there are errors in your report, ChexSystems must investigate and remove any inaccurate information within 30 days (in most cases).
Find another financial institution
Local credit unions, community banks, and online banks may offer savings accounts without checking your credit or ChexSystems, along with no monthly minimums or fees, no overdraft fees, fee-free ATMs and online/mobile banking.
Get a second-chance account
A second chance account is usually a checking account to build/rebuild trust with a bank before qualifying for a savings account.
Second chance checking accounts are available in all fifty states, such as Wells Fargo's Opportunity Checking or Bank of America's Safe Balance Account typically have monthly fees (or minimum balances), and restrictions like you are not allowed to write paper checks.
Other common names for so-called "second chance" accounts are "fresh start accounts", "rebound checking" or "new leaf accounts."
How to Prevent ChexSystems Red Flags
Follow these steps to avoid having negative remarks from ending up on your ChexSystems report.
Be careful who you bank with
If you open up a joint account with someone else, know that you are just as responsible for maintaining a positive balance as they are.
If they commit fraud by writing a slew of bad checks, you may be reported even if you did nothing.
Do not share a bank account with someone that you do not know well and trust fully. If you break up with someone, make sure the account is closed.
Monitor your balance 
It's easy to overdraft a checking account with something as small as a monthly charge on your debit card, or a subscription renewal.
Keep tabs on these recurring payments by using online banking to your advantage.
Check your balance once a day or set up a text-alert notification to get your bank account balance sent to you via text message once per day.
Sign up for overdraft protection (if you need it)
Do not let any of your accounts go dip below zero balance.
Although it may not be the best credit decision to open up an overdraft line of credit, you might consider linking a savings account if you have a history of overdrawing your account.
Check with your bank regarding overdraft protection fees. Many banks charge a $10 or $12 fee to automatically transfer funds from your savings to checking account.
Set a balance and aim to never dip below it
If you can, try to keep $100 in your checking account as a "pretend zero balance."
Unless absolutely necessary, do not spend funds below the balance.
If you forget about a recurring charge, having that extra cushion in your checking account will keep you from dipping into the red and having to pay overdraft fees.
Conclusion
If you are denied a savings account application, you do not have to keep your money in a watertight plastic bottle inside your toilet.
It is likely, with a little work on your end, you can straighten things up and have a savings account.
Because information only stays on your ChexSystems or Early Warning Services report for five years, if you make good banking habits going forward, negative information will drop off your profile, your banking history will improve and you will have your choice of good banking opportunities.