How to Set Up a Savings Account for a Teenager
Learn how to set up a savings account for a teenager, who is legally not allowed to open a bank account individually, and ways to help him or her build savings.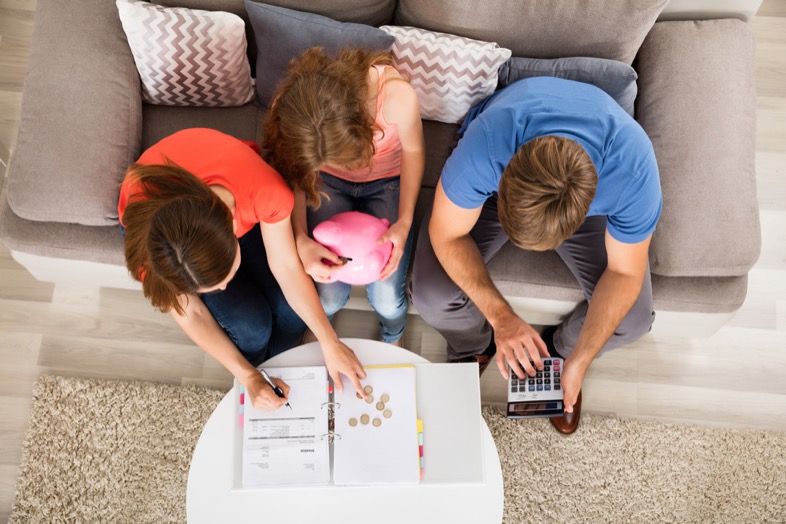 Teaching kids how to save money is an important step for future financial success.
For this reason, many parents give their children a piggy bank as early as three or five years old. And when the child reaches a certain age, they transition from a piggy bank to an actual bank.
There are no hard or fast rules for when to open a savings account for a child. Some parents open a child's first savings account when they're a few years old. Others open accounts later.
If you didn't open an account when your kids were younger, their teenage years is an excellent time to start.
Here's how you open a savings account for a teenager.
Teens Require Joint Accounts
A savings account is the first bank account that most teenagers open.
Now:
Getting a savings account — or any bank account for that matter—as a teenager can be tricky.
Opening a savings account may seem like "no big deal."
But:
Opening an account involves a contractual agreement with a bank or credit union. And, the reality is minors (those under the age of 18 or 21, depending on the state of residence) can't sign a contract or open a bank account on their own.
Of course, this doesn't mean it's impossible. In fact, many people under the age of 18 have savings accounts.
So:
Minor's can only open a savings account jointly with an adult, usually a parent, grandparent, or guardian. 
Parents should include the teenager's name and the account. It's that easy.
With a joint account, both names remain on the bank account for as long as it is open.
But there is the option to remove the parent's name from the account once the teenager becomes an adult, legally.
Savings Accounts for Teens
There are different options for getting a bank account for a teenager.
You can open a regular or basic savings account, which is available to anyone. Or, you can take advantage of bank accounts designed for kids or minors.
These types of savings account have different names:
Teen savings account
Youth savings account
Student savings account
Despite the name, these accounts serve the same purpose—to help young people develop good savings habits at an early age. Accounts for kids can even include teen checking accounts.
Compare Savings Options
Be sure to check out more savings accounts worth considering:
Why Consider a Custodial Account (UTMA)?
Another option for a teenager savings account is a custodial UTMA account (Uniform Transfer to Minor Act).
These accounts differ from a joint savings account.
With a joint account, both the child and adult can deposit money and access funds in the account.
Watch out:
This also poses a danger, though.
The adult could abuse the account and drain the teenager's savings.
This doesn't happen with a custodial account. Funds in these accounts belong to the teenager. Yet, the teenager doesn't have access to the money.
The adult or custodian named on the account manages the money until the teen becomes of legal age. At this time, the young person can access their money and use it how they want.
Custodial accounts are safer for teenagers.
This is because the custodian isn't allowed to use funds in the account. This money is the property of the teenager and only used for his or her benefit.
These accounts are an option for parents or guardians who want a more hands-on approach with regard to their child's personal finances.
Ways Your Teen Can Access a Savings Account
If you're okay with your teenager accessing their funds, opening a joint savings account is the way to go.
ATM card
Because a savings account isn't a checking account, they don't usually come with a debit card. But they do come with an ATM card.
This way:
You and your teen can deposit or withdraw cash from the account.
Of course, it isn't enough to open a savings account for a teenager. It's also important to teach them how to keep tabs on this account.
Online and mobile banking
Once you've set up the account, sign up for online banking. Many banks and credit unions offer this option.
Next, download the financial institutions's app to their cellphone.
Show your teenager how to use the website or app and track how much they're putting in and taking out of the account.
Even if you give them freedom to manage the account, you should watch their account activity. Download the bank's app to your cellphone, too.
Monitor account activity
The goal is to help them save money and develop strong money management skills.
Monitoring their account activity can help you recognize their money mistakes early on. From here, you can steer them in the right direction.
As an option, set up text or email alerts. This way, you're notified if their savings account drops below a certain amount.
Also, have monthly bank statements delivered to your email.
How to Choose the Best Savings Account
You can choose a savings account with a brick-and-mortar bank in your neighborhood. Be mindful that this allows easy access to funds, so it might be harder for your teen to save.
To encourage better savings habits, consider opening an online savings account.
The best part:
These savings accounts offer higher interest rates compared to a regular savings account. This can help your child's account grow faster.
Also, some online savings accounts don't charge monthly maintenance fees. So you don't have to worry about bank expenses eating into your child's balance.
But like a brick-and-mortar bank, online savings accounts feature online and mobile banking. You can track the account 24/7, and set up text or email alerts.
Keep in mind that funds aren't as accessible with an online savings account.
You'll have to link the savings account to an offline bank. One option would be your personal checking account.
To access funds in the savings account, you must transfer funds into this offline bank account. This can take two to three business days.
Only you can decide whether an online savings or a regular savings is right for your teen. Make sure you shop around and compare features and fees.
For example, look for an account with no or a low opening deposit requirement. Also, choose an account with a competitive interest rate and low maintenance fees.  
If you're opening a savings account designed for minors, some bank may waive the maintenance fee.
But the bank may convert a youth savings account to a basic savings account once the youth turns 18. At which point the fee waiver disappears.
Tips to Manage a Teenager Savings Account
Conversations about money management should continue long after your teenager opens a savings account.  
Help them build a strong financial foundation by teaching basic budgeting strategies.
Show them how to keep track of their purchases, and help them develop a spending and savings plan for the month.
To curb needless spending, make sure they know the difference between needs and wants.
Also, it's never too early to start teaching them about credit cards and credit management.
After opening a savings account, the next milestone is getting a credit card in a few years.
Once they're old enough to start establishing credit, they should know the importance of only charging what they can afford to pay off each month.
You can even set certain rules and restrictions to encourage saving money.
Does your teenager receive an allowance, birthday money, or have a part-time job?
If so, have them deposit 10 percent of this money into their savings account. If they have expenses, you can also open a deposit checking account.
Additionally, limit their access to the ATM card. At least until you feel they're responsible enough to handle the freedom.
They can give you money to deposit into their savings account, and only withdraw money with your permission.
Also, don't forget to teach about earning interest. Your teenager needs to understand how a savings account works.
As a result, they might be more inclined to leave their cash in the bank.
Conclusion
Whether you choose a joint account or a custodial account, opening a savings account is one of the first steps to teaching teens the importance of saving money.
Good money habits start early, so don't wait until your kids are about to leave home to talk finances.
A savings account is a stepping stone to building greater wealth.