Acorns 2023 Review: Automated Micro-Investing
Our review of Acorns looks at the company's financial accounts, which focus on automated micro-investing through linked card activity.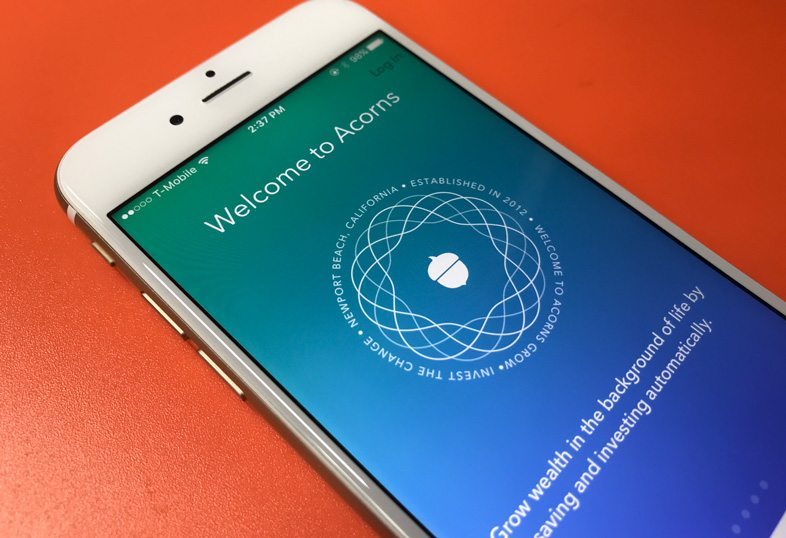 Saving money and investing can be complicated at the best of times.
Figuring out how much you can save, actually putting that money aside, and making good investment choices is difficult.
Many people who don't want to deal with the stress put off investing until it's too late, or never get started at all.
Acorns is an app that aims to make investing easier by automating the process.
From its start as an app for investing spare change, Acorns has expanded to offer other tools, including retirement savings and tools for teaching kids about money.
What is Acorns?
Acorns is an app that comes with an investing account and an optional checking account.
Available on iOS and Android, the app has more than 9 million users.
Acorns offers four accounts:
Invest: taxable brokerage account
Later: retirement account
Spend: checking account
Early: investment account for kids
With each of these services, Acorns aims to make managing your money automatic.
Acorns Invest
Acorns Invest is the taxable brokerage account.
The hallmark feature of Acorns is automated micro-investing, which plays into the company's theme of growing stable finances from a small financial seed.
Portfolio options
Acorns Invest offers five different portfolios, ranging from conservative to aggressive.
It constructs these portfolios using low-cost exchange-traded funds from companies like Vanguard and Blackrock.
One of the drawbacks of using Acorns is that you're limited to choosing from these five portfolios.
You can't build a custom portfolio of stocks and bonds or adjust the weighting of the different ETFs in Acorn's pre-built portfolio.
This makes Acorn's primarily useful for people who want to be hands-off when it comes to investing.
Automated investing options
Furthering the hands-off nature of Acorns Invest, the app offers multiple ways to automate your investing.
Bank transfers
First, you can set up automatic transfers from a bank account.
For example, you can choose to invest $5 into your portfolio every week.
Linked card activity
The other option is to link a debit card or credit card to your Acorns account. Whenever you make a purchase using the card, Acorns will round that purchase up to the next dollar and invest the difference.
For example, if you buy a coffee for $2.75, Acorns will round the charge up to $3 and put $0.25 into your investing account.
Every time you buy something, you'll add some money to your investing account.
Over time, you can build a large balance without even realizing it.
Acorns Later
Acorns Later is an extension of Acorns' investing service with a focus on retirement.
The company's basic investing service holds your portfolio in a taxable brokerage account. Acorns Later lets you open an Individual Retirement Account (IRA) -- traditional IRA and Roth IRA options are available.
IRAs offer tax benefits when you use them to save for retirement.
Traditional IRA
When you contribute money to an IRA, you can deduct those contributions from your income when filing your tax return.
When you withdraw money from your IRA in retirement, you pay income tax on the money withdrawn. You defer your taxes until retirement, when your income (and therefore tax rate) is likely to be lower.
Roth IRA
Acorns also offer a Roth IRA option.
Roth IRAs are like IRAs, but in reverse. You pay taxes on your income as normal when contributing to a Roth IRA.
When you withdraw from the account in retirement, you pay no taxes on any money withdrawn, whether it is principal or earnings.
Preset portfolios
Like with Acorns Invest, the company offers pre-set portfolios that you can choose from.
You can't do much customization, making Acorns Later best for people who don't want to actively manage their portfolio.
As you get older and closer to retirement, the company will automatically adjust your retirement portfolio to be more conservative, reducing the risk that your portfolio will drop in value just before you retire.
Acorns Early
Teaching kids about money is important, but it can be difficult to do.
Acorns Early gives parents a way to invest in their children's future while also teaching their kids about money.
Acorns Early is a UTMA/UGMA account.
That means that when you put money in the account, you're giving it to your child. You can't take the money out of the account and your child will get full control of it when they reach adulthood.
However, unlike accounts like a 529, there are no restrictions on how your child can use the money in the account.
Like Acorns Invest and Acorns Later, Early lets you choose from a few pre-designed portfolios for your child's investments.
Financial literacy
Acorns Early also comes with tools that you can use to teach your child about money.
When you sign up, you'll get a free copy of Acorns' children's book Grow Your Own Oak.
You'll also get access to financial literacy content designed specifically for families so you can learn about money together.
There is no limit to how many children you can sign up for Acorns Early, so you can get your whole family started with investing.
Acorns Spend
Acorns Spend is Acorns' checking account service.
The account works just like a checking account from a bank but integrates with Acorns' other services to help you save money automatically.
Customers can withdraw cash from more than 55,000 ATMs across the United States, fee-free. They also receive the standard $250,000 in FDIC insurance, making sure they're protected even if the bank is unable to return their deposits.
Earn rewards
Acorns also offers rewards when you make purchases from partner merchants.
These include top brands like Airbnb, Expedia, Home Depot, and Kohl's. When you use your card at these stores, you'll earn rewards that Acorns will automatically add to your investment account.
This is a nice perk as most debit cards don't offer rewards, making it hard to justify using them over a rewards credit card.
Fees
When it comes to investing and financial services in general, one of the most important things to think about is how much you'll pay in fees.
Acorns has three levels of service to choose from, each offering different features.
Acorns Lite costs $1 per month and comes with access to Acorns Invest, including automated investing and roundups.
Acorns Personal costs $3 per month and comes with Acorns Invest plus access to Acorns Later and Acorns Spend.
Acorns Family costs $5 per month, which adds access to Acorns Early.
On top of these fees, keep in mind that you'll have to pay the fees charged by the ETFs Acorns uses to build your portfolio.
If you chose to invest using a brokerage that offers commission-free transactions without the monthly fee, you could invest your money in the same portfolio and save between $12 and $60 per year.
It's up to you whether the convenience of automatic investing through Acorns is worth that cost.
Compare to Robo-Advisors
Acorns is one of many apps that aims to make investing automatic and to help people start investing with small amounts of money.
For example, Stash is very similar to Acorns, helping you automatically invest small amounts of money in pre-determined portfolios.
Robinhood is different in many ways, making you manage all of your investments and focusing on buying and selling individual stocks.
However, it lets you invest in fractional shares of companies so you can get started with just a few dollars.
Other popular options for automated investing include robo-advisors, which tend to help you design or choose a portfolio based on your risk tolerance and investment preferences.
All in all, Acorns is a very strong contender in the area of micro-investing apps. Its fee structure is transparent and quite competitive compared to the competition. It also offers an easy-to-use mobile app and some useful features like the option to open a checking account or start investing on behalf of your children.
If you're planning to use a micro-investing app, Acorns is definitely worth considering.
Conclusion
Acorns is one of the more popular micro-investing apps out there for a good reason.
It offers an easy-to-use mobile app that makes investing as simple as using your debit or credit card for your daily purchase.
While there aren't many options for customizing your portfolio, the app's pre-designed portfolios are sufficient to meet most people's needs. If you're looking for a more hands-on investing experience that gives you complete control over your money, you should look elsewhere.
As long as you're willing to pay the company's fees, which are competitive compared to the competition, you'll likely be happy with Acorn's service.