How to Invest in Ethereum (ETH) Cryptocurrency
Learn how to buy and sell Ethereum as a way for you to invest through one of the most popular cryptocurrencies in the world.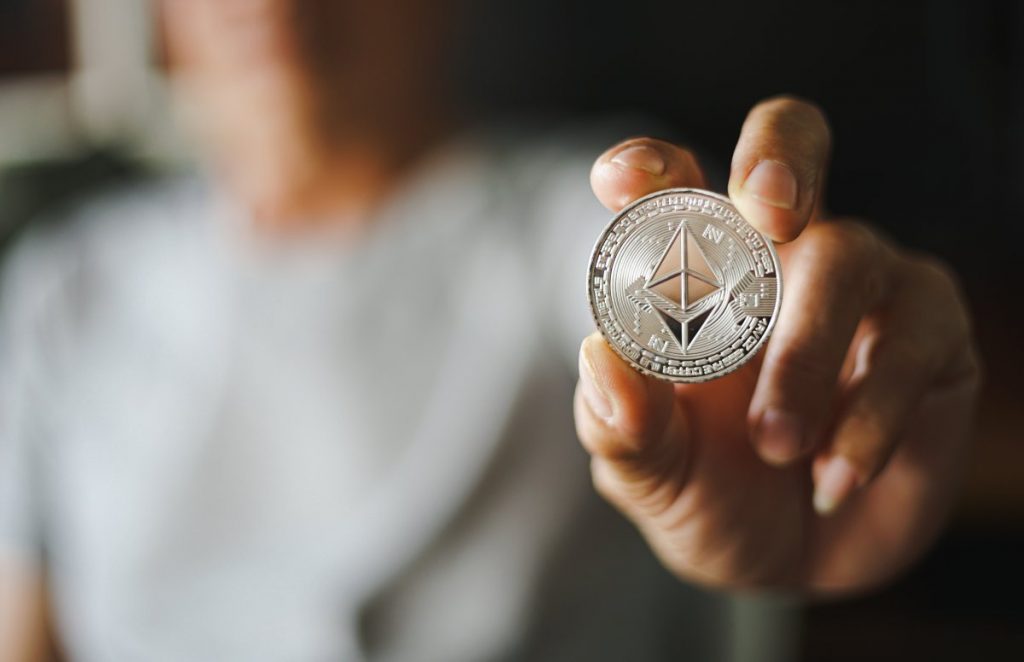 Ethereum is among the popular cryptocurrencies circulating in the market.
So, you may be wondering how you can invest in Ethereum, especially as some investors feel that this makes them less prone to things like inflation or governmental overreach into markets.
If you're interested in how to trade and hold Ethereum, here's the guide on how to do it.
How to Buy, Sell, and Hold Ethereum
If you're interested in buying or trading Ethereum, here are some of the best cryptocurrency platforms to work with.
Robinhood
Robinhood is a popular mobile brokerage company that is known for offering fee-free investing options. Customers who have accounts with Robinhood can start investing with no minimum balance and can buy and sell securities without paying any commissions.
Robinhood offers cryptocurrency investing to its customers directly through its investing app. If you already have a brokerage account through Robinhood, you're ready to start buying and selling crypto, including Ethereum.
You can buy Ethereum in amounts as small as a single penny, making it easy to get started with crypto investing.
One thing to keep in mind when trading cryptocurrencies through Robinhood is that you don't have any access to your crypto.
Robinhood holds the coins on your behalf, you don't have a crypto wallet that you can access to transfer in additional coins or take coins out of. That means that if you want to use your Ethereum to pay for purchases or transfer to other services, you won't be able to do that with Robinhood.
Read the editorial review of the Robinhood brokerage.
Coinbase
Coinbase is one of the largest cryptocurrency companies in the United States and makes it easy to learn about and buy or sell different cryptos. To get started, you'll need to set up an account and link a bank account. You can transfer cash into your Coinbase account or purchase crypto using your bank account balance.
You can open an account without paying a fee, but Coinbase does charge a small fee for transactions. The fee charged is typically 0.50% of the transaction plus a fee ranging from $0.99 to $2.99 depending on the size of the transaction.
Coinbase also offers some other useful features, like the Coinbase Card, which lets you spend crypto at any store that accepts Visa and earn cash back rewards in the form of crypto, such as Ethereum.
Another perk is that you do have access to your crypto wallets through Coinbase. You can transfer coins from external wallets into your account or send crypto from your Coinbase account to external wallets easily.
Gemini
Gemini is a cryptocurrency trading platform that lets investors buy, sell, and hold multiple currencies, including Ethereum. The website is designed with advanced, active trades in mind and offers a variety of trading tools that investors can use to analyze price movements and execute complex trades.
Beyond its trading platform, Gemini offers some unique features. One is Gemini Earn, which offers interest rates up to 7.40% APY on crypto balances. The current rate for Ethereum is 2.05% APY, which is much better than the rates offered by savings accounts.
Gemini is also planning to launch a debit card that lets customers spend cryptocurrencies in stores and earn rewards in crypto. Until then, you can use Gemini Pay to use crypto pay for purchases at more than 30,000 stores nationwide.
Gemini charges trade commissions ranging from $0.99 to 1.49% of the transaction.
SoFi
SoFi offers a cryptocurrency trading platform where investors can buy and sell cryptos, including Ethereum with as little as $10. You can trade from the SoFi website or through its mobile app. You can also invest in stocks and ETFs through the same service, making it a potential one-stop shop for your investing needs.
SoFi doesn't give you access to your cryptocurrency wallet, which means you can't transfer crypto in and out of your account. This is fine if you're just looking to invest but means you can't use your balance to pay for things or transfer funds to your friends.
SoFi charges a fee of 1.25% for each transaction and there is a minimum investment of $10. You can buy up to $50,000 of crypto each day.
Read our review of the SoFi Invest trading platform.
Webull
Webull is an online investment company that offers cryptocurrency trading with a minimum investment of just $1. You can place trades through both Webull's website and mobile app.
Webull is designed for advanced traders, offering in-depth charting tools and indicators that investors can use to make buy and sell decisions. Trading is open seven days a week and trades settle instantly, making Webull a good choice for people who want to try their hand at day trading.
Webull charges a 1% spread on crypto transactions, so investors will need to keep the costs in mind when making trades.
Read our editorial review of Webull.
Can You Buy Things with Ethereum?
As their name implies, many cryptocurrencies are designed to act like currencies.
They're intended to be stores of value that you can exchange with other people when you want to buy or sell something.
In reality, it can be difficult to use cryptos, like Ethereum to buy things when compared to how easy it is to pay for things with a traditional currency like dollars.
The value of cryptocurrencies fluctuates on a regular basis, making some people hesitant to accept crypto in transactions. It can also take longer for cryptocurrency transactions to settle when compared to transactions made in traditional currencies.
However, some companies, such as Gemini and Coinbase are taking steps to make it easier to buy things with crypto by issuing debit cards that access your cryptocurrency balance when swiped.
There are also websites that accept cryptocurrency transactions for some purchases.
Still, these days, it can be hard to use crypto to buy things from physical stores.
What is Ethereum?
Ether is a cryptocurrency that exists on the Ethereum platform, an open-source, decentralized blockchain technology.
The Ethereum platform lets developers deploy applications that allow users of the network to access various financial services without the need for intermediaries. The network also allows for the creation and transfer of Non-Fungible Tokens (NFTs).
What sets Ethereum apart from other cryptocurrencies like Bitcoin is that it was designed not primarily as a medium of exchange but as a platform to help facilitate contracts and applications.
Ethereum was first proposed in 2013 and launched in 2015.
Taxes on Ethereum
According to IRS rules, Ethereum, like all cryptocurrencies, is treated as property for tax purposes.
That means:
You have to pay taxes on Ethereum in the same way you would for other investments.
You can treat crypto investments like investments in stocks when it comes to paying taxes.
When you buy crypto, make note of how much you paid. When you sell it, note how much you made from the sale, then calculate your profit or loss. You have to pay capital gains taxes on any profits.
You pay the short-term rate on crypto held for a year or less and the lower, long-term rate on Ethereum you owned for more than a year.
If you lose money on crypto or other investments, you can deduct those losses from other income to reduce your taxes.
Paying for purchases with Ethereum
It's important to note that whether you sell crypto for cash or use crypto to pay for a purchase, the IRS treats those transactions identically.
If you pay for goods and services using crypto, the IRS treats it as selling that crypto for cash, then paying with cash, so you'll still pay capital gains taxes on any earnings.
Conclusion
Investing in cryptocurrencies like Ethereum can be exciting, but you need to keep the risk in mind.
Cryptocurrency is a relatively new technology and the market for crypto is highly volatile.
There's nothing that guarantees that Ethereum will gain or even maintain its value over the long run.
Remember that all investing is subject to risk and only invest money you can afford to lose. If you have questions about investing or want help with reaching your long-term financial goals, speaking with a financial advisor may be a good idea.