Stash Invest 2023 Review
Our review of Stash Invest looks at the investment options, fees, and other tools to help new investors begin owning shares of their favorite brands.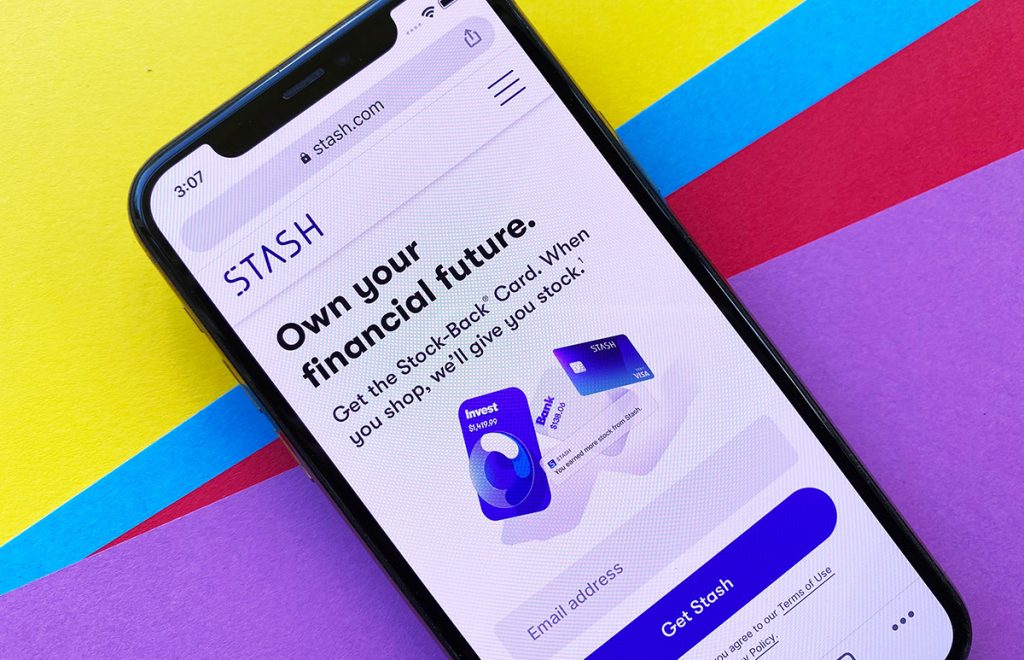 Investing online is easier than ever thanks to apps that help you grow a portfolio automatically. 
Stash Invest is a personal finance app that allows you to manage your money in one place. Aside from investing, you can also use the app to balance your budget and track your spending. 
Investing with Stash is a little different than investing with other online brokerage options. But it could be a good fit whether you're a beginning investor or you have some experience in the market. 
Before deciding whether to move your money to Stash Invest, it's helpful to know a little more about it. 
In this Stash Invest review, we'll walk you through all the features and benefits that go along with investing here. 
Stash Invest is good for…
People who want to invest, save and budget in one place
Investors who are interested in buying fractional shares
People who don't mind paying a monthly fee to invest
Beginners who are just starting to invest
Types of Accounts Offered
Stash Invest offers a variety of accounts, including investment accounts, traditional and Roth Individual Retirement Accounts, bank accounts and custodial accounts. 
The Stash investment account is a taxable brokerage account that you can open with as little as $1. You can use this account to invest in full or fractional shares of securities. 
Are There Different Account Plans?
Stash offers these three options:
Beginner plans are the most basic account option. This plan includes a personal investment account, a bank account, the option to set up direct deposit and free financial education. 
The Growth plan includes all of those things, as well as the option to add a traditional or Roth IRA. 
Stash+ is the highest plan and it includes everything in the Growth plan. But you also get investment accounts for up to two kids, monthly market updates and a metal debit card to access your Stash bank account. 
At some online brokerages, the tiers are based on your account balance. Stash bases account tiers on the features you want included in your plan. 
So, if you only want to invest you could go with the Beginner plan. But if you're looking for comprehensive money management, you might try Stash+ instead.
Investment Options
Stash Invest sticks with the basics for investing. You can build a portfolio using stocks or exchange-traded funds. 
An exchange-traded fund is like a cross between a mutual fund and a stock. It includes different securities the way a mutual fund does. But it trades on an exchange like a stock. 
Either option could be great if you're a beginning investor. And ETFs are great for investing because they tend to be cost- and tax-efficient. 
But if you're looking for more advanced options, like futures or forex, you'll need to look elsewhere. Stash Invest doesn't offer options trading or cryptocurrency either. 
Fractional shares
It's also worth mentioning again that you can trade shares with Stash Invest fractionally.
That means:
Instead of buying a full share, you can buy partial shares in your favorite stocks. 
That's great if you want to own Apple or Google but you don't have hundreds of dollars to plunk down on a single share. Instead, you can buy fractional shares of top companies starting as low as $1 each. 
This is a huge plus if you're a beginning investor and you want to build a portfolio incrementally. And it's something you won't always find at other online brokerages. 
Are managed portfolios available?
Managed portfolios are designed for the investor who's looking for a professional touch. 
A portfolio manager puts together a portfolio for you, based on your goals, risk tolerance and time horizon for investing. 
You benefit from their expertise, which could translate to higher returns and better performance over time. 
Now:
Stash Invest doesn't offer traditional managed portfolios.
But, there is a tool you can use to create a portfolio that fits your needs.
If you sign up for the Portfolio Builder option, you'll be given a portfolio that's aggressive, moderate or conservative, based on the answers you share with Stash regarding your risk tolerance. 
These portfolios are meant to be diversified to help you meet your goals. So if you're not comfortable picking your own investments, the Portfolio Builder tool can do it for you. 
Fees
With many online brokerages, there are fees assigned to trades. Though more brokerages are moving toward a commission-free model for trading stocks and ETFs. 
Stash Invest prices its investments differently. Instead of paying commission or trading fees, you pay a flat monthly fee based on your account plan.  
Here's a quick look at how plan pricing compares:
Stash Invest Fees
| Investment Plan | Fees |
| --- | --- |
| Beginner | $1/month |
| Growth | $3/month |
| Stash+ | $9/month |
Remember, the Stash+ plan includes the most features while the Beginner plan is the most basic. 
Also, you should know that if you have a plan that includes a bank account you won't pay any monthly maintenance fees or minimum balance fees. There are no overdraft fees for Stash bank accounts and you can access more than 19,000 ATMs fee-free nationwide.
Individual ETFs do have their own fees to know about, however. Each fund has an expense ratio, which represents the cost of owning the fund each year. 
Overall, ETFs tend to carry lower expense ratios than other funds. So if you're investing in ETFs with Stash you can do so cost-efficiently. 
Are Tax Loss Harvesting and Automatic Rebalancing Included?
Tax loss harvesting and automatic rebalancing are nice-to-have features inside an online brokerage account. 
Tax loss harvesting is a way to manage your tax liability on investment gains. It means using losses to offset gains and reduce your tax bill. 
Rebalancing means changing up the asset allocation in your portfolio periodically so that it stays true to your goals and risk tolerance. 
Some online brokerages offer these features built-in; others only offer them with managed portfolios. 
Unfortunately:
With Stash Invest, you don't get either one.
So if you want to harvest losses or rebalance in your personal investment account you'll have to do that yourself. 
Online and Mobile Experience
Stash Invest makes it easy to access your accounts online or through the Stash mobile app. 
You can view your investment or bank account balances, check your transactions and schedule investment trades.
If you want to keep things really simple, you can use Auto-Stash to manage your account activity. 
With Auto-Stash, you can:
Save money automatically
Round up your purchases and invest the difference
Analyze spending to find extra money to invest and save
The mobile app is user-friendly and easy to navigate. And if you have a personal investment account, retirement account or custodial account with Stash Invest, you can manage them all in one place.  
Research and Investing Tools
If you're investing for the first time, Stash offers a number of tools and resources to help you learn the ropes. 
Those include tutorials and articles that cover the basics of investing and saving. There's also a separate online investment academy to help kids learn the fundamentals of saving and investing. 
You won't find a lot of technical analysis tools here the way you can with other online brokerages. There are no stock tickers or algorithm tools you can use to track stock trends.
But that reflects the type of investor Stash is geared toward: people who want a streamlined way to trade stocks and ETFs. 
If you're looking for a few more bells and whistles then you may want to research other brokerage options. 
Should You Invest With Stash Invest?
Our Stash Invest review is meant to paint a picture of how this investment platform works to help you decide if it's right for you. 
Stash could be a good choice if you're a brand-new investor who wants a simplified way to start investing.
The option to invest with fractional shares or use the Portfolio Builder to get a customized portfolio might appeal to you if you don't have a lot of money to tie up in the market. And the monthly plans are affordable enough to fit just about any budget. 
On the other hand, you may prefer a different brokerage if you're a more experienced investor.
Other brokerages can offer a wider variety of investment options as well as more advanced stock market analysis tools. And you'll also need to look elsewhere if you want a managed portfolio option. 
Overall, Stash Invest may work for you if you want to invest and bank in the same place with one low monthly fee.