Should You Use Online Cash Back Shopping Websites?
Find out whether you should use online cash back shopping websites to boost the amount of rewards that you get from making purchases online.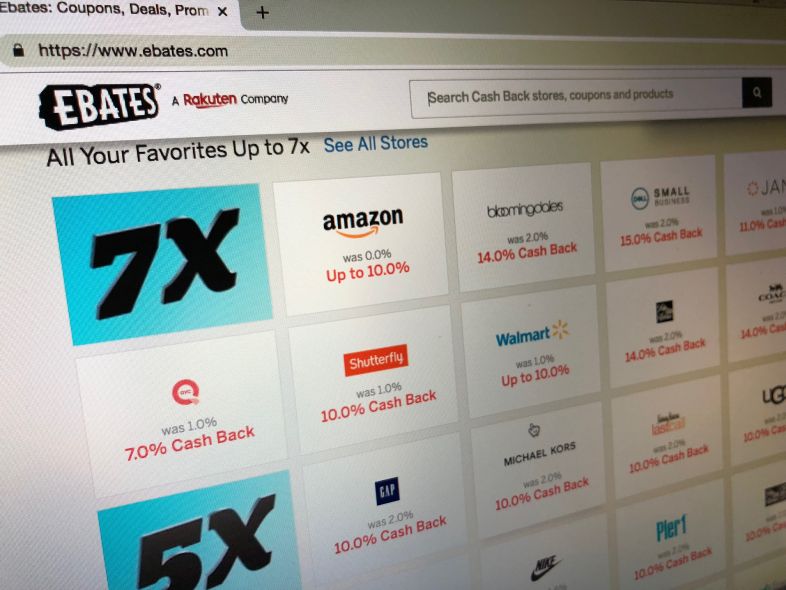 Even when you're spending, you want to save as much as possible, especially if you're buying something that you planned to purchase anyway.
That's why we highly recommend optimizing your credit card rewards for this kind of spending.
But:
You can get even more rewards (usually cash back) through online cash back shopping websites.
These sites will pay you every time you shop at a participating store.
You'll earn a percentage of each purchase you make. So, while you're still spending money, you'll be getting money back with each purchase.
Learn how they work to see if you should use one of these online cash back shopping websites.
The Popular Cash Back Shopping Websites
The first thing that you need to do is figure out which cash back website you should use.
You can even sign up for multiple websites if you'd like, though you can only use one per shopping trip.
While you'll be splitting your rewards among multiple sites, you might be able to earn more if different sites offer different rewards.
The website that you should use depends on the types of stores that you shop at and what kind of rewards you want.
You're probably best off if you sign up for more than one so you can compare the offers from each.
Some of the most popular cash back websites are listed here:
TopCashback – wide variety of stores to choose from
Ebates – wide variety and earn cash back for in-person purchases
Swagbucks – earn additional cash back by completing offers on the website
Ibotta – great for earning rewards on groceries and household goods
UPromise – a full ecosystem: credit card, cash back portal, and savings account for college savings
Are Cash back Websites Safe?
Right off the bat, you might be concerned when you hear the idea that a website will give you money just for shopping.
Why would anyone give you money for doing something you were going to do anyway?
Rest assured:
The vast majority of cash back websites are perfectly legitimate.
While there's always the chance for fraud online, the most popular sites have long track records of paying out what they owe.
In order to sign up for a cash back website, you will need to provide some personal information.
This could include store loyalty card information, your name, address, or possibly banking information. These websites keep your personal information private and use powerful encryption to protect your identity.
You can feel confident that your information is safe and that cash back websites are generally safe to use.
How Cash Back Shopping Work
Now that we've covered what cash back websites are out there and whether they're safe to use, let's talk about how they actually work.
Signing up
Signing up for a cash back website is quick and easy.
All you have to do is create an account using your e-mail address and a password. You may have to confirm your e-mail address by clicking a link in a verification e-mail.
You'll also be asked to fill out some basic information such as your name, address, and possibly a survey on your shopping habits.
After that, the sign-up process will vary by website.
For example, Ebates makes things incredibly simple.
All you have to do is enter your e-mail address and a password. You can start earning cash back immediately.
You can set up the rest of your profile later on.
Other websites might make you do a little more during the initial set up of your account.
For example, you may be asked to enter the card number for your store loyalty card.
Once you've signed up, you're ready to start earning cash back.
Earning cash back
After you've made an account on one or more cash back websites, it's time to start earning money.
The most basic cash back websites work by directing you to a retailer's website and tracking the purchases that you make.
For example, when you visit Swagbucks, you'll see a list of merchants that Swagbucks is offering cash back for. Click on the link to that merchant's website and Swagbucks will automatically track any purchases that you make and credit your account.
This tracking is done through a cookie added to your web browser, so make sure that you turn off any adblockers or similar software before going through the process.
Sites like Ebates, which allow you to earn cash back on in-store purchases, will ask you to link your store loyalty cards. Ebates will track your purchases using the loyalty card information and credit you for any rewards.
Some sites, like Ibotta, offer rewards not for specific merchants, but for specific products bought at specific stores.
To earn cash back from these sites, you need to activate the offer before going shopping and then upload a photo of your receipt.
How to get paid
Each website has its own way of paying out rewards.
Ebates, for example, will mail you a check for your rewards balance every three months, so long as you have $5 in rewards. You can also choose PayPal as a payment option.
Swagbucks pays out your cash back in the form of Swagbucks, which can be redeemed for cash, gift cards, or merchandise.
Ibotta lets you cash out on demand once you've earned at least $20 in rewards. You can receive money via PayPal or get a gift card to one of your favorite stores or restaurants.
Questions to Ask Before Signing Up
Here are some of the most common questions people have when it comes to cash back websites.
1. How do these websites make money?
Cash back websites aren't just giving you money for free. They're a business too, so they have to earn money somehow.
Reputable cash back websites don't charge their users for access. You should never have to pay to use a cash back website.
Instead, stores use cash back websites to advertise their products.
For example, Nike may offer Ebates a 10% commission on any sales it refers to Nike's website. Ebates will turn around and offer its users 7% cash back for any purchases made at Nike's online store.
If you use Ebates to make a $100 purchase from Nike, Nike will take that money and keep $90. It will send $10 to Ebates. Ebates will then keep $3 and add $7 to your rewards balance.
In effect, cash back websites give you a cut of the money they make from advertising for each store.
2. Will you buy more things than you need to?
The danger of cash back websites is that they can encourage you to spend more money than you need to.
That's certainly something to be aware of.
If you only planned to spend $100, but the 10% cash back offer you got caused you to spend $150, you actually lost $35, instead of saving $15, because you spent more than you planned to.
Rewards have powerful psychology to them.
It can be very easy to overspend when you're being enticed by the prospect of cash back, so work hard to avoid overspending.
3. How long does it take to get paid?
The amount of time it takes to get money varies widely by the site.
Most of the time, it is gated by time or by the amount of money that you earn.
Ebates, for example, will send your rewards every three months as long as you have $5 in rewards. You can't do anything to speed up the process beyond making sure you earn at least $5 per quarter.
Ibotta will let you cash out your rewards as soon as you have at least $20. If you can earn $20 every week, you can cash out every week> If it takes you a year to earn that much, you'll only be able to cash out once per year.
4. How Do You Make Sure You're Earning the Best Rewards Available?
With so many cash back websites, it can be hard to determine whether you're earning the best cash back rate possible.
The best way to maximize your rewards is to sign up for multiple websites and compare each site's offers.
Do You Still Earn Credit Card Rewards?
Yes, you do.
The card that you use to shop does not affect the rewards that you earn from cash back websites.
In fact:
This is one of the biggest benefits of using a cash back website.
You can stack up on the rewards that you earn from a cash back credit card and a cash back website.
This can accelerate your rewards earning by a significant amount.
The best part:
Occasionally, cash back shopping websites will increase their rate of rewards (such as during the holiday shopping season) and you can end up getting nearly 20% cash back on online purchases when combined with a proper rewards credit card.
Conclusion
Cash back websites are a great way to save money while shopping online.
So long as you're careful to avoid spending more than you originally planned to, there's no reason not to take advantage of the rewards that they offer.