WiseBanyan 2023 Review: Should You Use This Free Financial Advisor?
Find out whether you should use the WiseBanyan financial advisor service, which reviews your finances and investments for free (premium features available).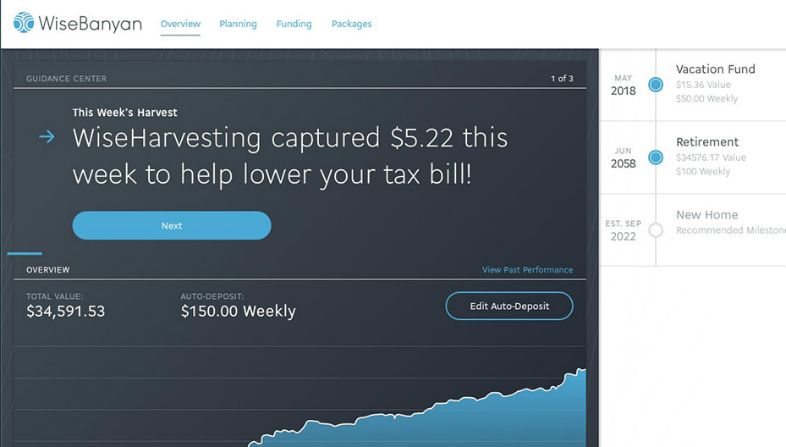 When it comes to financial advisors, you may have the perception that they are expensive and/or reserved for people with large assets.
WiseBanyan claims to be the world's first free financial advisor.
We'll review their use of technology, their unique business model, and how it all helps investors reach their goals.
The best part:
It's free of charge.
They handle everything from helping you to build your financial plan to managing your investments.
And equally important, they required no minimum initial investment.
WiseBanyan is in the process of being acquired by Axos Financial, a diversified technology focused financial services company. It's a publicly traded company (NYSE: AX).
WiseBanyan is Great for…
If you don't like paying fees for having your portfolio professionally managed.
Investors who may not meet the minimum initial investment requirements of other investment management services and robo-advisors.
If you want a robo-advisor service, but one that gives you more control over the account – including selection of specific investments.
Compare Investment Options
Act now to maximize the growth of your finances with one of these investment platforms.
How WiseBanyan Works
So:
WiseBanyan works something like an investment buffet table. You have a Core Portfolio that will be managed by the service for free.
But you can add various services as you deem appropriate, and for additional fees.
This gives you greater control over how you invest, and what the cost of your investment management will ultimately be.
Your investing profile
When you sign up with WiseBanyan, you're asked questions to determine your basic investor profile.
Those questions center around your risk tolerance, and your investment time horizon.
Based on your answers, and the type of investor you're determined to be, WiseBanyan will build a portfolio of exchange-traded funds (ETFs) that will be invested in different asset classes.
They emphasize the use of ETFs with very low expense ratios.
Ongoing
Once your portfolio has been created, management will be completely automated.
WiseBanyan will work to maximize after-tax, real investment returns, as well as re-balancing your portfolio, and reinvesting dividends.
WiseBanyan creates and manages your portfolio using Modern Portfolio Theory (MPT), an investment theory that holds that proper asset allocation to manage risk is more important than individual security selection.
More specifically, MPT involves investing in asset classes that move independently of one another.
Getting Started
You must be at least 18, with a permanent US address, and a Social Security number. U.S. residents with an H-1B visa, as well as a US address and Social Security number, are also eligible to use the service.
You'll start by opening a Personal Investment Account. You will need a minimum of $1 in your account to begin investing.
You will need to link a bank account, which will take up to three business days, plus one more business day for your portfolio to be constructed.
You will also be able to transfer funds to and from your linked bank account, as well as set up an auto-deposit feature.
Withdrawals from your WiseBanyan account typically complete in five to seven business days.
The funds in your account are actually held through Apex Clearing Corporation. Each account is protected by SIPC, for up to $500,000, including up to $250,000 in cash, per investor.
This insurance is protection against broker failure, and not against declines in investment market values.
WiseBanyan Wallet, Milestones and Formulas
You can set up a Wallet in your account.
The Wallet is connected to your linked bank account, and is where you set up either one-time or automatic deposits to your account. Funds in your Wallet are held in cash.
Milestones are individual investment goals you set within your plan.
Each Milestone will have a portfolio attached to it. It can be either a featured portfolio, offered by WiseBanyan, or a custom portfolio you design on your own.
There are seven Milestones you can establish:
Rainy Day
Save Cash
Retirement
New Home
New Vehicle
Build Wealth
Custom
Formulas are a free feature that helps you build your investment goals, and are funded out of your Wallet.
Four Formulas are offered, and each can be customized to match your preferences:
Round Up – Top off your milestones (goals) each day with your cash.
Dividend Match – Achieve your goals faster by matching dividends you earn.
Bargain Hunting – Automatically buy more when your portfolio "goes on sale".
Level Up – Take your milestone up to the next $1,000 level.
Formulas and Wallet are available only for taxable accounts, and not IRA accounts.
Types of Accounts Offered by WiseBanyan
WiseBanyan Offers the following 4 account types:
Individual taxable accounts
SEP IRAs
No joint accounts are allowed, but they do offer a Partner option, that allows you to add a partner to share Milestones in your account.
Note: All IRA accounts are offered under the WiseBanyan Tax Protection Package.
You can also hold multiple IRAs within your account. And naturally, you can roll over funds from other IRAs or employer-sponsored retirement plans into your WiseBanyan IRA.
WiseHarvesting
This is WiseBanyan's version of tax-loss harvesting.
It's a process of selling losing assets to generate losses to reduce the capital gains tax on winning asset positions.
It's a fairly complex process of selling off losing assets, then buying back equivalent asset positions more than 30 days later (to avoid IRS wash sale rules).
The strategy minimizes capital gains, while maintaining the desired portfolio allocation.
This is why WiseBanyan uses several ETF funds in each of its asset classes.
Each of the funds included in the asset class is similar to the others, and can be used to replace the fund that has been sold.
WiseBanyan claims this strategy can increase the annual return on a taxable investment account by 3.59%, based on a portfolio invested 70% in stocks, in 30% in bonds.
WiseHarvesting is available only for taxable investment accounts, since retirement accounts are already tax-sheltered.
This is an optional service and is available at a cost of 0.25% of your account value each year.
Investment Options
WiseBanyan selects ETFs from a database of more than 1,400 different funds, based on their investment focus, tracking error, historical performance, and operational efficiency.
The funds will represent investments in U.S. and international stocks and bonds, as well as real estate and various alternative investments.
The basic portfolio is the Core Portfolio. It will include the following asset classes (including ETFs used):
US Stocks (VTI, SCHB, SPY)
Foreign stocks (VEA, SCHF, EFA)
Emerging market stocks (VWO, IEMG, EEM)
US Treasuries (VGIT, VGSH)
Investment Grade Corporate Bonds (LQD, VCIT, VCSH)
High-yield Corporate Bonds (SJNK, HYS, SHYG)
Treasury Inflation Protected Securities – "TIPS" (TIP)
Real Estate Investment Trusts – "REITs" (VNQ, IYR, ICF)
WiseBanyan offers optional premium packages you can add to your basic plan:
Tax Protection Package
This is the package you will select for IRA accounts as well as for WiseHarvesting for non-retirement accounts. It's a premium service, with monthly fees (see WiseBanyan Fees below).
Fast Money Package
This optional package enables you to "put your funds on the fast track to your goals."
Basically, it enables you to set up Quick Deposit, Auto-Deposit Scheduler, and Overdraft Protection within your account for better cash management.
Portfolio Plus Package
Portfolio Plus enables you to invest in asset classes beyond what are contained in the Core Portfolio.
These are additional investments within the package that you can add to your portfolio.
However:
They are not recommendations of WiseBanyan.
This is a feature of WiseBanyan that gives you greater control over the investments in your portfolio.
This portfolio offers many other asset classes, in addition to what's offered in the Core Portfolio.
Interesting examples include:
blockchain
Internet innovators
home builders
defense
artificial intelligence
digital security
marijuana
companies that are led by or have greater female representation within senior leadership, also known as the Wonder Woman sector
You can either select a Featured Portfolio created by WiseBanyan, or you can create a custom portfolio, and assign it to a Milestone (investment goal).
Once you create or select a portfolio it will be automatically managed by WiseBanyan.
This is a premium portfolio package, and does require a fee, which is disclosed in the next section.
Fees
This is one area where WiseBanyan departs from other robo advisors. Typical management fees charged by robo advisors are between 0.25% and 0.50% per year.
But WiseBanyan charges no annual management fee at all. There are also no trading fees or custodial fees.
And not only is the investment management service free, but they promise they will never earn money by selling your personal information, or by receiving commissions for recommending certain investment funds, or presenting ads on their site.
Of course, WiseBanyan does charge fees for their three premium packages, and this is how the company makes their money.
This includes the Tax Protection, Fast Money and Portfolio Plus plans.
The fee schedule is a follows:
Tax Protection Package – 0.02% per month (0.24% per year) with a $10 annual minimum, per IRA.
Fast Money Package – $2 per month.
Portfolio Plus Package – $3 per month.
As is the case with all robo-advisors, there are fees associated with the ETF's held in your portfolio. In the Core Portfolio, ETF fees range from a low of 0.03% to a high of 0.69%, with an overall average of 0.12% per year.
For the Portfolio Plus Package, ETF fees range from a low of 0.03% to a high of 0.75% per year (no average fee is presented for the group).
ETF fees are deducted from the funds themselves, and do not appear as individual charges to investor accounts.
Mobile Experience
WiseBanyan Mobile App is available with all the functionality of the online version.
The iOS version is available for iOS 9.0+ and is available on the App Store. The Android version is available at Google Play for Android 4.4W and up.
Conclusion
If you're looking for a robo-advisor that combines automated investment management with significant control over your specific investments WiseBanyan is definitely worth checking out.
You can maintain multiple investment goals within the same account, and decide how much you'll invest, and in what you'll invest.
WiseBanyan is clearly one of the more innovative robo-advisors on the market.
One potential negative with WiseBanyan is the premium fee structure.
You can have a taxable account held in a Core Portfolio managed for free.
But as you add additional packages and services, the advisory fee can rise to a level comparable with, or even exceeding, other robo-advisor services.
If you'd like more information, or you'd like to sign up for an investment account, check out the WiseBanyan website.